Everyone is searching for the next investment opportunity, with properties, shares and cryptocurrency assets dominating the discussion. But what if a car was a limited company you could buy shares in?
UK company The Car Crowd are doing just that. Their fractional ownership model, itself rooted in the concept of timeshares which originated in Britain in the 1960s, allows investors to purchase shares of classic cars. These vehicles are deemed to have the possibility of appreciating in value over time, with the investors potentially making a profit from selling the car at a later time.
"Each car is hand-picked and exhaustively checked, and its investment performance, past and future, scrutinised and calculated," The Car Crowd founder David Spickett told UK outlet Autocar.
"There's no point buying a flawed car or one at the top of its appreciation curve […] it's why we focus on modern classics offering greater potential for investment growth – and lower maintenance costs – than established older cars," Spickett added.
Investors can also receive dividends before a potential sale of their shares has taken place, generated from any paid appearances the cars they have shares in have participated in. This is why each car is listed as a limited company on its own, to enable the creation of shares and the payment of dividends.
Regarding dividends, an example of a paid appearance is when a car owner receives a fee to display their car at a promotional event or car show since the organisers of such an event will want to make it as appealing to ticket-purchasing visitors as possible.
Once an investor owns shares in some of the cars on offer by The Car Crowd, they may vote on when to sell the car in question or list their shares for sale before the vehicle has been sold. The company notes that they cannot guarantee a sale of any of their cars but that they will support the shareholders with marketing in order to match them with an interested buyer.
What are some of the cars potential investors can currently purchase shares in? At the time of writing, you could invest in a Spyker C8 for £220 per share with the car being divided into 1,000 shares overall. Another offering is the Ferrari 360 Modena for £77 per share. Lower down the price ladder you will find a Ford Sierra Cosworth for £59 per share.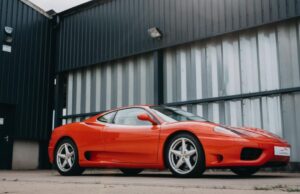 Their wish list for vehicles they will be targeting to purchase and offer shares of in the future reads like the chalkboard from 'Gone In 60 Seconds'. A BMW M1, a Ferrari Mondial, a first generation Honda NSX, a Toyota Supra Twin Turbo, and the list goes on.
What's the catch? Beyond the aforementioned disclosure that your car is not guaranteed to find a seller, there is also the possibility that the car you own shares in may not appreciate in time, just like with any other investment.
Moreover, investors will also need to fork out a 7 per cent operations fee on each share they own for any storage and maintenance costs for a period of five years. There is also a cap of 100 shares. Finally, despite the part ownership, you are not guaranteed to be able to actually drive the vehicle, partially because they need to be kept safe and properly looked after.
At present, the market for classic cars is on a noticeable upswing, partly fueled by accumulated savings and car enthusiasts wanting to flex their financial muscles after not being able to do much for a year or so due to the pandemic.
"We think 2021 is shaping up to be the best year, ever, for classic car auctions," classic car insurance company Hagerty wrote during the summer.
"Our insurance data show that the growth in participation from younger enthusiasts, which we've been talking about for a while, have continued unabated by the pandemic," Hagerty added, explaining that in 2021, the share of insurance policy quotes from Gen-X or younger (car enthusiasts born since 1965) increased from 54 per cent in 2020 to 58 per cent this year.
"Classic cars are a bear market at the moment, with a lot of money being spent," Spickett explained during the aforementioned interview.
"But if the bubble does burst, we're sure the best cars, the kind we invest in will have the best chance of rising in value," he added.