Pitsilia is a wine region where vines and pines grow together on the mountainside. Already three of the most well-known wineries source their fruit from around the mountain peaks of Madari, Papoutsa and the north-western part of Machairas. Tsiakkas Winery (Pelendri), Kyperounda and Ekfraseis (Chandria) have long taken advantage of the Pitsilia terroir and the high altitude of their vineyards. Here, the altitude secures a slower and effortless grape maturity, while the arid and sloping earth forces the vines to huddle together and produce richer wines.
There is a new kid on the block now – Kyperinos Winery. Established in 2019 by a group of friends, families living in Kyperounda, little did they know that their entry to the Cyprus wine scene would have been delayed because of the pandemic. Marios Panayiotou is the leading man behind the winery, which is already fully equipped to produce 20,000 bottles. He also manages the 4 hectares of vineyards situated around Kyperounda. Some vineyards are newly planted, the average age is just over 10 years old.
They are cultivating mainly Xynisteri, however Cabernet, Shiraz and Merlot dominate the rosé and the two red blends. The surprise is the Maratheftiko from a relatively young vineyard but aged in oak for over a year and a half and rested for several years in the bottle. Soon Yiannoudi will be released to the market. The winery does not have a designated tasting room yet, and Marios aims to make a tasting room right on the village square.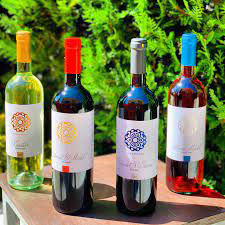 2020 Kyperinos winery, Xynisteri. PGI Lemesos, 13%  
The vines are bush trained and grown at approximately 1,250 meters. , The harvest took place in October and grapes have undergone classic stainless-steel vinification.
Kyperinos Xynisteri has a pale yellow colour with green hues. It is a lovely and lively rendition of this grape variety. Aromatically bright, floral, featuring notes of spring flowers, jasmine and honey blossoms followed by freshly cut grass and pine, ripe stone fruits, white peach and green pineapple leading to tropical and sweet citrus. Textural mid-palate with citrus, peach, mango and herbal flavours, mint, lemony acidity with traces of minerality and grapefruit peel with a balanced finish, a clean dry edge and persistent flavour.
A clever style and attractive Xynisteri, its crispiness helps the wine to be easily enjoyed as an aperitif, for lunch or dinner paired with barely seasoned ingredients. €7.50
2020 Kyperinos Winery Shiraz-Merlot Rose PGI Lemesos 13%  
A blend of Shiraz and Merlot that entices with its strawberry-cherry colour. This rosé is bright and sassy, delightfully light and crisp. Floral, clean, fresh berries, strawberry and red cherry first then followed by fresh herbs and flowers, some caramel notes at end. The harmony of bright acidity, rich texture and dry finish show the completeness of this wine. Creamy strawberry notes upfront and lingering flavours of fresh basil and thyme are the flavours that compose the palate. Enjoy this rosé with orzo pasta and shrimp salad or strawberry (when in season) pasta salad. €7.50
2019 Kyperinos Winery Cabernet Sauvignon-Merlot PGI Lemesos 14%  
An interesting blend, known as the Bordeaux blend of Cabernet Sauvignon and Merlot, that is both fragrant and fruity. Aged for 12 months in French oak, it has a medium dark red colour with purple tones. Spicy berry, dark fruit aromas followed by bright cherries and raspberries and hints of cedar and oak influence the nose. The palate is refined and smooth, showing flavours of ripe blackberry, dark plum, cherry and red currant characters, crunchy and tart. Fine ripe, herbaceous tannins round out the wine with lingering savoury nuances on the finish. Enjoy with roast lamb, garlic, bay leaf and rosemary, charcuterries, steak and French fries. €7.50
2019 Kyperinos Winery Cabernet Sauvignon-Shiraz, PGI Lemesos 14%  
This Cabernet Sauvignon and Shiraz blend is also kept in French oak for almost 12 months. It has a deep dark garnet colour with purple edges. The aromatics are complex and enticing, dark forest berry fruit, black cherry, blackcurrant with orange marmalade and intense smoked charcuterie. Finer nuances of flint and Jasmin blossom entwine with leather and tobacco undertones combining with licorice and cardamom notes. The palate is rich and powerful displaying plum, cranberry and ripe black forest berry fruits of mulberry and blackberry overlaying cured charcuterie and smoked peppercorn elements. Oak tones of vanilla, licorice and clove interlace with red earthy notes, hints of black truffle and forest floor. The tannins are silky and round with great volume and length.
The savoury complexity of this wine matches very well with rich casserole of root vegetables. Alternatively, a pepper seasoned ribeye steak with slow roasted new potatoes and grilled corn. €7.50
2012 Kyperinos Winery Maratheftiko – PGI Lemesos 14% Pitsilia  
The Maratheftiko grape has a love affair with oak. Kyperinos Winery aged this Maratheftiko for 18 months and the ageing shows in its aromas and flavours. This is a wine of deep red colour with some violet hues. The nose shows dark plum and cherry, black pepper and clove aromas, violet flower with some good spiciness. Some coffee and mocha notes are in perfect harmony with berries and currants, giving the feel of an elegant well-balanced wine. Nicely balanced in the mouth, with dark plum flavours and abundant spice. It is very elegant, soft, and silky. Displays good amount of vanilla, coffee, and wood grain, which makes it complex, but fruit driven. It begs to be paired with more full-flavoured food, like grilled lamb and mint or grilled sirloin steak, meatballs with some spicy tomato sauce, aged kefalotyri. €9.50 
Kyperinos Winery 
Marios Panayiotou Tel: 95 739569, [email protected]. Distributed by Cavaway Tel: 70008588, [email protected]