The summer may be ending, taking with it a buzzing cultural agenda and vibrant events yet this does not mark the end of festivals. Hopefully, we have a packed autumn to look forward to. This October numerous festivals are taking place all over the island celebrating all sorts of joys – art, literature, dance, coffee and even cocktails!
Arriving first is the 12th International Dance and Performance Open House Festival all over Limassol from October 1 to 3. The Dance House of Limassol has been organising the Open House Festival since 2010, inviting dancers, artists and choreographers to present their work. This year, performances are scheduled to take place at Apothikes Papadaki, the Old Vinegar Factory, Polichoros Synergeio, Kokkini Klosti Kindergarten and a final one at Dance House of Limassol where the festival will conclude. Tickets can be found on www.soldoutticketbox.com
Continuing the focus on the arts is the 2021 Buffer Fringe Performing Arts Festival which arrives again on October 8, 9 and 10 with events all over the island. Three days of performances and events, inspired by the theme of Displacement are planned for the second weekend of October. A dozen projects, performances and events are included where artists share and elaborate on their works as those unfold, describing their process via text, image and sound. For descriptions of each artist visit www.bufferfringe.org/artists.
On the same weekend, Saturday 9 and Sunday 10, the 6th Nicosia Book Fest will take over Acropolis Park in Nicosia welcoming authors, cultural institutions, publishers, book lovers, families and more. Over the two days of the festival, book presentations, discussions with authors, workshops, children's activities and theatre performances will take place. The 6th Nicosia Book Fest will host more than 50 bookstalls and 150 writers and is the ultimate event for lovers of the book world.
The festivals continue to thrive this weekend as the 11th International Short Film Festival of Cyprus premieres this Saturday, 9 at the Rialto Theatre with a short opening ceremony and an audiovisual show. Sixteen short films created by both emerging Cypriot directors and established filmmakers are included in this year's National Competition Programme, on until October 15 including several parallel events.
In Ayia Napa, the 16th Ayia Napa Medieval Festival begins on Saturday 9 and for eight days it will celebrate all things inspired by the Medieval period. Concerts, dance shows, exhibitions and parades featuring street theatre, fire dances, stilt walkers in costumes, percussion bands and masquerade actors keep the flame going for the whole week.
An even bigger happening with a large series of events is coming a few days later – the Larnaca Biennale 2021. The grand opening of the esteemed art exhibition will take place on October 13 at the Municipal Art Gallery, revealing the artworks of artists from all over the world based on the curational theme Limitless Limits. More than a month of events, exhibitions and parallel activities are included in the 2nd edition of the Larnaca Biennale that will last until November 26 at the Municipal Art Gallery, the Pierides Museum, the Multispace of Culture and Creativity and around town. The full programme can be found on the event's official Facebook page (@biennalelarnaca).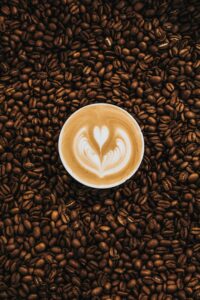 Taking festival-goers to Lymbia village is the newest edition of Xarkis Festival, a three-day event on October 15, 16 and 17. This 8th edition focuses on the theme Back to the Roots: Environment and Society and invites visitors to explore it through a series of workshops, performances, guided tours, community dinners and art installation. Each evening will end with a live music performance from local artists including the popular and award-winning band Monsieur Doumani.
Down in Limassol another event is being organised for the first time on the island the same weekend. The Limassol Coffee Festival is set to entertain coffee lovers and industry professionals on October 15, 16 and 17. It invites all to socialise, taste exceptional coffees, buy equipment and share knowledge in a full weekend that celebrates coffee. The best coffee brands and roasters, music and street food will make it an even more fun gathering, as the island's first international coffee festival arrives with exhibitors from Cyprus, Greece, Russia, Israel and Ukraine. The general admission Day Pass costs €10 online and offers unlimited free coffee drinks and entry-exit on the given day.
The month will continue to seduce our taste buds as the 2nd Cyprus Cocktail Festival arrives just a few days later. On October 19, the Nicosia Municipal Gardens will host a promising event that has been described by Drinksfeed.com as "one of the best 15 cocktail festivals of the world"! From 7pm onwards, the festival will open its doors to visitors as it welcomes 20 bars that participate in the event – 10 from Cyprus and 10 from Greece and Italy. You can expect music from the organisers, Deejay Radio, and unique cocktails by some of the region's best bars in a month that seems to be as promising and as eventful as ever. Bring on October!
12th International Dance and Performance Open House Festival
Annual dance festival by Dance House Lemesos. October 1-3. Various locations around Limassol. www.soldoutticketbox.com
Buffer Fringe Performing Arts Festival
8th edition of festival with performances, discussions and installations. Around Cyprus and online. October 8-10. www.bufferfringe.org
6th Nicosia Book Fest
2021 edition of annual book festival with readings, presentations, stalls and workshops. October 9-10. Acropolis Park, Nicosia. 10am-10pm. Free. Tel: 22-432111. www.nicosiabookfest.com
International Short Film Festival of Cyprus
Short film screenings, competitions and parallel events. October 9-15. Rialto Theatre, Limassol. www.isffc.com.cy
Ayia Napa Medieval Festival
16th edition of the annual festival with parades, performances and exhibitions. October 9-16. Ayia Napa. Organised by the Ayia Napa Municipality. Tel: 23-816300
Larnaca Biennale
International exhibition of fine arts. October 13-November 26 with many parallel events. Larnaca Municipal Gallery, Pierides Museum and the MultiSpace of Creativity and Culture, Larnaca. www.biennalelarnaca.com
Xarkis Festival 2021 – Back to the Roots
Annual festival with participatory workshops, art installations, parallel events, live music and a Residency programme. October 15-17. Lympia Village, Nicosia. Tickets: €25 for 3 days, €12 for 1 day. festival.xarkis.org. Tel: 97-676011. [email protected]
Limassol Coffee Festival
International coffee festival with workshops, competitions, exhibitions, food, music and great coffee. October 15-17. Limassol Marina, Limassol. www.limassolcoffeefestival.com
2nd Cyprus Cocktail Festival
Festival with 20 bars from Cyprus, Greece and Italy participating. October 19. Nicosia Municipal Gardens, Nicosia. 7pm. Organised by Deejay Radio