A memorable, first-of-its-kind "China-Cyprus Youth Forum" recently took place at the European University Cyprus.
Organised by the Embassy of China in Cyprus to mark the 50th anniversary of the establishment of China-Cyprus diplomatic relations, the event was co-hosted by the European University Cyprus, the China Foreign Affairs University, the Embassy of Cyprus in China, the Chinese People's Association for Friendship with Foreign Countries, the Cyprus-China Friendship Association, the China Global Television Network (CGTN), and the Cyprus Broadcasting Corporation (CyBC).
Chinese Ambassador, Mr. Liu Yantao delivered a keynote speech in the presence of the island's Minister of Education, Culture, Sport and Youth, Mr. Prodromos Prodromou, the Vice President of the Chinese People's Association for Friendship with Foreign Countries, Mr. Jiang Jiang, and Ambassador of Cyprus to China, Mr. Antonis Toumazis, who each also addressed the Forum.
CGTN and CyBC co-anchored the event, while youth representatives from political parties, universities, think tanks and tech communities, as well as from the two countries' telecommunications corporations participated in panel discussions. They also engaged in in-depth, friendly and enthusiastic discussions arising from the event's three topics: digital connectivity, health cooperation and civilisational dialogue.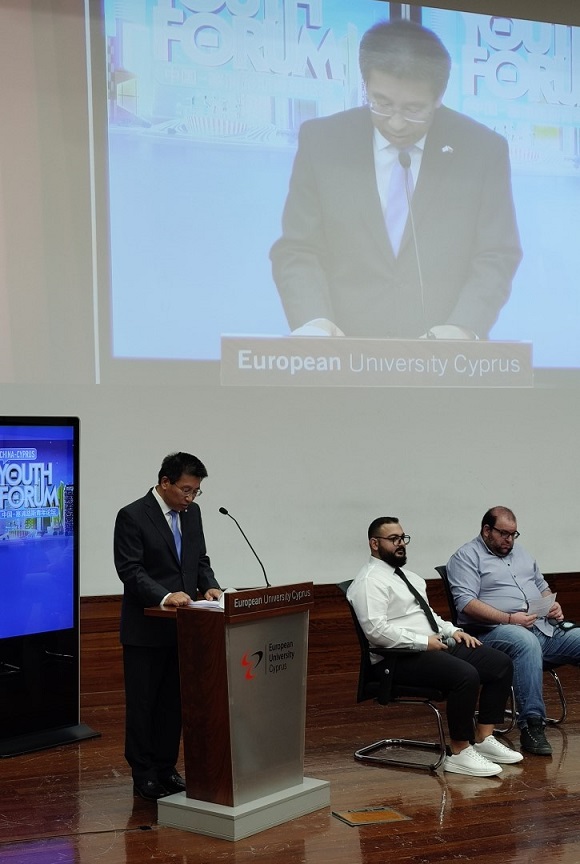 In his keynote address, Ambassador Liu underlined the fact that the world today faces significant changes and major adjustments, pointing out that dialogue and mutual learning among civilisations should, thus, be strengthened. As such, the China-Cyprus Youth Forum would allow significant, in-depth exchanges on the future of digital connectivity, the future of health cooperation, and the future of civilisational dialogue, which bear great and far-reaching significance, he noted.
According to Ambassador Liu, the Forum would help to further enhance friendship between China and Cyprus, by both countries promoting a common future and development, and by strengthening cooperation between China and the EU.
Meanwhile, special emphasis was paid by Education Minister Prodromou to the long history of exchanges between Cyprus and China, and the two states' close cooperation in the fields of culture, education, sports and youth.
Minister Prodromou underlined the fact that "Cyprus has been participating in the joint building of the 'Belt and Road' initiative, and has signed a memorandum of understanding on cooperation with China in this regard.
"It stands ready to play an active role in the interconnection of the three continents of Europe, Asia and Africa," he continued, adding that: "the government of Cyprus works closely with the Embassy of China in Cyprus to promote the Chinese language and culture in Cyprus".
For his part, Vice President of the Chinese People's Association for Friendship with Foreign Countries, Mr. Jiang Jiang, offered a vivid speech on "what is civilisation", "when and where did civilisation begin", and "where is civilisation headed".
He stressed that the development of civilisation was critical to the future and destiny of humankind, and that both countries' youth had to consider their outlook on civilisation seriously, as well as the relationship between different civilisations.