Perhaps the very first sign should be enough to influence your expectations. Upon calling to make a reservation at café, bar and diner Uncle Sam's in Limassol, I was politely reminded that no live music event would be taking place on the night of my reservation, the voice and tone betraying the suggestion I may perhaps have mistaken what date it was. I had already been aware that live music nights were Uncle Sam's most popular, with people packing the restaurant's exterior area. Maybe I should have taken the hint that a non-culinary offering, but rather one steeped in entertainment, was indeed the establishment's strongest suit.
We started off with some drinks and a chicken wings platter, with the latter being chosen in lieu of a small starter since there aren't any explicitly designated hors d'oeuvres, so you will either have to share a salad bowl or go the route I went. Back to the wings, at €16 it is not the cheapest wing platter I have ordered, but to their credit, you do get 14 wings and they were not of the scrawny, anorexic variety either. The wings were well-cooked – tender and moist, covered in a tangy sauce on the sweet side, and coated with sesame seeds. They were also accompanied with a few pieces of toasted pitta bread, itself lightly drizzled in what I assume is olive oil and dashed with oregano. A nice addition to the platter for sure. There are also two dipping sauces, barbecue and something resembling a slightly garlicky cocktail sauce, which was my pick of the two.
Onto the main dishes and the point where the experience became a bit more frayed. We both ordered the beef rib steak, one ordered with no sauce, coleslaw and mash potatoes on the side, and the other with fried potatoes, roasted vegetables and sauce. Both steaks came with a side salad drizzled with balsamic vinegar. Unfortunately, and I do hope it's the result of a bad night or someone having an off day, but neither met the expectations of a €28 dish (per person).
In my case, the steak was cooked slightly beyond medium even though the polite and courteous waiter recommended that I went with that level of cooking (no need for convincing me in that regard). In addition, and this was the case with both steaks, it was on the tough side, with excess fat that failed to instil any juiciness to the edible parts, and had gristle that could have been cut out or rendered the steak as not something to serve the customer. The other steak was particularly fat-laden, chewy and gristly to the point where my company stopped trying to carve out the good bits midway through. Moreover, their steak was cooked quite unevenly, with some sections being rare (as ordered) and others being almost well-done.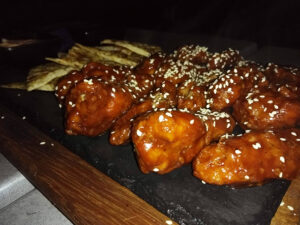 In terms of the sides, both salads were quite fresh and a nice accompaniment to the meat. The fries were alright, nothing out of place to note here, as were the roasted vegetables. My own coleslaw was again fine and on the creamier side, although I suspect it was of the prepackaged variety, then again it's hard to tell sometimes. I was disappointed, however, with my mash potatoes, which were arguably the most unusual mash potatoes I've ever had. They were simply too thin, too sweet (not sure how), and not tasting so much of potato as they did of instant mash potato mix. Again, if this is not the case, and I am happy to concede a mistake if it isn't, then the actual potatoes were not handled well.
Although we had initially thought of getting dessert, we revised our plans after our aforementioned waiter, who as I said was polite, friendly and courteous, had disappeared after our main dishes arrived. Perhaps his shift ended, but whatever the reason we missed his attentiveness from that point onwards.
VITAL STATISTICS
SPECIALTY American food
WHERE Makariou III, 239 Enaerios, Limassol
WHEN Daily
HOW MUCH €28 for a steak, €16 for a platter, €4 for a pint of beer
CONTACT 70070222