A music video for a pop song shot in Varosha has caused offence and initial reaction, primarily from Greek Cypriots, was to censure the release.
The singer, Nihayet (also known as Nini) released 'Bulaman' to her YouTube channel on Tuesday and further promoted it to her 27,000 Twitter followers, featuring prominent locations in Varosha.
Users on social media criticised what they say is poor taste and a lack of respect for the sensitive nature of the town, which has become emblematic of the island's division – and has now dragged on for almost half a century.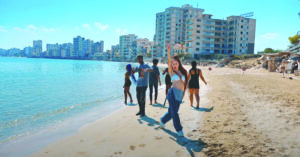 In the almost three and a half minute music video, a group of young people are seen dancing and singing on the golden beaches of the town and in the streets amongst the abandoned buildings.
Dilapidated homes, hotels and shattered storefronts are also seen as the group cycles along the refurbished roads.
The ghost town of Varosha was partially reopened back in October 2020, which took place just days before Turkish Cypriot leader Ersin Tatar was 'elected'.
On Wednesday, local media reported that the European Commission has prepared a detailed classified report on everything that has been taking place at Varosha since July 20, 2021, in a bid to verify accusations issued by the Republic and to map out Turkey's role the in events taking place in the area.