Letters exchanged with high school sweetheart show the romantic side of an EOKA fighter hanged by the British. Paul Lambis speaks to the woman they were addressed to about him
March 14, 1957. The island of Cyprus is under British colonial rule. A Greek Cypriot revolutionary and poet is sentenced to death by hanging, at the age of 19. As he proudly heads towards the gallows, he softly sings, "I'll take an uphill road. I'll take the paths to find the stairs that lead to freedom." His final wish was to be the last person to be executed by hanging.
The life and death of Evagoras Pallikarides made him a symbol and role model for the Greek Cypriot youth of Cyprus during the remaining years of the EOKA struggle for independence, and his name continues to inspire writers of poetry and prose, to this day.
Pallikarides was the author of numerous poetry collections associated with the struggle for freedom. However, this celebrated figure also had a way of bringing romantic verses to life through countless letters, written to his high school sweetheart, Lya Hadjiadamou.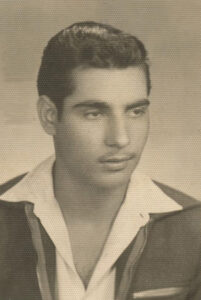 Lya recalled the moment she first met Evagoras when they were both students at the Nicolaidio Gymnasium of Paphos. "We met by chance at one of the sporting events," she told the Sunday Mail. "We were both athletic, so sport was a common point of interest."
One afternoon, while walking home after choir rehearsal, Lya encountered Evagoras riding his bicycle, holding a set of vinyl records tucked under his arm. She soon discovered that she and Evagoras had a mutual passion for music, particularly Johann Strauss' waltz.
"I hummed the tune softly to him," she revealed. "We promised each other that I would write down the lyrics to a popular Greek song, which spoke about overcoming hatred with love, and he would give me the lyrics to 'La Paloma', a song that described the pain of leaving one's motherland." Thus began their fairy tale romance.
There is often an assumption that the lives of high school sweethearts are akin to fairy tales, and in this case, Evagoras and Lya were destined to a "happily ever after."
Looking back, however, Lya reflects on the irony of the situation, and how both songs were a prediction of future events: Lya would leave her motherland for South Africa, and Evagoras' conviction and execution, according to Lya, "is proof that hatred never ceases."
Once Evagoras and Lya's paths intersected, their love for one another developed into a deep and meaningful relationship. "Without wishing to sound clichéd, it was love at first sight," Lya added. "Evagoras was a timid, yet well-rounded student who had many interests. He had more knowledge and experience than most people had at his age. More importantly, Evagoras had a way with words in a way that was very beautiful and full of emotion."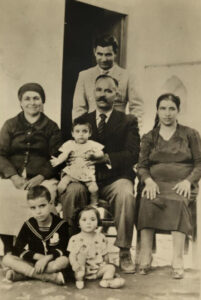 Evagoras used his poetry as an instrument of courage, expressing his thoughts, passions, and ideas. As a parting gift, Evagoras gave Lya a red notebook that included fifty-four handwritten poems, which Lya considers, together with his letters, her most favoured and valued possessions.
"This collection of poems depicts different journeys of love that will make your heart smile and weep at the same time," Lya said.
"All our correspondence was through poems and letters. When we were together, we would never discuss our relationship and emotions for one another, nor did we express our feelings about current affairs. Our epistolary love affair, which began when I immigrated with my family to South Africa, portrays the depth of our romance and Evagoras' undeniable signs of sincerity and authenticity."
Their long-distance relationship continued for a few years until Lya decided, with a heavy heart, to wave goodbye to her romance with Evagoras, after her family showed no signs of returning home. "It was the hardest thing to do," Lya admitted. "I was miserable without him, but I had to move on and carve out a new path in my life."
Their close friendship lasted until Evagoras' dying breath in March 1957. A week before his execution, Evagoras penned a letter to his beloved Lya:
"Although in solitary confinement, my thoughts are free to travel anywhere. Surprisingly, they head in your direction, and the song, which spoke about overcoming hatred with love; the song you taught me, continues to play in my mind, often stopping at those dreams that died out. It's all over, Lya. All that remains is hope. I am waiting for the Governor to decide my fate. In a few days, I may be writing my final letter to you."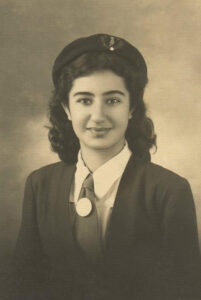 Lya responded to his letter, admitting her undying love for him. Sadly, that letter would never reach Evagoras. His conviction and execution caused an international uproar and condemnation of the British colonial powers. This led to the quashing of the death sentences of another 26 men who had been sentenced to be hanged.
A few years after Evagoras' execution, Lya went on to marry Sotiris, a man she had met in South Africa, whose commitment to family matched her own. Together, they had five children, four daughters and a son. Twenty odd years into their marriage, Lya's husband sadly passed away. She eventually remarried a Greek Cypriot who had relocated to South Africa for work. "His name is also Sotiris," she said laughingly. "A refined man, who reminded me a lot of Evagoras when I first met him." The couple returned to Cyprus and are living in Lya's hometown Paphos.
In 2013, Lya was persuaded to publish Evagoras' intimate poems and letters. "I was reluctant at first, however, I realised their historical importance," she stated. "They are also poignant reminders of how letter writing was once as ubiquitous as emailing and texting, if more romantic."
For Lya, at the age of 82, Evagoras' memory lives on, and their relationship plays out like a tragic love story in her mind. "Evagoras Pallikarides was the man I loved – a friend, a revolutionary, and a symbol for our struggle for independence."