Pope Francis thanked Cyprus for its "warm welcome and hospitality" in a handwritten note after his departure on Saturday morning as he headed to Greece for the rest of his tour.
His official three-day visit to Cyprus ended with a farewell ceremony attended by President Nicos Anastasiades and the majority of the Council of Ministers.
"As I conclude my visit to Cyprus, I renew my deep gratitude to your Excellency and to the people of Cyprus for your warm welcome and hospitality," the Pope wrote, addressing Anastasiades.
"With the assurance of my prayers for the peace and prosperity of the nation, I invoke upon all of you, the blessings of Almighty God".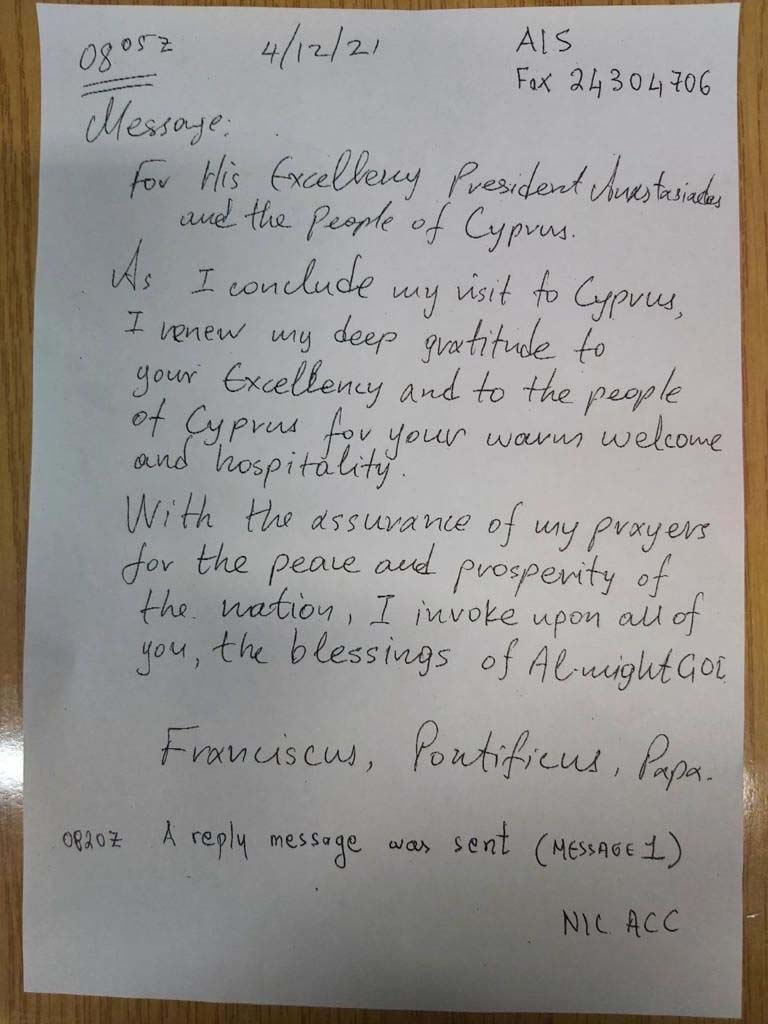 On Friday, the Pope completed his visit with a prayer attended by migrants at the Catholic Church of the Holy Cross in Nicosia. Earlier, he addressed the faithful at the GSP Stadium in Nicosia where he held the Holy Mass.
With the headline "The only Turkish Cypriot to meet the Pope," Turkish Cypriot newspaper Yeni Duzen reported that in the evening, during a meeting with the religious leaders of various communities, the Pope also met with the imam of Larnaca's Hala Sultan mosque.
Meanwhile, on Thursday, Turkish Cypriot leader Ersin Tatar invited the Pope to visit the north as well, adding that Greek Cypriots used the Pontiff's visit to gain political advantage.
In Greece, he will meet President Katerina Sakellaropoulou on Saturday and then Prime Minister Kyriakos Mitsotakis and other Greek officials and diplomats.
Pope Francis will subsequently meet with Archbishop of Greece Ieronymos at the Archdiocese of Athens and with various representatives of the Church of Greece at the Catholic Cathedral of Saint Dionysius the Areopagite.
On Sunday, Francis will travel to Lesvos and speak with refugees on the island, returning to the capital in the afternoon to conduct a liturgy at the Athens Concert Hall and meet again with Ieronymos.
On Monday he will meet with the President of the Hellenic Parliament, before speaking to pupils at the Ecole Franco-Hellenique des Ursulines and then departing for the airport.