Cypriot activist and MP Alexandra Attalides is among 12 individuals from across the world honoured by the US state department for their work to combat corruption.
Attalides, elected to the House of Representatives for the Greens in May, was named Anticorruption Champion by US Secretary of State Antony Blinken together with activists from countries such as Bulgaria, Malawi and Thailand.
The announcement of the second cohort of the state department's International Anti-corruption Champions was made late on Wednesday, on the eve of International Anti-corruption Day marked on December 9.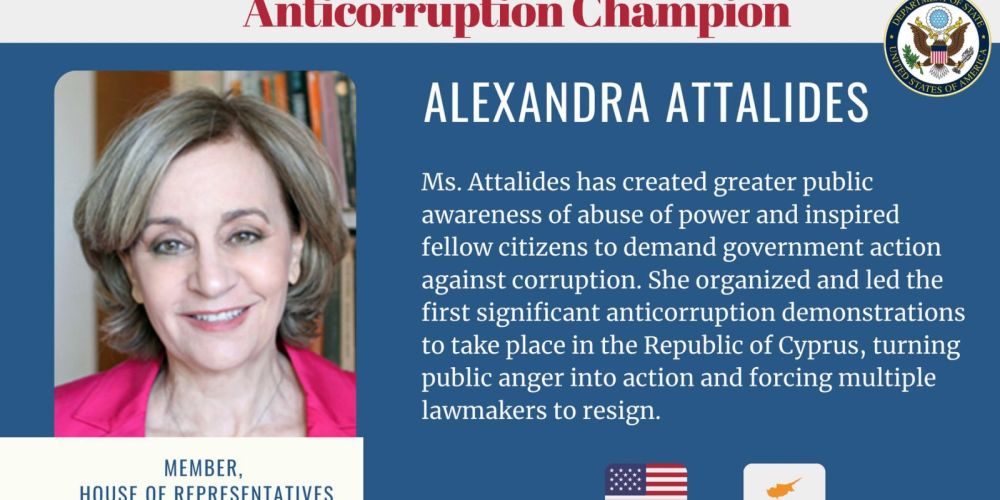 It singled out Attalides for spearheading demonstrations following an Al Jazeera expose on Cyprus' discredited cash-for passports programme which led to the resignation of House president Demetris Syllouris and Akel MP Christakis Tziovanis.
On Attalides, the state department notes: "Ms Attalides has created public awareness of abuse of power and inspired fellow citizens to demand government action against corruption. She organised and led the first significant anti-corruption demonstrations to take place in the Republic of Cyprus, turning public anger into action and forcing multiple lawmakers to resign."
In statements, Attalides described the award as a "significant recognition" of her efforts as an active member of civil society and now as a member of the House. "I intend to continue," she vowed.
The MP noted that according to a 2018 UN survey, $1 trillion is paid each year in bribes while an estimated $2.6 trillion annually is embezzled – more than 5 per cent of global GDP.
"Unfortunately, these are resources that disappear into the black hole of corruption. Our country is no exception," she added.
"Corruption must be eliminated, and these resources should be channelled to the transparent and healthy part of the economy, in productive sectors, which would have a direct or indirect impact on the improvement of the everyday lives of all of us. The education of citizens, the health systems of the state, the protection of the environment and green development, research and new technologies. The fight against corruption continues," she concluded.
Expressing their pride, the Greens on Thursday welcomed the honour as the "best gift" which they said rewarded Attalides' efforts through the years.
"International Anti-corruption Day comes to remind us of the government's narrative that scandals and corruption belong to the past, though the truth is that corruption is alive and well and the Anastasiades government has done nothing to address it," the party said.
In a written statement about the awards, Blinken noted that often when speaking of massive, complex challenges like corruption, people lose sight of the fact that their ability to make meaningful progress and change people's lives for the better comes down to the work of individuals.
"Today, we recognise individuals who have demonstrated leadership, courage, and impact in preventing, exposing, and combating corruption," he said.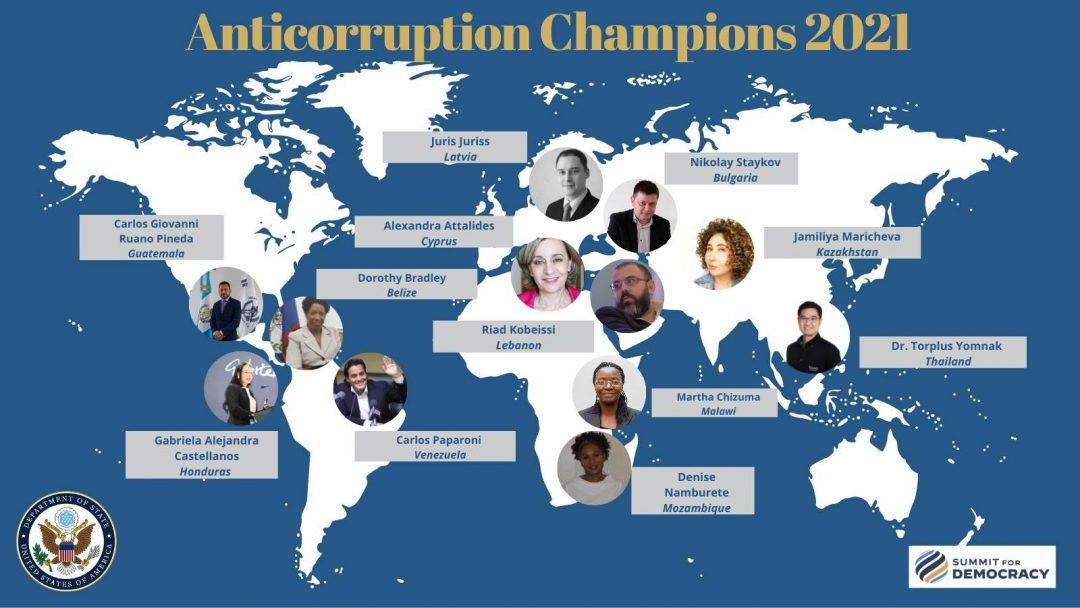 Besides Attalides, the honorees are Dorothy Bradley of Belize, Nikolay Staykov of Bulgaria, Carlos Giovanni Ruano Pineda of Guatemala, Gabriela Alejandra Castellanos of Honduras, Jamiliya Maricheva of Kazakhstan, Juris Juriss of Latvia, Riad Kobeissi of Lebanon, Martha Chizuma of Malawi, Denise Namburete of Mozambique, Dr. Torplus Yomnak of Thailand, and Carlos Paparoni of Venezuela.
Blinken said the State Department counters corruption through country-to-country diplomacy, supporting international standards and their implementation, building and strengthening government institutions, using visa restrictions and sanctions to hold corrupt officials accountable, and supporting journalists and non-government actors that promote transparency and advocate for accountability for corrupt individuals.
The launch of the Summit for Democracy on International Anti-corruption Day offers a unique opportunity to recognize those working to make their countries better, he concluded.