Donations of gifts, toys and chocolate are desperately needed to fill up gift bags for children of families connected to the Learning Refuge that are living in the district of Paphos and want to celebrate Christmas.
"We have more than 50 families with around 120 children of different religions that would like to celebrate Christmas. The kids love Christmas and so many of them tell us they have a small tree which they are decorating. It brings them joy and they are expecting to celebrate Christmas. We would love people to donate gifts to make this happen," Learning Refuge volunteer co-ordinator and renowned artist, Mary Chojnowski told the Cyprus Mail
This year has been particularly difficult for many people, especially those that are trying to build a new life, she said.
The Learning Refuge moved to their new base last year, which is a house in central Paphos complete with a chapel. It was set up in 2015 and is run by volunteers and is integral in helping to improve the lives of refugee families in Cyprus. It is currently in the process of being recognised as a volunteer-led community association, which means that they can undertake a number of projects, Chognowski said.
At the centre, volunteers have established a 'mother's sewing group', which is creating all sorts of items such as, bags, decorations and clothes which can be sold and all of the proceeds go to the mothers which created them.
"They love doing this, the group is mostly made up of mothers from Syria and other countries and it helps both financially and with their sell esteem."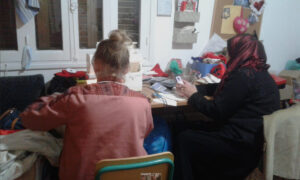 The volunteers are also planning to create an 'International Garden' with herbs and plants from all over the world and from the attendees country of origin, she added.
Volunteers that would like to start creative projects and teaching skills that could be used to create items for sale at fairs are also needed.
A number of the volunteers are refugees and asylum seekers from Syria and Africa, that help with deliveries, family liaison and sorting through donated items, she said.
Families in need are often given bedding, curtains, food and other items that have been donated by the public and supporters of the centre.
They are also given Christmas gift bags for their children.
"We really need help to provide gifts this year for our children from babies to16 years old, who all love to join our celebration of Christmas."
Cakes and sweets, apart from chocolate, should be avoided in case they contain alcohol or gelatin, due to some of the families' religious beliefs, she said.
One of the most popular gift ideas from previous years is a gift bag containing a selection of small to medium size items that are either useful, fun or tasty. This could be Christmas cookies and chocolates, pencils or pens, sketchpads, small books, mini puzzles or games, magic tricks, small soft toys, gloves, socks or hats and hair accessories, for example.
It helps to make gifts age-appropriate and mark the bag, she added, such as 2-4 yrs, boy/girl, and it is best to avoid large plastic gifts or huge boxes.
"Last year volunteers delivered to many families and this year we are also ready to deliver Christmas to their door, so we may need people to help with this too."
For further information: The Learning Refuge on Facebook : www.facebook.com/learningrefuge
Mary: 99595385, Father Fernando: 99933130