In the captain of a replica of a compact 18th century frigate, THEO PANAYIDES finds someone at home in a space designed for function over comfort who has lived a solitary life going from port to port for over 20 years
If you've never been on a ship from the year 1703, know that it's small – 'compact', I guess is a better word – and a little hard to navigate for the non-sailor; not in the sense of trying to steer the thing, just in the sense of walking around without hurting yourself. I walk up a gangplank to the entryway of the Shtandart – and find myself looking down at a ladder of steep, tiny steps, holding on to a rope line as I gingerly descend to the ship's deck. Every inch of its length (82 feet, according to Wikipedia) is designed for functionality, not comfort. Another crescent of bite-sized steps wends its way to the upper deck – and there, hand extended, is Captain Vladimir Martus, his shaggy blond mane giving him the debonair look of a young Richard Branson.
The Shtandart wasn't built in 1703, of course. It was actually launched in 1999, having been constructed by the young Vladimir (he's now 55) and a couple of his friends from university, a project that took about six years – but it's an exact replica of the three-masted frigate built under the aegis of Tsar Peter I (known as Peter the Great) in the early years of the 18th century. Captain Martus has been sailing it ever since, visiting 175 ports in 19 countries – though we meet during his first visit to Cyprus, the ship docked at Limassol Marina for a couple of weeks before heading off to Rhodes and points west.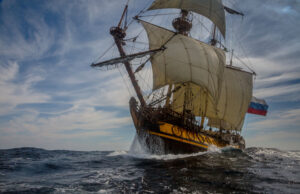 It's a fine Wednesday morning, sunny but gusty, the calm waters of the marina reflecting sunlight and the sleek lines of the "millionaires' boats," as Vladimir puts it. His style is perpetually amused, his blue eyes shrewd and appraising. The day's sailing session has been cancelled due to wind – not because it's especially windy, but because the plan was to send the new trainees to the top of the main mast (not the very top, which is 33 metres above the water line, but the 'lower yard' – which is still 20 metres up, about the height of a six-storey building) and he feels it "might be challenging" for them. The ship is officially a training ship, which is how Vladimir makes it pay, though he also does guided tours for landlubber visitors and takes in young crew members from all over Europe.
I talk to one of them, downstairs in the crew's living quarters: Matilde is 20, from Denmark, and has only been on the Shtandart for a couple of weeks. (There are also permanent crew members, most of them Russian.) Before this she was on a Danish ship, also as part of her training – she wants to be a professional sailor, bulking up her CV with marine internships – and finds this one more comfortable: there were 40 sailors in an area of 40 square metres on the Danish ship, sleeping on hammocks which they had to fold up every morning. We speak standing next to her bunk, which seems insanely narrow compared to even the most spartan arrangement on land – but she likes life at sea, says Matilde, letting go of distractions and "trying to figure out what's important to you".
'What's the attraction of the sea?' I ask Vladimir. "Oh, the freedom," he shrugs, as if it's barely worth mentioning. "You have freedom, you have so much space around you, you can choose to do whatever you like." He's out at sea eleven months a year, only going ashore around Christmastime. Somewhat incredibly, he also has a wife and four kids back in St. Petersburg.
Really? Four kids?
"Yeah. So you can count how many times I've been home!" he replies, with the air of an oft-told joke.
Can a marriage work when one partner is away for so long?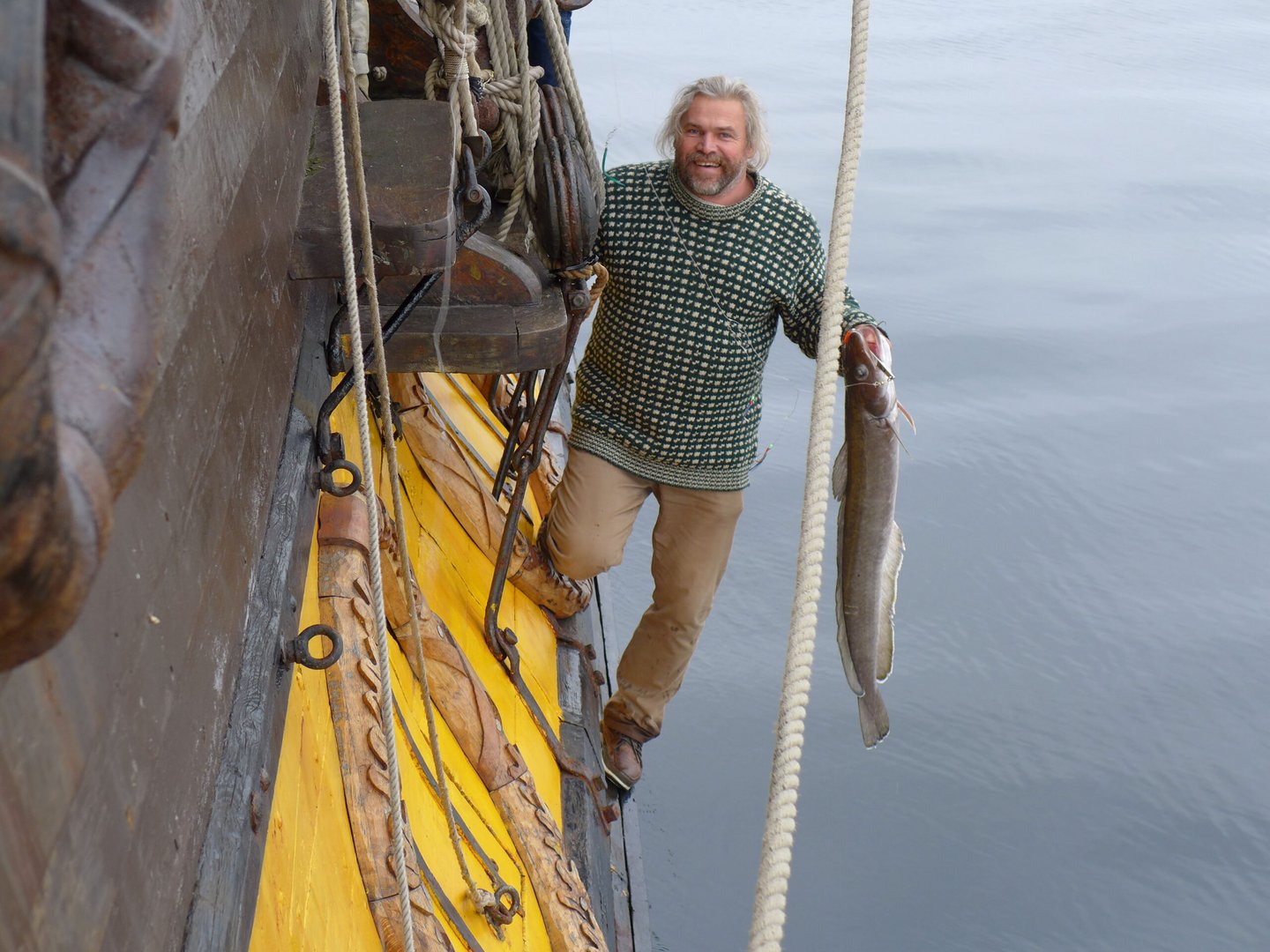 "Well, after 28 years of marriage, sometimes it might be even better. To not see each other every day, that's fine." The kids are grown up now – his youngest turned 17 last week – and they've all done time on the crew, while his wife helps handle the accounts and publicity. They talk every day, on WhatsApp or Telegram; the ship isn't all 18th-century, its quaint wooden panels hiding an array of high-tech equipment.
This wasn't really the plan when they got married, back in the 90s. Vladimir had already built one ship, the St Peter – a two-masted schooner which he later sold and sailed across the Atlantic, so it could star as the Black Pearl in Pirates of the Caribbean – and would soon begin building the Shtandart, but the plan wasn't necessarily to spend the next 22 years on it. In fact, there wasn't really a plan at all. "We are often joking that it was ladies and children who built the ship," he explains in his gruff Russian accent. "All volunteers."
The 'children' were himself and his friends, all very young and working for love rather than money. "It was very low-budget," he recalls, turning on his laptop to guide me through a slideshow of old photos. There were no investors; Russia was in crisis in the late 90s (one investor did turn up late in the day, a businessman from Ipswich who'd made money renting out exhibition space). The timber came from parks and forests – mostly trees that had fallen down in the wind – since they didn't have money to buy their own. Wood was cut by hand, then bolted together; many months were spent hammering metal into nails, "we made 8,000 nails by hand". Vladimir shuffles through the slideshow, talking of 'futtocks' and 'garboard planks'. "The plank next to the keel, garboard plank, it's 14cm thick, and you see we had to twist it almost 90 degrees without making any cracks."
He had a degree in shipbuilding – but of course that was modern ships, not wooden ones. Earlier he'd been an athlete, a top sailor for many years, notably winter windsurfing which involves careening over ice with a sail and a single ski. (Vladimir was second in the world at some point, having narrowly missed out on gold at the world championship.) Earlier still, he'd grown up in the twilight days of the Soviet Union, the son of a submarine officer who became disillusioned and gave up his Party membership: "He was quite independent in his opinions".
His son is a bit like that too, he could hardly be otherwise. Does he have the right personality to be a sea captain? "I think yes. You know, in windsurfing I was captain of myself on my little boat – so I've been captain of myself since I was 14." The hard part, he admits, was learning how to delegate responsibility – how to motivate people, and how to trust them. His life, after all, is exceptionally solitary (some would say self-sufficient). It's not just that the ship has no home port or regular route, sailing from place to place – some ports are closer to his heart (Barcelona, La Rochelle), but they all look alike after a while; it's significant that he hasn't yet ventured out beyond the marina to see Limassol during his 10 days here – it's also that the job of the captain depends on maintaining a certain godlike distance. "You don't mix with your crew… I like all my crew, but I wouldn't say that I am best friends." The captain, he admits with a sigh, is "a bit lonely".
The captain's best friend – his soulmate, his love – is of course his ship, a constant companion whom he knows intimately. (It's no accident that ships are referred to as 'she' by the men sailing in them.) There were some mistakes in the early years, "some hard parking and not very professional manoeuvres, because I was learning. I was not trained as a captain of a three-masted, square-rigged ship". These days, however, it's as natural as breathing: "I feel the ship. I feel the distances, plus-or-minus 10cm".
He's proud of his expertise, posting technical questions – "Why is it that on a square-rigged ship, at fresh and strong winds, experienced sailors prefer to carry more sails on the fore-mast?" – on the ship's Instagram page (frigate_shtandart), and has never (touch wood) had a serious mishap. "Probably the most difficult was a nine-Beaufort storm off Finisterre," he grins when I ask about trouble at sea – that was between the Atlantic and the Bay of Biscay, off a corner of Galicia known as the 'Costa de Morte' – though of course his job as captain is to steer away from storms and avoid the bad weather. It's easier than it sounds, he assures me, both because he can always switch to sailing downwind when caught in a storm (it's not like he absolutely has to be anywhere) and because of all that high-tech equipment. "All navigation is now a computer game for a 12-year-old boy, it's so easy."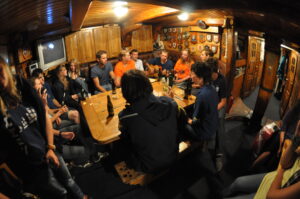 It's easy in another way too. I ask what he does to break the monotony, but in fact he almost always has an internet signal: "85 per cent of the time, we are very close to the shore". A warship from 1703 isn't just surprisingly small, it's surprisingly slow too (though he's crossed the Atlantic on an even smaller ship, as already mentioned): the Shtandart can go over 14 knots if absolutely necessary, but most of the time they're pootling along at around six or seven knots. That's how it was, back in the day: "James Cook travelled around the world with average speed 2.2 knots. Columbus went on average, I think, 2.8 to America". Besides, says Vladimir, "we are not in a hurry. Why should we be?".
That's a paradox in Vladimir Martus' life: it's both more intense than the average person's, and more laid-back. Being at sea is a constant challenge, sleeping in cramped little bunks and getting tossed around in rough waters, but it's also a kind of limbo: they had a saying in the old days, he says, "There are people alive, there are people dead, and there are sailors". That was literally true in the 18th century – once a sailor went away for three years, his family had no way of knowing if he was dead or alive – but still metaphorically true even now. I recall what Matilde said about trying to figure out what's important; you slow down, live your life in an 80-foot span, look at the world from a distance. "I am independent," says Vladimir. "I am my own universe."
His ideas are also independent. He's surprisingly nostalgic for the USSR, and unhappy with the wealth gaps and chronic insecurity of today's Russia. "People there – in general – lived a happier life," he claims of the Brezhnev years. "I remember when I was a kid, every summer, guaranteed, we would go to the warm seas for a holiday… Maybe it's happening now – but at that time it was just normal. Just normal. These days somebody's lucky, somebody's not lucky." The past two years have brought another kind of insecurity – and there too, watching from the deck of the Shtandart, Vladimir has his own opinions. The Matrix is his favourite movie – and it's no surprise that he is, as they say, red-pilled.
"I think we are at very high risk of becoming a feudal society again," he says grimly, "because the brain of people is under control now… This Covid stuff is like a religion, some people believe in it and some people don't. I don't believe [the virus] is that bad." The worst part, he observes – slightly ironically, for someone living largely apart from the world – is the way "society makes us believe that we are dangerous to each other. You're afraid to talk to me, I'm afraid to talk to you, we are separate. And then we are all separate, and then – what is the saying, 'separate and rule'?" Divide and rule. "Divide and rule. That's where we are going."
His own life is somewhat exempt, of course, living "next to the water" with the wind on his brow. "I like to harness the wind with my own hands," he tells me, tugging at the air to indicate pulling at a rope to trim the sheets (you have to pull the rope, there are no winches on board ship). "That's what I like to do, and I think it's the greatest pleasure." Has he figured out where to retire, after visiting so many ports? There's an old joke, he replies, an old captain says "I'll take an oar, put it on my shoulder, and start walking. And at the place where people ask 'What's that thing on your shoulder?', that's where I will stay! That's the joke," he adds with a laugh, "but not for me. I can't really imagine myself without watching the sea. So, I dunno, probably I will be sailing till the last day."
Still, it may be time – after 22 years – to abandon the Shtandart. Vladimir has a new dream, a much larger project: a replica of the Cutty Sark, the famous 19th-century clipper, almost three times as long as his current ship, with 2,000 square metres of sails. The idea is to actually use her as a cargo ship, he explains, transporting premium products like coffee, tea and rum in an eco-friendly way – a game-changing plan that'll probably take years to achieve, if indeed he can find an investor. His blue eyes shine, lost to the vision. Then a group arrives for a guided tour – "Good day everyone, who wants to listen to the story?" – and he's Martus the debonair sea dog again.