A friend recently asked me which part of Nicosia is my favourite. The question was quite innocent and should not involve a lengthy thinking process to answer. What makes people like a certain area? For some it's the history behind the place, for some it's the buildings and the amenities surrounding it. For me it's more often than not the amount of restaurants and bars available.
And few areas in the capital offer more quality eating and drinking choices than Pindarou, a relatively quiet, unassuming, yet somewhat elegant road not far from historical Makarios Avenue.
And, for me, the best among the many options in leafy Pindarou, after trying almost all of them, is Bottega Amaro.
I was relatively reluctant to write about a place that is better known for its elaborate and fancy drinks than its food, but a recent visit made me change my mind. Simply put, as far as I see it, Bottega Amaro is a great restaurant that also features an impressive cocktail list.
And it pays attention to seasonality. The small but intriguing menu changes often according to what are the best ingredients available at the time and always includes daily specials, a sign of creativeness that should not be overlooked.
Although Italian-sounding, Bottega Amaro can best be described as an all-around Mediterranean restaurant. Yes, you will find pizza and pasta dishes – and really great ones at that – but don't make the mistake of overlooking some great sharing starters and salads.
Sitting on the lovely alfresco deck adorned with perhaps unnecessarily luscious plants, I started with the beef tartare, served with stracciatella, an Italian soft cheese from the southern region of Apulia, truffle and crunchy focaccia. Despite some strong flavours, it did not turn out to be overwhelming, which is exactly what a starter should be. My dining companion opted for a burrata salad with cherry tomatoes and homemade pesto, a dish with slightly contrasting flavours that perfectly complemented each other.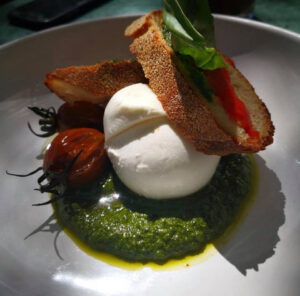 With my appetite whetted, I then ordered the mafaldine, a type of ribbon-shaped pasta, with cacio e pepe, a classic Roman dish, often mistaken for one that is simple. Why? Because cacio e pepe only features three ingredients: pasta, cheese (Parmigiano Reggiano and Pecorino Romano) and pepper. However, getting it right and creating that heavenly creamy sauce that makes up the dish requires quite a lot of skill, which clearly the chefs at Bottega Amaro possess.
During our dinner, the couple at the adjacent table ordered a meat dish that looked and smelt divine. I quietly asked the waiter what they had, a Chateaubriand, very popular in the 80s consisting of a large centre cut fillet of tenderloin grilled between two lesser pieces of meat that are unceremoniously discarded after cooking. Not very sustainable indeed, but the result seemed stunning and I promised myself I will have a go at it on my next visit.
Unfortunately, this will probably not be for a while as Bottega Amaro, in fact, is not a cheap option. Every single item on the menu is quite pricy and, although I firmly believe that quality food should not be inexpensive, there is no shame in seeking out more affordable establishments.
Although, I must warn you, they will probably not amaze quite as much as Bottega Amaro.
VITAL STATISTICS
SPECIALTY Mediterranean – Italian food
WHERE Pindarou 14, Nicosia
WHEN Daily from noon to 11.45pm
HOW MUCH €19-18 for a starter, €16-18 for a pasta dish, €17-21 for a pizza, €20-65 for grilled meat options
CONTACT 22 777270