Aiming to bring strangers together to discuss meaningful things in life, Conversation Cafés are frequently held around the island. Alix Norman meets one of the women behind them
Tired of talking about corona? Bored with workplace chitchat? Had enough of debating the endless family woes? Then how about discussing what shapes character, how to address toxic people in the workplace, or the effect of being born in a specific country?
These, and countless other fascinating topics are discussed each month at Cyprus' very own Conversation Café – a gathering that runs under the tagline 'Facilitated, meaningful dialogue', and takes place in various cafés across the island. An antidote to uninspiring interactions, the Café is a place that actively encourages significant conversations: "A place in which we create and hold the space for connection and conversation on meaningful topics that we might not otherwise discuss in our daily lives," says co-founder Charis Charalambous.
A psychologist and facilitator of non-formal learning events, Charis launched the initiative in May 2019, along with good friend Gulsen Kadri. And for close on three years now, the two have been running their Conversation Cafés around the island, with the aim of "facilitating meaningful conversation; allowing people who are often complete strangers to learn and grow from each other's experiences.
"In March 2019, I was at a café in the north," says Charis. "I was there with a friend, sitting at a big table in the middle of the room. We fell into conversation with two fellow patrons – both strangers to us, but both fascinating people. And I thought this could be developed; that it might be a good idea to create a space for people to come together and connect through conversation."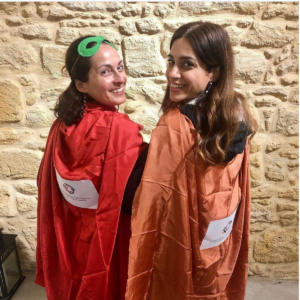 Charis went away and Googled her idea. "And I found that Conversation Cafés already existed around the world – they'd been initiated in the US several years ago. But there was nothing of the type in Cyprus," she adds. "So I thought it might be time…"
Just a few months later, the duo began organising their own events at various venues across the island, both north and south of the border. "The first was at a café in the north," she recalls. "We'd publicised the event on Facebook, and put up a poster in the café itself. And we were thrilled that eight people showed up, many of whom were complete strangers to each other…"
As a facilitator, Charis' job is to "make sure people feel comfortable, create trust and safety so they can share information and wisdom. Maybe they're drawing from personal experience or thought," she explains. "Perhaps they're referencing something they have read or watched. We all have such diverse experiences, and being able to allow for deep conversations – conversations that you wouldn't normally have in your day-to-day life, fuels the soul."
At that first event, the group discussed 'Which type of government decision would make you want to leave the country?' And the answers, says Charis, were fascinating. "A lack of freedom of expression is the answer that stays with me," she muses. "But there were many others. There's no right or wrong in the Conversation Café, just different perspectives that allow for a well-rounded view of others' experience and wisdom."
Realising from the outset that they were onto a winning idea, Charis and Gulsen have since held events on an almost weekly basis – even during the worst of the lockdowns, when proceedings went online. Among the many topics discussed have been: 'More people on the planet have access to a smartphone than a toilet. What are your views?' 'Do you think an open relationship can work and if yes, under which conditions?', 'What would be the pros and cons of hearing others' thoughts?', 'Is there a larger generation gap nowadays than previously? Why should this matter?', and 'Is it possible not to have an opinion about something?'
"Each event follows a certain format," Charis clarifies. "We always begin with explaining the idea and process, and hand out name tags because participants – who may number between eight and over 20 – are often strangers. After we've briefly talked about what brings each person to the Café, we ask a few icebreaking questions. Then we split into pairs and answer shorter questions. Then we divide up into groups of four or five: facilitators go around with one envelope of multiple questions – maybe about current events or life – and from this each group picks three questions, and votes on which to discuss…"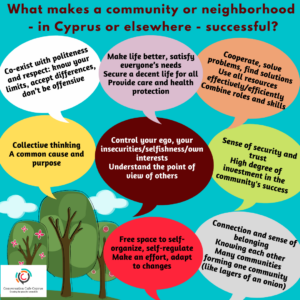 The facilitators try to steer clear of over-politicised issues in favour of "other fascinating topics that are often left unsaid. Consciously, we're creating intercommunal conversations," says Charis, "shedding light on both local and global topics of interest. And, as long as somebody says 'This is a good question!', we know the event has been a success."
Fairly often, participants continue their discussions when the allotted time of two hours is up. And though each event sees entirely new questions – a labour of love, says Charis, which takes a great deal of time – all the questions discussed are later posted on the group's Facebook page so they can be used at home or with friends.
Over its 28 events to date, the Café has attracted people from widely varying backgrounds and nations, including Cyprus, Italy, the US, Greece, Netherlands, Turkey, Denmark, Azerbaijan, Spain, Slovakia. And though participants usually range from 20 to 40, any age is welcome. "We encourage open-minded people who can allow others to talk. This isn't a debate," Charis reiterates. "You don't have to convince anybody of your point of view!" Instead, discussions of humour and compassion are encouraged, and the hundreds who have participated over the years have given excellent feedback.
"At our last event, we asked people to fill in a questionnaire to get an idea of the Café's impact," Charis concludes. "And it was a joy to read the comments. Allowing for an opportunity to share thoughts and experiences in a safe space was referenced several times, along with the importance of this sort of event to society, and the strengthening of bicommunal multicultural bonds. And one of the participants mentioned that the events are an excellent vehicle for sharing new perspectives and open discussion… And that," Charis concludes, "is exactly what we're aiming for at the Cyprus Conversation Café!"
For more information and upcoming Cafés, visit the Facebook page 'Conversation Café Cyprus'