The Cyprus Investment Promotion Agency, commonly known as Invest Cyprus, on Thursday announced that it continued its efforts to promote the island as an investment and business destination through a series of meetings and events in the UAE.
"Invest Cyprus's efforts to promote Cyprus in the markets of the region will continue in the near future as specific actions are planned to promote our country as both a European business and financial centre, as well as an investment destination, emphasising the role that Cyprus can play as a gateway to the European market," the agency said.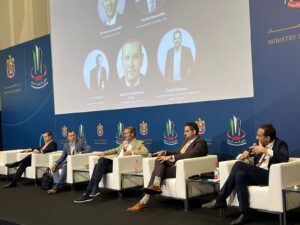 An Invest Cyprus delegation participated in the Annual Investment Meeting (AIM), one of the most important events in the region for international investment issues,
The AIM conference and exhibition are held every by the Ministry of Finance of the United Arab Emirates, under the auspices of Sheikh Mohammed bin Rashid Al Maktoum, Vice President and Prime Minister of the country.
Invest Cyprus said that during its participation at the event, the delegation had the opportunity to hold a series of one-to-one meetings with UAE state-owned companies and leaders from family offices, private equity firms, as well as local entrepreneurs.
During the meetings, the delegation presented recent economic developments in Cyprus as well as the investment opportunities on the island.
The focus of the discussions with foreign institutional investors revolved around the increasing interest in Cyprus' technology sector, something which has been further accelerated by recent incentives and schemes by the Ministry of Finance.
The ministry hopes to grow the number of international technology companies who have relocated to Cyprus due to the strong potential of the sector further contributing to the country's GDP growth over the coming years.
In addition, Invest Cyprus also showcased the country's Project Bank, a digital database of priority area development projects seeking investment capital.
Opportunities for investment in the field of tourism and hospitality were also presented, particularly within the framework of the Deputy Ministry of Tourism's National Tourism Strategy 2030.
Finally, Invest Cyprus CEO George Campanellas participated in a panel discussion with other senior executives of respective investment organisations.
The discussion focused on the digital transition and the ability of countries to attract both technology companies, as well as highly-qualified professionals and foreign investment to start-up companies.