The late former Nicosia mayor Lellos Demetriades was laid to rest on Thursday, with the political leadership paying their respects to a man who left his mark on the Cypriot landscape for decades.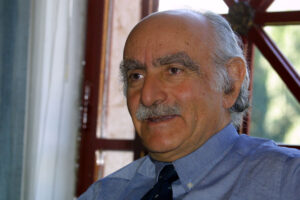 Demetriades, 89, passed away last Saturday.
Ministers, senior government officials and MPs attended the funeral service, held at the Holy Church of Saint Sofia in Nicosia, the expenses covered by Nicosia municipality.
Current Nicosia mayor Constantinos Yiorkadjis said all of Nicosia mourns over the loss of Demetriades, whom he called the town's "offspring."
"You have left, unforgettable mayor, and with you has left a part of every Nicosian. Today Nicosia stands proud, because you laid the foundation that allowed us to write the next chapters in its modern history."
As a tribute to Demetriades – the mayor of the capital for 30 years – the municipality has renamed two squares in the old town to 'Lellos Demetriades Square'. A bust of the late Demetriades will be placed at one of the squares.
In her speech, former Nicosia mayor Eleni Mavrou said of Demetriades that he had a vision – not only for Nicosia, but for the entire island.
"He was one of the very few among his generation who was able to overcome the toxic cloud of nationalism, able to see well into the future.." she said.
"We may say 'farewell' to Lellos Demetriades, but in reality he will continue to be, in one way or another, with us every time we discuss, dream or struggle for the future of Nicosia and of out country."
Demetriades is survived by his two sons, Achilleas and Constantinos. Achilleas Demetriades has announced he is running for president in the 2023 presidential elections.
His wife, Olga, died in December 2016 at the age of 77. She was a higher technical institute professor and actively involved in various charities as well as being the president of Cans for Kids.
In his own eulogy, lawyer Achilleas Demetriades said of his father that he was a fair, honest and dignified man, with a disarming sense of humour.
His father "served the city, his aim being to see it progress for the common good.
"His dream was for Ledra Street to open so that we can live in a Cyprus for all Cypriots."
The head of the bar association Christos Clerides praised the deceased's life and works, noting that Demetriades practiced as an attorney for 62 years.
Among those laying wreaths were: Interior Minister Nicos Nouris (on behalf of President Nicos Anastasiades), the Bishop of Mesaoria on behalf of Archbishop Chrysostomos, Nicosia mayor Yiorkadjis, the leader of the Akel party Andros Kyprianou, representatives of political parties, other state officials, as well as former president George Vasiliou.
Demetriades, who became synonymous with Nicosia local politics, was born in Nicosia in 1933. He studied economics and law, and went on to work as a lawyer.
He served as MP with the 'Patriotic Front' party from 1960 to 1969, and with the left-wing 'United Party' from 1969 to 1970.
In 1971 he was appointed mayor of Nicosia, a position he held until December 31, 2001, with the exception of a few weeks between July and August 1974.
He was elected mayor in 1986, and again in 1991 and 1996.
During his tenure, he worked to upgrade the sewerage system and founded the union of municipalities, while he collaborated closely with the then mayor of north Nicosia Mustafa Akinci, who later became the Turkish Cypriot leader.
Demetriades resorted to an ad hoc set of arrangements with Akinci in the early 1980s and together upgraded the city's sewerage system, making the first step to Nicosia's reunification.
In 2017, a book was published about Demetriades 30-year term as a mayor of the capital.
Speaking at the launch, Akinci said Demetriades "shared the vision of a reunited Nicosia and a reunited Cyprus.