The Paphos branch of the association of hospitality venues (Sikap) on Wednesday announced that venue capacity in Polis Chrysochous reached 60 per cent during April.
Ntinos Paraskeva, one of the association's representatives, said that there are 60 venues currently operating in Polis Chrysochous, including taverns, bars, and restaurants, among others.
In statements made to the Cyprus News Agency (CNA), Paraskeva said that during the Catholic and Orthodox Easter period, Polis Chrysochous saw a satisfactory level of business.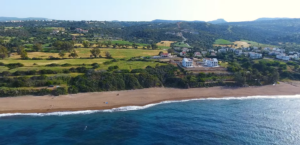 However, Paraskeva expressed discontent with the limited number of hotel and other holiday residence beds in the area.
"There is some movement, but not as much as before the pandemic," Paraskeva said, noting, however, that this year's Easter period naturally marks an improvement over the corresponding period of the previous year.
The Sikap representative also referenced the gap in visitors created by the removal of the Russian tourist market, as well as that of Ukrainian tourists, who are now unable to travel for leisure due to the war.
He did note, however, that this has been partly mitigated by a rise in British and German visitors.
Meanwhile, Costas Constantinou, a business owner who has been operating in Polis Chrysochous for the past 42 years, told the agency that pandemic-related issues have begun to dissipate, with visitors slowly increasing.
"The majority of the visitors we see in the area come from the United Kingdom, but also from Germany, Poland, Belgium, Estonia and the Netherlands," Constantinou said.
"These are very high quality tourists who are helping to fill the gap created by the absence of Russian tourists, although the Paphos district did not have as many Russians as other districts," the business owner added.
Constantinou also explained that there is an expectation of an adequate number of tourists visiting the area between May and November of this year.
In addition, he said that 2022 will be noticeably better than the previous year in terms of tourist arrivals, both for Polis Chrysochous and the wider Paphos district.
Regarding the persisting issue of labour shortages in the tourism sector, Constantinou said that there is a particular problem with finding specialised staff for both hotels and hospitality venues.
"Training the staff is a process that takes a lot of time," Constantinou said.
"Working in the hospitality industry is not an easy thing," he added, explaining that inadequately trained staff has resulted in venues losing business.
Finally, Maro Constantinou, who owns a family-run business in Polis Chrysochous' tourist centre, said that the number of visitors has been satisfactory so far.
She also remarked that her business benefits from having many repeat customers.