This May, the island's biggest dog show will be hosting a parade of shelter dogs. Alix Norman finds out more
There are close on 200,000 stray dogs in Cyprus. Nobody is entirely sure of the number because hundreds more appear each year, born in the streets or abandoned by owners. Few make it to the island's shelters, which are, in any case, understaffed, lacking in money, and bursting at the seams…
However, thanks to tireless volunteers, these sanctuaries' dogs generally fare well: fed, walked, cured and cared for. The best-case scenario sees the rescues find a loving home. Countless adoption programmes run islandwide, with potential owners able to visit the shelters and find their forever friend. And, for the most part, these programmes are successful: many a family has taken home a bouncy puppy or fluffy mongrel!
But there are always dogs who are left behind: the long-term and older rescues, whose chances of finding a home decrease with every passing month. "And that's exactly why," says Pauline Bishop, founder of the Caring Canines Dog Show, "we've decided to hold a round for elderly and long-term shelter dogs in our show this May…"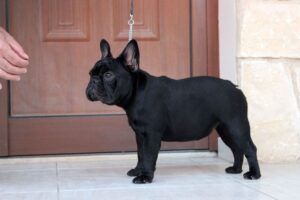 Taking place twice a year, the Dog Show sees hundreds of people turning out to take part – or just enjoy – a celebration of all things canine. Along with the parades, the Show boasts oodles of stalls, all-day entertainment and a cacophony of canine companions. And now, it's also holding a parade of dogs who are desperate to find a home…
"Four of the local shelters – PAWS, Stray Haven, AIRS Sanctuary, and Alex's farm for Strays – are bringing their elderly and long-term shelter dogs to the Show," says Pauline. "They will take part in a parade, and are also walked round the grounds – often wearing a bandana or on a lead that says 'please Adopt Me'.
"The idea," she continues, "is that visitors can interact with these rescues, enjoy their company, and perhaps fall head over heels! It's a wonderful opportunity to find a pet that will be extra loving: perfect for people who aren't bothered by pedigree or age, but just want a really loving dog.
"Elderly people too, are ideal owners for dogs that are themselves a little over the hill," Pauline adds. "Many potential owners feel it wouldn't be fair to adopt a dog when they, themselves, might not be around that much longer. But adopting a dog that isn't in its first flush of youth is often the answer to feeling lonely and alone – both for canine and human. It's a win-win really!"
It's not the first time the Show has held such an event. "We've had a parade of rescue Dogs at least twice before now," says Pauline, "and each time it's been very successful. Several elderly or long-term shelter dogs have found a home with people who, if it weren't for the parade, might never have met their forever friend…
"Because sanctuaries are often in far-flung locations where land is cheap and the dogs won't disturb any neighbours, they can be hard to get to. This solves that problem by bringing the dogs to a central location where they can be seen by lots of potential owners."
Taking place on the vast beach-side lawn of the Atlantida Beach Bar, Paphos, on May 8, the Caring Canine Dog Show is solely in aid of local charities. "Each time," says Pauline, "we choose a deserving local shelter, and all proceeds from the Show go directly to help with burgeoning costs."

In the past, the Show has supported PAWS several times. This May, proceeds from the Show will be going to AIRS Sanctuary – a new shelter that works specifically with dogs that are elderly or infirm.
"Food costs for the dogs is roughly 600 euros per month," says AIRS founder Keith Newman. "And vets' bills can be twice that amount at least. So it's incredibly valuable to us to have this kind of support: if it wasn't for people like Pauline, and the efforts of the Caring Canines, life would be so much harder for both volunteers and dogs."
The Show itself will have 16 classes in total, both pedigree and non-pedigree, all judged by an experienced member of the Cyprus Kennel Club. There's 'Best Cyprus Poodle', 'Best Pedigree Puppy', and 'Best in Show' and 'Best Rescue', along with ever-popular 'Waggiest Tail' – "it's such fun to watch the owners doing anything and everything to get their doggies to wag their tails!" laughs Pauline – and 'Most Beautiful Eyes'.
"It's a brilliant experience for dogs, owners, spectators," says Pauline. "Even the judge has a wonderful time, closely inspecting toplines, tail set, muscular structure, colour of eyes and nose. In some categories, you might get a Chihuahua competing against a Great Dane; it's always very exciting to see who wins!"
Along with the classes, visitors will be treated to all-day entertainment from local musicians (and canine hydrotherapy experts!) Gaynor and Chris Warriner, as well as a full market of stalls selling everything from canine pre-made doggie dinners and bespoke dog beds, to cakes, savouries, sweets, candles and make up.
"The Caring Canines Dog Show is always," says Pauline, "a truly wonderful day out! Hundreds of people turn up not just for the contest, but also for the delightfully doggy atmosphere! You certainly don't have to be a canine expert or a dog-owner to enjoy the Show; just come along as a spectator, and you'll have a lovely time.
"And who knows," she concludes. "You might just find, somewhere among the shelter parade, a dog that will melt your heart and fill your home with joy!"
The Caring Canines Dog Show takes place on May 8 at the Atlantida Beach Bar, Paphos. For more information, visit the Facebook page 'Caring Canines dog shows Cyprus'