The global PC market, which includes tablet shipments, showed signs of resilience during the first quarter of 2022, despite a slight contraction, according to a report released this week by technology analysts Canalys.
PC and tablet shipments reached 118.1 million during this time, which represents a 3 per cent year-on-year decline.
Analysts consider the amount of units shipped in the first quarter as the market performing well, especially within the context of the prevailing adverse economic conditions.
Moreover, the 3 per cent decline in PC and tablet sales is also not worrying the industry because of the particularly high number of sales during the corresponding quarter of the previous year, meaning that a yearly decline was on the cards.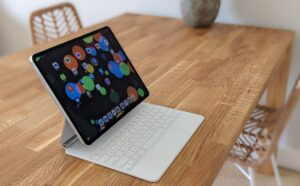 "Despite the shipment decline in Q1, tablets' resurgence remains strong," Canalys Analyst Himani Mukka said.
"The market has now posted eight consecutive quarters of shipment numbers greater than in Q4 2019, before the pandemic," Mukka added.
The analyst explained that rising commercial deployments are now contributing towards mitigating the drop in consumer demand.
US technology giant Apple took first place despite a 2 per cent decrease in unit sales, boosted by 14.9 million iPads being shipped in the first quarter.
Samsung followed in second place with 7.9 million tablets being sold, also reflecting a 2 per cent decrease in year-on-year sales.
Moreover, Amazon surpassed Lenovo for the first time to take the third spot, showing growth of 3 per cent year-on-year.
Amazon's strong showing during the first quarter was partially facilitated by noticeable discounts on its range of Fire tablets.
The aforementioned Lenovo suffered the sharpest decrease in sales among the five biggest players in this space.
The company saw a massive 20 per cent year-on-year sales drop, shipping 3 million units in total.
Huwaei took fifth place with 1.7 million tablet sales, a 22 per cent year-on-year decrease.
"Looking ahead, the market will face greater pressure on supply from the Russia-Ukraine conflict and Covid-related lockdowns in China," Mukka stated.
"Lingering tablet demand from Q4 2021 was expected to extend into Q1 2022, but the supply situation is now likely to push backlogs into the second quarter," the analyst added, explaining that "from a regional perspective, Asia Pacific is set to be the growth engine for tablets as they cater to price-conscious users in markets where broadband connectivity is a luxury".