Turkish Cypriot politics in disarray as Ankara orchestrates collapse of latest coalition
 By Esra Aygin
The Turkish Cypriot ruling coalition collapsed for the second time in 10 days last week, amid serious allegations of meddling by Ankara, leaving deep political uncertainty in the northern part of Cyprus.
The third Faiz Sucuoğlu coalition collapsed within just five days of being formed, after small partners Democratic Party DP and Rebirth Party YDP announced they would not be giving a vote of confidence to the coalition that included themselves. Their excuse was Sucuoğlu's refusal to sign a declaration of the policies DP and YDP wanted to fulfil in the first 100 days.
Nobody believed this to be the genuine reason, but only an excuse to make the coalition collapse. Rumours had already been rife that Ankara was trying to prevent a coalition under National Unity Party UBP head Sucuoğlu.
"When did DP and YDP ever care about reforms?" asked Kudret Özersay of People's Party HP. "How could these issues now cause them to leave the government?"
"Unfortunately, against customary practices, the two coalition partners decided to introduce a new declaration," said Tufan Erhürman of the Republican Turkish Party CTP. "And then they announced they would not give a vote of confidence to the government that includes them. The intervention that began with the presidential elections has become official now."
"Ankara's intervention is obvious," Doğuş Derya of CTP tells the Sunday Mail. "Nobody denied this anyway. It is certain that there was a direct intervention."
The media also wrote extensively about Ankara's hand in the developments.
"Everyone, in off-the-record conversations, even gives the names of those, who intervened…" wrote journalist Serhat Incirli in his column in the daily Yenidüzen. "DP and YDP decided not to be in the government due to some hard pressurising, provoking, intimidating, suggesting… [They] could not withstand the pressure and the blackmailing… The reality is looking us in the eye. The reality is the reality of a coloniser and a colony. They are telling us: 'We will rule you'… And they are telling us: 'To hell with the Turkish Cypriot community.'
"There have been serious political interventions in the Turkish Cypriot community by Turkey," continued Incirli. "But I don't think we have come across one that is so shameless."
Online newspaper Özgür Gazete reported that UBP officials acknowledge the intervention in informal conversations, but refuse to go on the record, saying: "If we confess there has been an intervention, we will find nobody willing to stand by our side."
How did the previous coalition collapse?
Before the latest collapse, the previous ruling coalition had come to an end on April 20, only 59 days after being formed, when Sucuoğlu submitted his resignation to Turkish Cypriot leader Ersin Tatar. The resignation had come after Tatar did not readily accept Sucuoğlu's decision to replace Sunat Atun, responsible for the economy and energy dossier, with Olgun Amcaoğlu. Sucuoğlu and Atun had had public disagreements over electricity prices.
Ankara's support for Atun is believed to have been the reason why Tatar preferred to accept Sucuoğlu's resignation rather than a decision to replace Atun.
"The point in question is that there is an elected prime minister here," says Mine Atli, head of the Social Democratic Party TDP. "And he has the right to form his own cabinet. This is nothing but a minister removing the prime minister from office with the support of Ankara."
On April 22, Tatar had to give the mandate to form a coalition to Sucuoğlu again, since the latter is a strong leader with full backing of his party. The coalition was formed with just one change in the cabinet: Amcaoğlu had replaced Atun.
Sucuoğlu seemed to win this battle, but the move is said to have infuriated Ankara.
"They don't want to see Faiz Sucuoğlu as the prime minister," wrote journalist Incirli at the time, who called the attempts "a coup" against Sucuoğlu.
Previously, Sucuoğlu is said to have been forced by Ankara to make a change in his cabinet only about two weeks after forming his first coalition after the January 23 general elections. Sucuoğlu, on March 9, had to replace Hasan Taçoy, responsible for the foreign affairs dossier, with the hawkish Tahsin Ertuğruloğlu, who is known to have close relations with Turkish President Recep Tayyip Erdoğan. On the same day, DP and YDP announced their decision to withdraw from the coalition, Ertuğruloğlu is said to have told Sucuoğlu during a party meeting: "Ankara does not want to work with you. Resign!" Neither Ertuğruloğlu nor Sucuoğlu has denied these reports.
How did it start?
Ankara's intervention against Sucuoğlu is believed to have started at the November 2020 General Assembly of UBP, where he was leading the race to be elected the party leader. After coming out in the lead in the first round, Sucuoğlu mysteriously withdrew his candidacy, together with the other runner up, Hasan Taçoy, amid rumours of an intervention by Ankara. However, in what was seen as a playoff, Sucuoğlu won a sweeping victory, with 61 per cent of the votes at the General Assembly in late 2021.
At the time, journalist Hasan Kahvecioğlu described this as the "UBP voters' democratic uprising against AKP." Kahvecioğlu could, however, foresee that Ankara would seek revenge.
"This uprising by UBP will cost Turkish Cypriots a lot," wrote Kahvecioğlu. "They will make Faiz Sucuoğlu curse the day he was born. Probably his prime ministry will not last long."
There are different scenarios as to why Ankara does not want Sucuoğlu, ranging from him belonging to another sect of Islam, to him having gained too much power in the Turkish Cypriot politics.
"Faiz Sucuoğlu is not wanted by the Gods," says political scientist Sertaç Sonan. "There is a lot of bad blood there… We are used to Ankara treating the left badly, but now it's also treating the right badly… The mistake is that many politicians here still think they have a room for manoeuvre despite Ankara. And Sucuoğlu is one of them."
Sonan believes that Turkey's intervention in Turkish Cypriot politics became stronger especially with the 2020 elections for the Turkish Cypriot leader. A report by independent researchers and lawyers had documented Turkey's blatant interference against the then-Turkish Cypriot leader Mustafa Akinci during the election period.
"Turkey has always had an important weight on our political life," says Sonan. "But it was never this explicit… The 'suggestions, recommendations' were given behind closed doors. Now the interferences are done in a forceful manner."
What now?
Nobody can be sure what will happen now. Any coalition formula is likely to exclude Sucuoğlu. If no formula can be found, there will have to be early elections.
Sonan is optimistic that early elections can be averted for now.
"The problem is not with UBP. It's with one person," he says. "They will convince him to withdraw. When he goes, the government will be formed under someone else."
The Eid al-Fitr message last week of former Turkish Cypriot leader Derviş Eroğlu, who is the spiritual leader of UBP was very telling. "Our relations with Turkey are vital," said Eroğlu. "I would like to underline with all my experience that the biggest mistake we can make is to come into conflict with Turkey."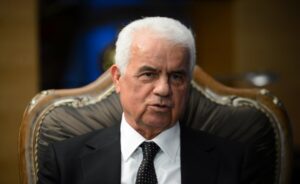 Early elections may be averted this time, but both Sonan and Atli draw attention to the damage being done to the Turkish Cypriot democracy.
"The percentage of boycotters will increase," says Sonan. "All surveys show that trust in politics is falling drastically."
The abstention rate in the 23 January elections was 41.8 per cent – the highest up to date.
"All segments of society will soon reject that there is such thing as a 'Turkish Cypriot democracy,'" says Atli. "They are making the community say: 'Turkish Cypriots cannot govern themselves.' Therefore, they will say: "We must govern you.' And this will just consolidate annexation."