Focussing on yet another facet of the DNA of the capital, the Leventis Municipal Museum of Nicosia is presenting the exhibition Chora ─ Ioannis Kissonerghis, which will be open from Tuesday until October 30.
The exhibition celebrates the Leventis Municipal Museum of Nicosia's 33 years of cultural engagement, while also realising one of its main goals: to present and emphasise the uniqueness of the modern history of the capital.
Chora – as Nicosia was known – is revealed to the public through the eyes and the inimitable palette of Ioannis Kissonerghis, seen by many as the father of Cypriot landscape painting. The exhibition is a tribute to the Nicosian Kissonerghis, a man who left his indelible mark on the city with his personal manner.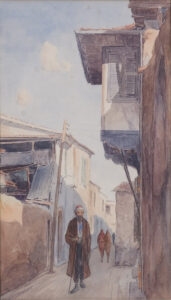 Kissonerghis (1889-1963) was born, grew up, taught and worked in Chora, his home city of Nicosia. It is no surprise then that the painter created a large number of works that are related to and depict his city and the spaces where he spent a significant amount of time; the people of the local community, the residents of Nicosia. At the same time, his landscape paintings were admired by foreign visitors to Cyprus who wanted to acquire reminders and images from their visit.
Streets, monuments and spaces shown in Kissonerghis' works are matched with items from the postcard collection and the rich material of the Photographic Archive of the Leventis Municipal Museum of Nicosia, as well as with works of modern photographers, inviting viewers on an imaginary journey into Nicosia's past and present.
For research purposes, the curators consulted old maps of the city, as well as other, mainly early 20th-century, maps from the Cyprus Department of Lands and Surveys and publications of the period. The research was complemented by a detailed photographic recording of today's Nicosia, including the occupied areas, with the result that the spots that the artist chose to represent have been almost completely identified.
In this exhibition, the old Nicosia of Kissonerghis, comes to life. The artist's works unfold the history of the city, taking visitors on an exciting exploration through space and time.
It should be noted that the exhibition could not have been realised without the kind contribution of the organisations and the private collectors who loaned artworks by Kissonerghis from their collections for the purposes of the exhibition.
For the duration of the Chora – Ioannis Kissonerghis exhibition, the Leventis Municipal Museum of Nicosia will organise guided tours and creative workshops for adults and children, as well as many other related events.
Chora – Ioannis Kissonerghis
Temporary exhibition. May 17-October 30. Leventis Municipal Museum of Nicosia. Tuesday-Sunday: 10am-4.30pm. www.leventismuseum.org.cy