With a career spanning four decades Monica Demetriades has managed to find and lose herself in art. With a new exhibition, PAUL LAMBIS takes a look
Contemporary British Cypriot artist Monica Demetriades captures the beauty of Cyprus through vibrant colours and themes, exploring the contrast between hard and soft shapes in nature. Her captivating landscape and seascape paintings inspire the viewer to envisage what a different, more colourful world may look like, while her compositions evoke a sense of inner tranquillity.
As an artist who enjoys using many painting media and printmaking techniques, Monica reveals that her art portrays her changing moods and feelings, whether it is a tranquil day at the beach, a hectic day in the city, a climb in the mountains, a walk in the park, or simply viewing a starry midnight sky. Spirited and vivacious, her work has been highly valued worldwide, and her latest exhibition reveals her heightened sensitivity to the outside world, as well as her deeply rooted love for Cyprus.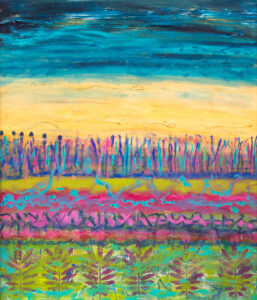 Monica became enamoured with art at the tender age of seven, when her imaginative and creative sides emerged. "I enjoyed painting and watching the creative process unfold," she said. "Over the years, my relationship with art grew stronger, and it was in secondary school that I chose to pursue art full-time."
Born in Nicosia and raised in London, Monica attended the prestigious Hornsey College of Art (now Middlesex University), an iconic British institution renowned for its experimental and progressive approach to art and design education. A haven for creatively inclined individuals, Monica's environment encouraged her to find her own artistic expression, with bold colour having an essential role in her work. "My choice of palette transmits a feeling of enthusiasm and joy for life," Monica told Living.
In her compositions, viewers recognise both structure and serenity. "I have realised that when you simplify a view into its most basic form, it still remains beautiful," Monica said. "The unusual shapes on my canvases transform Cyprus' natural beauty into surreal scenes that allow the mind to conceive what a different and more colourful world may look like."
Monica begins each piece by immersing herself in the sensations that her natural surroundings provide while also photographing the scene on her phone. "I rarely take my sketchbook out to record my observations of the world around me. As soon as I sense a connection with the environment, I intuitively put my feelings onto canvas, utilising my photo collection as a reference."
Her persistent connection with the spirit of creativity is the first layer of her success as a visual artist. Viewers and collectors who enjoy and respect Monica's unique art form determine the second, and more significant, component of her success. "I am ecstatic when I see individuals admiring my work and expressing an interest in purchasing one of my paintings and taking it home with them. It is incredibly fulfilling."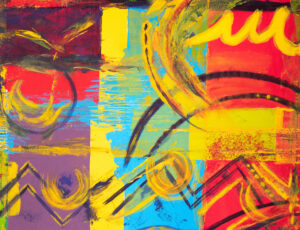 Monica also credits her four-decade career to all the professors and mentors who helped her on her artistic path, as well as the many great artists with whom she was fortunate enough to collaborate. "I was honoured to meet Royal Academicians and graduates of the Royal College of Art and Slade School of Fine Art, as well as local artists who have aided in shaping my vision and supporting my current and future activities and plans."
Her spirited and vivacious world grew increasingly influenced by the internet realm of creative creation, particularly during lockdown. And Monica's painting took a new direction after she participated in an intensive and "at times overwhelming" online art course from San Francisco, leading her to new explorations and discoveries.
Looking Through Rainbow Eyes, and Turquoise Stories, her most recent series of work, are the result of three years of art created during lockdown. Inspired by light in Cyprus, which continues to vibrate her soul, Monica's two new collections alternate between still life and expansive outdoor painting, showcasing her characteristic abstract style that expresses her sensitivity to the outer world as well as her new view and appreciation of life post-lockdown.
"I have always believed in doing what you love, and loving what you do," Monica admitted. "Even though my source of inspiration is elsewhere, art keeps me grounded." According to Monica, art has allowed her to both find and lose herself; however, the journey of self-discovery always pushes her to retreat to her "woman's cave" and create extraordinary works of art.
Her latest body of work will be on show at the Apocalypse Gallery in Nicosia from May 18 to June 4. For more information visit www.monicademetriadesart.com