Pissouri residents face 18km hike to closest BoC ATM after village branch closes in July
Cyprus is facing its own crunch on ATMs and bank branches as dozens are set to close in the next few months, with communities such as Pissouri caught in the middle of what some say is a transition to a cashless society – a major upheaval in one of life's most basic activities: accessing cash.
Pissouri's Bank of Cyprus (BoC) branch is amongst the latest to get the chop as it's set to close on July 4. But that's just one amongst many, as there has already been extensive pruning: from 112 BoC branches in December 2018 to 75 in March, with plans for this to be further reduced to 60 by July.
"Times are changing, they [higher-ups] want everything digital now," a well-informed bank source told the Cyprus Mail. "If you look abroad, it's the same thing. We're just following that direction."
The closure of the Pissouri branch means that the community of 1,800 (rising to 4,000 in the summer) faces an 18km drive east to its closest BoC branch ATM. Provided that one doesn't close down either, the next closest would be the Paphiako branch in Paphos at a distance of about 33km.
The source told the newspaper that it's not even about the cost of operating an ATM, but rather nudging – or pushing – people to go digital.
Pissouri's community leader Lazaros Lazarou confirmed that he held a meeting with officials from the bank just before Easter.
"We were told that they want to reduce cash to a minimum, well, all right but until then find a solution which works," he said.
"It's very difficult for us, we can try to prevent it but ultimately it's a business which can operate as it wants, not even the state can intervene."
The community is fearing a fate similar to that of Stroumbi in the Paphos district, which served as a major banking hub for up to 30-40 nearby villages.
The Hellenic Bank branch there closed about nine months ago, with the predominantly pensioner demographic now facing a 15-minute drive to either Paphos proper or Polis Chrysochous for their services, even as basic as withdrawing cash. Neighbouring villages face a much longer trip on winding roads.
"Our communities are old, they now face longer drives along dangerous roads and are having to withdraw their 700-800 euro monthly pension all at once," Stroumbi community leader Demetrakis Palas told the Cyprus Mail.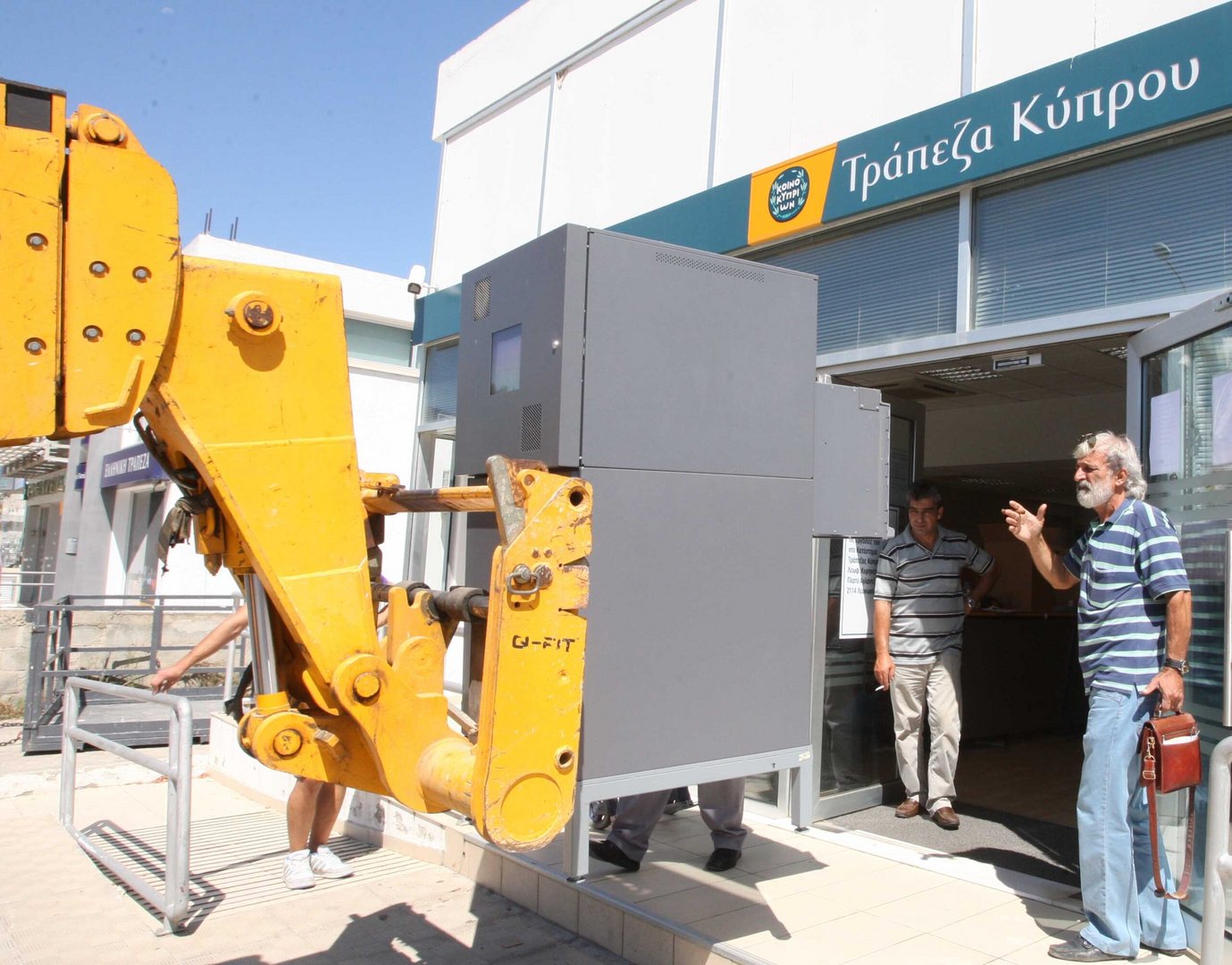 An ATM being removed from a Bank of Cyprus branch
"I'm a 60-year-old who can just about do some basic stuff online, but what hope is there for our 80-year-old mothers and fathers and others in the community to get their jobs done?" he asked.
For their part, a BoC spokesperson referred the Cyprus Mail to an announcement this week which details that efforts are underway for a substantial streamlining of its workforce through 2022 with a target to reduce employees by 15 per cent – about 500 people. It also aims to close 25 per cent of its branches.
"Many customers are already digitally accessing their services, and we're now looking at which branches are economically viable," they said.
The BoC official emphasised that there will however be a smooth transition so as not to impact everyday life.
They added that discussions are underway with JCC card payment system to offer cashbacks throughout a wide array of businesses and shops, from tavernas, to kiosks and petrol stations – points of daily interaction, therefore eliminating the need for an ATM.
Universally used in countries such as the UK, cashback is where a customer pays by card for whichever product they are purchasing and asks for a further amount to be charged – say €20 or even up to €100 – with the added amount then handed over in cash.
"There would be no fee, no cost or charge and efforts are underway to get this programme up and running," the BoC official said. They added that it would also help businesses as it would reduce the amount of cash banking they undertake.
We asked whether reducing the number of ATMs and branches is part of cutting costs or part of a wider transition to a cashless society – to which BoC confirmed that both factors are at play.
"They're both factors coming from different initiatives. Streamlining the branch network reduces costs while ensuring profitability," the spokesperson said, adding that the reduction of ATMs is linked to the increased maintenance costs of such points when they're not linked to a branch.
"But wherever there is a branch, we maintain and expand ATMs."
They explained that running an ATM costs about €30,000 a year, including servicing the cash point, although that figure does not include repairs and personnel.
They detailed that the BoC still offers 156 ATMs.
But with branches and ATMs closing at record pace, with no immediate substitute, many residents are worried about the impact it will have on their communities.
A Pissouri resident who contacted the Cyprus Mail shared a series of concerns expressed within the community, such as whether the closure of the "village's last remaining bank" could lead to more crime.
They reasoned that infrequent access to ATMs may necessitate people drawing out more cash than they otherwise would, potentially making them and their residences targets for theft and break-ins.
That was a concern echoed by Stroumbi's Palas, who said that pensioners would previously withdraw smaller sums twice weekly but now instead opt to withdraw their entire monthly allowance all at once.
"We haven't noticed a spike in crime, yet, but once crooks catch on to what we're facing…," Palas said.
Other concerns range from private ATMs charging for the service, while the local supermarket does not accept cashbacks on BoC cards, the Pissouri resident told us.
"While I acknowledge the global movement towards a cashless society, most countries try to mitigate the effect of branch closures by offering alternative methods to access cash – such as cashback and ATMs in supermarkets or petrol stations," they explained.
For Palas and his community, even a private ATM would be better than what they're currently facing.
"We have to spend ten euros on petrol to get to a bank anyway, so a three-euro charge would be worth it," he explained.
But underscoring the pace of change and the transition towards a digital economy, BoC details that 79.3 per cent of their customers are now digitally engaged, up from 63.9 per cent in December 2018 – now boasting 383,000 internet/mobile banking users. That figure is up sharply from the 293,000 in April 2020.
According to the group's financial results report for the first quarter of 2022, active QuickPay users have increased by 40 per cent in the past year alone – peaking at 138,000 last month.
It added that 92.5 per cent of the number of transactions involving deposits, cash withdrawals and internal/external transfers were performed through digital channels as of last month.
Notably, the bank listed operating expenses of €36m and staff costs of €50m for Q1 of 2022. Both those figures are on the chopping board as the bank presses ahead with its digital transition.
"A transformation plan is already in progress and aims to enable the shift to modern banking by digitally transforming customer service, as well as internal operations," BOC stated in its latest financial results report.
All that is to say that the banking landscape has indeed changed – providing the foundation for a solid argument that the restructuring of banks is required.
And that's across the board, too. Along with branch closures, Hellenic is seeking to slash 300-350 staff members – a move which has pitted the lender against the powerful bank employees' union Etyk. The latter voted this week to grant the union chiefs the power to call for a general strike, if and when it is deemed necessary.
But stepping into the fray, Disy leader and presidential candidate Averof Neophytou said on Friday that banks are not just any other service.
"They have a serious social responsibility and they must not forget this," he said.
"It must not be forgotten that this sector was supported and recovered with the sacrifices of depositors… and all Cypriot taxpayers," referencing the 2013 financial crisis.
But for others – particularly amongst the younger generation – branch and ATM closures may come across a whole lot of fuss about nothing: they've already embraced the digital transition, using financial tech such as Revolut to quickly whizz money to their friends. The transition of the economy is led – at least in part – by market forces.
But what about those who are struggling with the changes, and pensioners in communities such as Stroumbi?
"Well, the way they got them to go digital is to sign up to Ariadni for some health services, there's a lot of services that they can only do digitally already," said the banking source, referring to the government online portal which offers a wide range of government services.
There is of course a more philosophical question underlying the digital transformation: that of privacy and control.
Concerns over all transactions being traceable, and who has access to such information and how it's used – be they private business or government officials – have presented a wall of scepticism to the digital transformation.
But in a society in which people openly embrace posting hundreds of photos a year of themselves, their friends, their location and activities – privacy does not appear to be that high on the list of priorities for many, or at least they're not concerned that the potential privacy risks outweigh the benefits of easy access to services.
However, the concern amongst some is not that services are being made available on digital platforms, but that they feel pushed towards using them as other choices are being eliminated as alternatives are peeled away.