In an English Cypriot who has played alongside such stars as Angelina Jolie, THEO PANAYIDES meets a man who has enjoyed cult success, juggles several balls but finds himself not entirely at home in either of the two worlds he straddles
Millions of people watched Pirates of the Caribbean: Dead Man's Chest in 2006 (it made over $1 billion at the global box office). Of those many millions, 99.5 per cent merely chuckled at the scene where two random sailors – identified in the credits simply as 'Large Sailor' and 'Short Sailor' – bickered over a captain's hat before being swallowed whole by a giant octopus known as the Kraken. A tiny segment of the global audience, however, paused in disbelief, popcorn forgotten, hushing their friends and squinting at the screen, trying to ascertain if a Hollywood franchise had really just been hijacked by a couple of Cypriot bumpkins.
"I'll tell you how this'll go, Nej," laughs Jimmy Roussounis (who played 'Large Sailor'), recalling what he said to Turkish Cypriot actor Nej Adamson (a.k.a. 'Short Sailor'). "The Turks in Turkey won't understand what we're saying. The Elladites [mainland Greeks] won't understand. The Cypriots won't believe we're speaking Cypriot – so, after the film's finished, they'll think 'Did I hear some Cypriot or not?'. And the other thing that'll happen is, they're going to clock that the Turkish Cypriot and the Greek Cypriot are arguing over something insignificant – and then the monster eats them! And that's exactly what happened."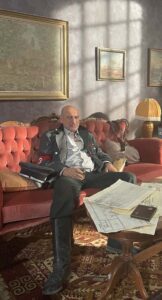 There was no script for the short, 20-second altercation, he recalls, sitting in a book-lined study (he's a massive bibliophile) in his house in Limassol. He and Nej – or "Ali from EastEnders, as he was known" – both turned up to the audition in London, "and [the producers] thought we were both Turks or both Greeks, or both something, so they said 'Do it in your language'." It was Jimmy's idea to bicker in Cypriot dialect – though of course each man used his own dialect, Jimmy adding a touch of his native Paphos (actually the village of Arodes), so that even Cypriot viewers weren't entirely sure what they were hearing. The scene is now something of a cult item, excerpted on YouTube (where pedants like to point out that his use of the word 'mangas' is anachronistic) and recently played – just for fun – on Jimmy's local radio station, prompting him to send in a text saying who he was. The station called him back and put him on the air, unable to believe that 'Large Sailor' was just down the road from them, living in Limassol.
He's been here since 2015, having lived in England for the remainder of his 54 years – except between the ages of 13 and 16 when he moved back to Cyprus (Limassol again) with his family, those three rather idyllic years being the main reason why he and his wife decided to repatriate with their own three kids. On the wall of his study – along with a photo of the seafront in Hastings (where Jimmy was born) and the famous 'Seven Chairs' cartoon of a manspreading villager – are photos from two recent roles, a British soldier from a local film and a Nazi (the 'Butcher of Krakow') from an Israeli TV series. I'm a bit surprised to learn that those two (both from the past year) are the only roles he's landed in Cyprus since he's been here – yet his career in Britain, sustained by online auditions, is going swimmingly. He's now played recurring character Steven in nine episodes of Stath Lets Flats, the Channel 4 comedy about an inept English Cypriot letting agent (played by Jamie Demetriou) that's won three Baftas – the first time in Jimmy's career as a series regular on a hugely successful show.
It's a slightly odd one, his career. He can honestly say he's acted alongside some of the biggest names in show business – Pierce Brosnan, Angelina Jolie, even Brad Pitt and Johnny Depp if we stretch 'alongside' to mean 'in the same movie' – yet only for a few seconds, usually playing what he calls 'He went over there' roles. "How far is that rig from the terminal, and how fast is it going?" asks 007 in The World Is Not Enough; "It's – uh, 106 miles from the terminal, going 70 miles an hour," replies Jimmy in a vaguely Slavic accent as 'Pipeline Technician'. "We're in Venice. There's me, two others and Daniel Craig, who was co-starring in it," he recalls of Lara Croft: Tomb Raider. "We're all playing cards and Lara Croft walks in, we all get up, and I kiss her hand and give her my chair. So that was good – getting paid to kiss Angelina Jolie!" Alas, Jimmy's turn as 'Venetian Rogue' was cut from the theatrical version, though it still survives on DVD.
There's more, of course; he's done some stage work – "Three months at Sheffield Crucible doing A View From the Bridge, or some American play in London" – and some bigger parts in smaller projects. Besides, getting cast in so many blockbusters is no easy feat (it helps that his appearance is quite striking). Still, he admits he's been limited in the parts he's been offered, like so many Cypriots in Britain, "mainly because none of us were ever given the chance to play – this," he explains, pointing at himself. "I was never able to use this accent. I was never able to play 'Dr Michaelides' or 'Detective-Inspector Stavrou', like you do in America".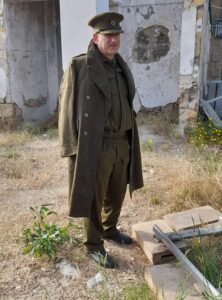 It's not that Brits are racist, he adds – he never faced any kind of prejudice, growing up in Hastings – "they just pigeonhole you, you can play that. Oh, another kebab-shop owner called Mehmet… What name have we got this time?" Even the character names would be lazy, "they'd use presidents, it'd be 'Kyprianou' or 'Karamanlis'". Even on stage, though he played an Italian in View From the Bridge, Shakespeare was out of the question. He's essayed thugs, villains, occasional cops, pimps of various nationalities, plus zany comic characters like 'Large Sailor' – "but the stuff I was interested in, the stuff I really wanted to do was, y'know, one of those Dickens [adaptations]". Jimmy shrugs good-naturedly, looking back on his decades in the biz: "I enjoyed it, but it wasn't the be-all and end-all. Maybe that's why I didn't push on – because I just didn't want it enough".
Now we're getting somewhere – and in fact this might be the moment to note the most salient point about Jimmy Roussounis, instantly obvious even in casual conversation. It wasn't just unconscious racism that held him back as an actor (though of course it was that as well); it's also that he was – and remains – deeply interested in so many other things. Speaking of Shakespeare calls to mind Claudius' soliloquy in Hamlet, when the king ponders the problem of being torn between competing pursuits: "And, like a man to double business bound / I stand in pause where I shall first begin".
Jimmy knows the score; he's actually the one who cites that Claudius quote. But what can he do? Acting is a fundamentally narcissistic profession (sorry, actors; it just is) – but Jimmy is a mixer and a doer, too working-class to be properly full of himself, and of course too outgoing. "My mates call me 'The Prober'," he says – which sounds like a line from a Carry On film but actually refers to the fact that he finds people fascinating, and is always trying to learn more about them. Acting wasn't even a childhood dream; he'd planned to be a chartered accountant – because of the money; "We never had any money" – studied Economics and Geography, and only discovered acting while at uni, taking the lead in an amateur play. "I really enjoyed it, and I thought 'Oh, this is really interesting'."
Yes – but so many other things are also interesting. He shows me around the house; downstairs in the den is a ping-pong table which he made himself, from "a really nice piece of plywood". He also made the bookcase in the study, for his kids (who didn't want it) – though the books on the bookcase are the real stars. Here's "my Kazantzakis collection," next to the Lawrence Durrells, JG Ballards and assorted books on the Cyprus problem; "This is an interesting book, not many people have read this," he exclaims at one point, heading to the shelves and coming back with a vintage-looking copy of The Cyprus Revolt by Nancy Crawshaw. Back in London he used to chair something called the Association of Cypriot Greek and Turkish Affairs, not an NGO but a kind of forum for talks by noted writers and academics – "and it was a brilliant space where you could actually meet Turkish Cypriots". Here, he laments, "so many people under the age of 40 haven't even met a Turkish Cypriot… And you think 'God, how do you fight that?' Because if you don't want to meet, if the schools won't arrange for you to meet the other schools…"
Jimmy shakes his head, our national issue being one of his minor obsessions – maybe because it's such a stalemate, and he's always been such an active, get-stuck-in type of person (maybe that's what all those casting directors see in auditions, a kind of instant dynamism that'll stand out even in a tiny role). He didn't survive just from acting; he and two others ran "a little building firm" in the UK, "and we used to build and renovate stuff". He's done similar business here, renovating flats and selling them on; he's full of ideas, from building a studio in Cyprus (he's looking into it) to starting a second-hand bookshop (maybe someday) to planting vines up in Arodes (coming soon; the saplings are stacked in his backyard). He's always worked, "my parents were from that generation, they said 'If you want pocket money, go and work'." He worked in restaurants, in a clothes shop, as an English teacher, briefly as a milkman in Hastings, doing market research, cutting grapes in Fasouri as a teenager. "The weirdest job was in Limassol, when they did the sewage system and needed someone to measure the gradients. So they hired these civil engineers to measure all the gradients of all the roads in Limassol – but they also needed some idiot kid to stand in the middle of the road with a two-metre pole! I was doing that all summer, five in the morning to midday".
It wouldn't do to call Jimmy a part-time actor; he's serious about the craft, having spent three years taking classes in New York at the Lee Strasberg Institute. But the acting is only part of it, and maybe not even the best part. His career has been fun, for sure (and is now on a high, as already mentioned); he could dine out on the stories forever. Guy Ritchie on the set of Snatch, spending as much time perusing newspaper headlines about himself and Madonna as he did directing; the unnamed producer of a film called Jack Brown and the Curse of the Crown – Jimmy played an Arab; the star was Owen Teale, later of Game of Thrones – who'd previously made a film about "a fighting shrimp" (neither film ever saw the light of day, having presumably been made just for tax breaks). That said, the times when he got an opportunity to do serious character work are easily outnumbered by the times when he just had to look menacing, or generically ethnic – or just move the plot along by saying 'He went over there'.
He's now 54, since two months ago – and 54 is a rather significant number in Roussounis lore. His dad was a fun-loving guy, a favourite uncle to numerous nephews and nieces – yet he didn't have kids of his own till he was 54. Could this milestone mark the start of a new chapter in the son's life, as it did for the father's?
Hard to say – but there is one subject that seems to occupy him (even more than the many other subjects), and that's the status of repatriates like himself. Not just actors, though it's true the situation has been reversed since he came to Cyprus: before, he couldn't play anything but Cypriot – or Cypriot-adjacent – now he plays British but never Cypriot, local TV being conspicuously lacking in diaspora types who speak with an accent (instead it casts mainland Greeks, even in period dramas). But the problem is broader, and political. "I feel like these presidential candidates – all of them – haven't realised that there's a big untapped sector of the population that doesn't feel like anyone speaks for them… Do you ever see any expats in any position of power?" he asks rhetorically – and it's true, 'foreign' Cypriots are practically invisible, barred from the civil service by (unreasonably hard, he claims) language exams and largely excluded from government, even in posts like the foreign ministry where their skills would be valuable.
Could that be Jimmy Roussounis' new role? Might the actor be about to turn activist? Or is his life already too full with books to read, and vines to plant and ping-pong tables to make, and bicommunal policies to ponder – and TV shows to star in, lest we forget? Where does he even belong? Anywhere? "Everywhere," he replies at once – his mind already probing new ideas, heading out in new directions. On stranger tides, as Pirates of the Caribbean put it.