The CFA Society Cyprus on Tuesday announced the successful completion of its forum on the future of the Cypriot economy.
CFA Society Cyprus, which boasts more than 120 members, is the local representative of the Chartered Financial Analyst (CFA) Institute, a global association of investment professionals.
The event involved the participation of numerous professionals and stakeholders from the financial sector, both from Cyprus and abroad.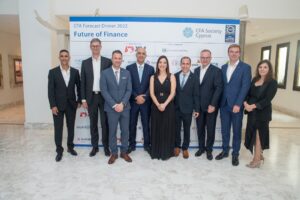 During the event, Cyprus Securities and Exchange Commission (CySEC) chairman George Theocharides said that "compliance with the rules, corporate governance and ethics are all fundamental and key components for the proper functioning of regulated financial markets".
The CySEC chairman explained that appropriate and proportional regulation increases the demand for investment services, thus strengthening the confidence of investors, both for the services themselves, but also for the companies that provide them.
For this reason, he said, the regulatory agenda of the Cyprus Securities and Exchange Commission is based on maintaining high standards of investor protection in order to maintain the high trust levels currently shown toward the commission.
"The goal of the commission is to achieve the healthy development of the industry and the integration of new products and services, always guided by the protection of investors," Theocharides said.
"This is achieved by strengthening the level of trust between companies and investors, through supervision, innovation and training," he added.
Meanwhile, CFA Society Cyprus president Eleni Constantinou said that the economic forum enabled industry stakeholders to exchange views and opinions face-to-face, particularly after two years of financial instability on the global stage.
At the same time, she expressed satisfaction at the Cypriot association being presented with the Most Outstanding Society Award 2022 by the CFA Institute earlier this month.
The CFA Society Cyprus received the award for associations numbering between 150 and 349 members in size.
She said that the award was proof positive of the tremendous effort by volunteers during the previous year, as well as the strong foundational work in the years preceding 2021.
"The CFA Society Cyprus is committed to professional excellence, integrity, training and volunteer service," Constantinou said.
"In this context, the society produces a multi-level and diverse collection of actions, through four specialised committees, which in turn contribute to the fight against financial illiteracy, the development of competent and ethical professionals, the promotion of integrity and professionalism in the financial sector, as well as in eliminating various social and racial stereotypes," she added.
Constantinou also said that as the financial industry continues to rapidly evolve rapidly, the association will remain committed to its mission, "promoting the highest standards of ethics, education and professional excellence for the ultimate benefit of society".