Limassol volunteers hope to create a cat park as part of efforts to tackle the overwhelming number of strays.
Set up in 2019, the group Catnation provides food and arranges for veterinary care, and neutering of stray cats as it seeks to raise awareness about their plight.
President of the association Dr Sofocles Nicolaides told a special event held in Limassol on Tuesday evening that there are more than one million stray cats in Cyprus as he appealed for state support.
"It is not just creating a cat park, but also educating children, changing attitudes in Cypriot society," he said.
"No one is happy seeing kittens ill, abandoned or dead in the streets," he added.
The cat park would help deal with the overpopulation of stray cats, added Eleni Nikita as she set out Catnation's proposal.
The group is still waiting for a reply to the request for state land a little outside Pyrgos, Limassol that it had submitted in 2019 and which could host more than 6,000 cats, she said.
The proposed park would have recreational facilities for children and adults, a children's playground, a cafeteria and an educational and information venue.
"This is a holistic approach for a viable solution which will offer substantial help in dealing with the problem, contribute to cultivating animal-friendly awareness in our country, to the local community and to efforts to enhance the tourist product," she said.
The aim is to neuter 5,000 stray cats a year compared to 1,100 under the current government programme. This would mean 300,000 fewer strays in five years, she added.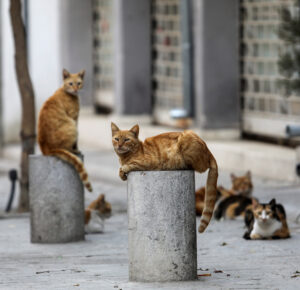 In an address to the event read out by veterinary department officer Constantinos Economides, Agriculture Minister Costas Kadi assured that the government would continue its €100,000 annual subsidy for a cat neutering programme as well as an annual grant for this purpose to animal welfare organisations.
He thanked the volunteers and announced a €1,000 donation to Catnation.
In brief remarks, presidential hopeful and Disy president Averof Neophytou, who attended the event, said that by supporting non-profit organisations, the state was doing more with less money.
Congratulating the association and the municipality of Limassol for their work with strays, he assured that he would mediate so that the NGO would receive a reply to their request for state land.
In his address, Limassol mayor Nicos Nicolaides hailed Catnation's plans as ambitious, requiring a lot of effort, especially by parliament and the state as regards the legislative actions to make the land available and approve the grants for neutering programmes.
The subsidy the municipality receives from the state for cat neutering is paltry given the tens of thousands of stray cats in the town, obliging the local authority to contribute municipal funds, he said.
And he announced that on Monday an agreement was signed between the agriculture ministry and the municipalities of greater Limassol granting them land in Mouttayiaka to build a dog shelter.
Within this framework, part of the funds that will be sought from the state could be used to create a cat shelter in the same space, he said, adding that this proposal will be discussed with animal welfare organisations.
"The problem with strays is huge and we must address it," the mayor added.
Participants also sent a message of support to Catnation member Iphigenia Aristidou Georgiou whose idea it was to set up the association and push for a cat park. Georgiou is currently in hospital after being hit by a car.
As Catnation explains on its website, the goal of the proposed cat park is to create a safe haven for stray cats, where they can find shelter, a veterinary clinic to monitor their health and support a large number of sterilisations, but also a place where pet owners can find their new feline companions as well products and services.
"Cat parks across the nation's main urban centres are the only solution to guarantee success. However, until these come into reality, the cats require daily attention and care. Our organisation cares for thousands of cats on a daily basis," it added.