In an open and free spirited woman, THEO PANAYIDES finds an influencer whose life is easily broken down into raucous encounters and blog-worthy anecdotes
I assumed Galatia Pamboridis and I were going to talk about food (fine by me; I love food), but in fact we talk about lots of things. To be honest, we could've talked about anything. The real attraction is her personal style, which – at least in interview mode, though it doesn't really feel like an interview – is frank, exuberant, expressive and very open. "I have to tell you this, this is very funny!" she exclaims, suddenly reminded of this or that incident. She performs, makes faces and laughs often, her trills of laughter sounding very merry in the gentle suburban silence around us.
Here she is, for instance, on the "scandalous" aversion to garlic in Cyprus (okay, this one actually is about food). "I've had friends who used to tell me, 'No! If you put in garlic, I won't eat it'," she relates, looking terribly fierce – those friends are serious about hating garlic – then performs her own hurt reaction. She shakes her head, lips pursed at the unfairness of it all, indignation building and building inside her. "Don't eat it then!" she cries in exasperation – then cackles, tension released, riffing happily. "Stay there, and eat nothing!" Or here's her youngest son, who likes to argue and debate: she squares her shoulders, the body language of a 12-year-old with a lot on his mind. "'Messi or Ronaldo?'' "And you're like…" – her expression is sly now, the expression of a trapped adult trying to extricate herself as painlessly as possible: "'Erm… Messi?' 'NO!!! RONALDO!', and blah blah blah. Two hours later…" She laughs merrily again, her life relayed as a series of raucous encounters and blog-worthy anecdotes.
She did have a blog, though it's now been replaced by Instagram (@cuisinovia) which is where she posts recipes to her 21,500 followers. Galatia's a TV chef, and has been for the past five years – building something of a double act with Chryso Lefou on the CyBC show Chryses Syntages – though she's actually been very lucky, she tells me, in that "whatever I did in my life, job-wise, I really, really, really enjoyed. I loved my job as a graphic designer. I love my job now as a cook. The only thing I regret in my life is that I never studied art."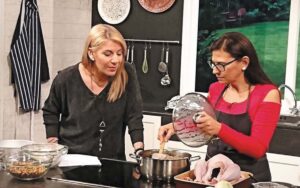 She was gifted as a child, "I even won an international competition"; her school sent one of her paintings to a contest in Seoul, where it won the gold medal ("I was like 'Guh!'," she recalls, her jaw going slack to connote being totally flabbergasted). Unfortunately the political situation in Korea in the late 70s was too volatile to allow for travel, so instead the medal was presented in a modest ceremony in Nicosia; even more unfortunately, both her parents worked in a bank – her mum was actually her dad's secretary – so it wasn't the kind of family where a budding artist would be urged to make a career of it (to be fair, she herself didn't think it was viable). Instead she studied Art and Design at Middlesex Poly, became a graphic designer for newspapers and magazines – and continued to paint all her life as a sideline, the walls of the house on the outskirts of Nicosia studded with a number of her large, vivid canvases.
This is where they've lived for the past decade-plus, 'they' being Galatia, her husband and their three boys (15-year-old twins, plus the aforementioned 12-year-old). We sit outside, a plate of homemade aniseed and almond cookies on the table between us. There's a pool, a trampoline, olive trees and cypress in the garden, all the accoutrements of suburban life – and of course the animals, two dogs and half a dozen cats, all of them rescues or strays, even a caged parrot called Rio who was found by the side of the road. Galatia also feeds all the neighbourhood cats in the field opposite, and even "saved a hedgehog" once (though his whereabouts are currently unknown).
"My soft spots are cooking and animals," she says, her affably scattered energy building to a sharper point than usual. "I love animals. I love them to the point of my destruction – because I save them from the streets, and I can't stand people hurting animals. I hate that about Cyprus – I hate it! One of the reasons I would move, is the attitude of Cypriots towards animals." It's almost surprising, given how easy-going she seems in other ways – but it's actually not so surprising, indeed I suspect she loathes oppression in general (earlier, trying to name the worst thing she can imagine one of her boys doing, she mentions bullying another child). It offends her open, free-spirited nature.
There are various forms of oppression, of course. Mistreating animals is one form, bullying a child is another. Censoring yourself through fear of what people might think is another kind of (self-)oppression. Her dad was always acutely conscious of the image he presented to the world – as a banker he knew the importance of a 'good name', especially in a small society – but "I grew up to be the exact opposite… I've never cared what anybody says or thinks about me". Food can also become oppressive, thus for instance her body-conscious friends who are always trying to shed those few extra kilos – another kind of social pressure she tries to ignore, as far as possible. "I have friends who are, say, five kilos overweight," reports Galatia, and shakes her head at their anguish: "Just stick to your five kilos. Be happy with your five kilos!" Her breakfast today was a bowl of black cherries (I don't usually ask, but it seemed appropriate for a TV chef) but it's usually "an avocado with bread, maybe an egg sometimes". Lots of protein there, I point out – but she just shrugs: "I'm not like that. I'm not too concerned about proteins and carbs and sugars and things like that… I'm a firm believer that, after 50, what you should do with yourself is reach a weight that you feel comfortable with – where you're not on a diet all the time, and you don't feel you're missing out on food or any of the things you like. Without, of course, being obese, which means unhealthy."
Speaking of age, she is indeed 'after 50'; she'll be 57 in September. She looks younger, I tell her truthfully. "Thank you. It's because I married a younger man!" The man in question (three and a half years younger) is George Pamboridis, the famously pugnacious former health minister who was instrumental in pushing Gesy through, despite opposition from the usual vested interests. "Marriage has to be a mature decision," declares Galatia (she was actually married before, briefly, in her mid-20s), adding that it always tends to be "a yin-yang combination. You never see two people who are both strong personalities, they'd clash. You see one milder and the other stronger, or the one is extrovert, the other is introvert".
So what's their own yin-yang?
"George is a very decisive person, very strong personality. He's a doer. I'm totally indecisive, I find it very hard to make a decision. I have to think very hard, and see all the options… Also, I always see the glass half-full. He always sees it half-empty. He'll tell me, 'Arghhh, this is happening, what are we going to do?'," (she mimes agitation, performing again). "I'm always, always – maybe too much, sometimes – like 'We'll figure it out. We'll sort it out'." Oddly, it seems, his natural pessimism is what motivates him to be such a dynamic problem-solver – whereas her own energy is both more scattered and more optimistic. I guess it explains her openness, which is probably the most obvious trait about Galatia Pamboridis – the way she puts herself out there, without apparent guile or self-consciousness. It's the trait of someone who needs the creative freedom to seek (and express) the truth – yet also believes it'll be all right, that she won't get hurt by emotional honesty.
Her husband also has that kind of openness, being "impulsive" as she puts it; his feelings are always plain to see, he doesn't disguise them. Chryso Lefou, her partner on Chryses Syntages, also has that emotional honesty: "She's a genuinely kind person, Chryso – and what you see is what you get, I like people like that". (That said, the partnership has now broken up, the two chefs moving on to different projects.) One might even note that animals are guileless and emotionally open – though of course the analogy only goes so far.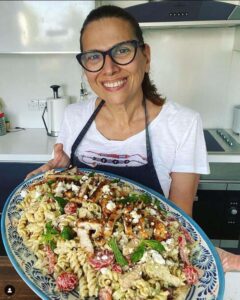 Galatia needs that honesty, that sense of freedom. She grew up in "a strict environment" – yet she won't hide behind a façade to please other people. (She'd surely be a reluctant First Lady, if the talk of George running for president ever came to pass.) And there's something else too – a medical problem at the age of 18 which meant, so the doctors told her, that she could never have kids. Years later, another doctor in the US (where she'd gone for a different issue) informed her that medical science had moved on, and IVF was now available even for women like her – and so, at the age of 42, she became a mother for the first time, after years of being terribly career-oriented and assuming she'd always be childless.
Many women wouldn't talk so openly about the experience; IVF is something of "a Cypriot taboo", even now. There is indeed something scary in such technology; note, for instance, that all three of her sons were actually "created" at the same time, it's just that the youngest remained frozen for a few years – though that's actually the wrong way to think about it, after all "they're blastocytes, they're not alive yet. They're not alive unless they go in your body". Still, many women might prefer to dodge the whole queasy subject – yet Galatia has no problem talking about it, even on TV. "There is absolutely no shame in that," she says, sharing all the details in her lively, vivacious style – then the weeks of post-partum depression (though she didn't know she was depressed, until she wasn't) and of course the guilt, which never really ends. "Guilt comes with motherhood," she chuckles. "All mothers in this world feel guilty about it. 'I'm not a good mother, I haven't done enough!'." She's performing again, starring in a play called 'The Worst Mother in the World': "'Ahhh, I wasn't there when the lady who was helping me was giving them a bath! And where was I? – I was at the stores! Doing nothing!'". Galatia laughs: "It was like that".
Motherhood came as a gift, late in life, and she's properly grateful – though of course the older kids are embarrassed by her now, and plead with her not to say hello to their friends when they come round. Do the friends recognise her from TV? "Yeah, some of them. Because their grandmothers watch me, usually!" She gets recognised a lot, and not just by grandmas; going to the supermarket has become something of a meet-and-greet – and of course she's not just a chef, she's also an influencer (though she hates that word), given those thousands of followers. "I get sponsorships. I do product placements" – though she's very careful, she assures me, and won't plug anything she doesn't approve of.
Cooking isn't just a TV thing, it goes all the way back to her childhood (she's very close to her sister, an equally passionate foodie); "I am very weird in the kitchen," laughs Galatia, meaning a perfectionist. Cooking feeds the creative side, her artistic talent that never quite blossomed as it should (though there's no reason why she can't become a full-time painter, once the kids have gone) – and cooking also helps her focus, gathering all that rather scattered energy into a clear, unequivocal project. She hates arguments, she says at one point (she's non-confrontational) – but, if she should happen to get in an argument, then she always has to settle it, has to find closure otherwise "I can't function"; cooking offers the same kind of closure. "Whenever I'm upset with everyone, I just go in the kitchen and bake a cake. It's always like that," admits Galatia, and laughs delightedly. I knew we'd end up talking about food sooner or later.