With the onset of summer, the Greek Islands are attracting tourists for good reason. Mykonos, specifically, is emerging as a desired destination with its calm beaches, cinematic whitewashed abodes, and vibrant nightlife. It is situated north of the incredible island of Santorini Island has more of a laid-back atmosphere than its neighbour.
This kind of versatility makes for the most memorable holiday destination. An abundance of sightseeing spots and luxury accommodations have elevated Mykonos' reputation as one of the most desirable idylls. The islands offer a perfect balance between exploration and relaxation. A trip to Mykonos could be just the holiday you need to unwind.
Exploration in Mykonos
The best way to explore Mykonos is to get around by the traditional Greek fishing boats called kaiki. An authentic part of the Greek holiday experience. Coasting along by kaiki will allow you to explore Delos Island along with Mykonos in under a day.
Another iconic must-see in Mykonos is the line of majestic windmills. Situated within Mykonos town along the coastline, it offers the best view for an ocherous sunset that you cannot get anywhere else.
Chora, as Mykonos town is locally known, is a Cycladic village best known for its in-town sunsets. Armenistis Lighthouse is an ideal spot as it offers a cinematic view of the sun setting over the sea with varied calm shades of azure blue pointing towards a beautiful cluster of islands in the distance. The lighthouse is accessible and entirely free.
Another fantastic attraction to visit when in Mykonos is Paraportiani Church — a historical church of great significance on the island. More than 500 years since it was constructed, it's an example of stunning architecture that demands a visit.
Relaxation in Mykonos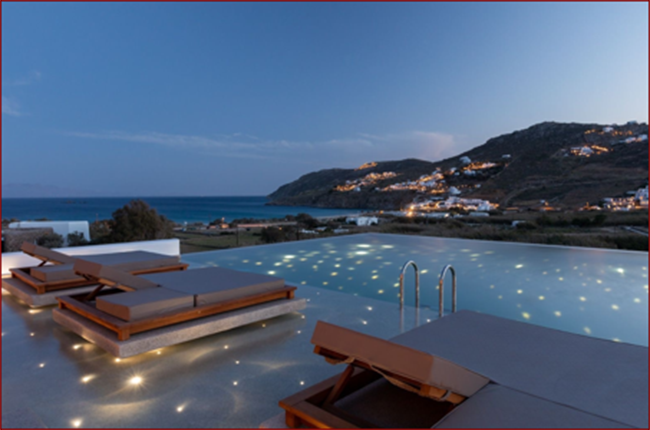 Nothing says relaxation like an accommodation that feels like a personal sanctuary. A great accommodation option in Mykonos is the Mileo Luxury Hotel. The hotel has great accessibility as it is just a few short steps from Kalo Livadi Beach, 500 yards from Loulos Beach, and less than a mile from Agia Anna Beach. The establishment offers an unobstructed panoramic view of the Aegean Sea.
With a range of diverse lodging options, The Mileo Hotel provides a high-end, luxurious experience. You can reserve one of their villas with a private pool for groups of up to five people. This option also includes a large balcony, Greek/Mediterranean breakfast, and room service. There are also a variety of private suites, each with a jacuzzi or a pool of its own. The hotel's emphasis on solitude, tranquillity and exclusivity makes it the ideal choice for people who want to avoid the summer throng and instead embark on a Greek paradisial getaway.
This luxury accommodation embodies the philosophy of Greek-style relaxation and offers access to beautiful pools and fine dining options. Staying in the Mileo Hotel is a wholesome Greek holiday experience in itself but when coupled with the surrounding attractions, Mykonos is the ideal dream destination for what could be the best summer of your life.
---
 Make your bookings now:
https://www.mileomykonos.com/
---