Almost 60 years after they first formed, Scorpions played in Limassol this week. They say they will continue while still having fun. THEO PANAYIDES gets an insight into the men on stage at a press conference before the main event
I had an excellent question I wanted to ask Scorpions; unfortunately, everyone else must've wanted to ask the same question. My question had to do with Wind of Change, their most successful song (14 million copies sold!), written in 1990 during that hopeful time at the end of the Cold War. What's their take, 30 years later, on the changes that actually took place in the former Soviet Union, and what's happening there now?
It's a good question – but either they've been hearing it a lot lately (Cyprus is just one stop on the Rock Believer World Tour 2022), or they wanted to pre-empt it. "No political questions, please!" announces the moderator from Moonlight Show Productions – the organisers bringing the band to Cyprus – at the start of the press conference. Oh well, it would've been a good question.
We're in a packed room at the Parklane Resort & Spa in Limassol, a day before Scorpions' concert at the Tsirio Stadium – their fourth time playing in Cyprus, one of about 80 countries where this famously tireless band have performed their classic rock songs. The five members greet the press corps – around two dozen journalists and three TV cameras – and sit at the head of the room. It's one o'clock, "early in the day, for us". They arrived from Tel Aviv a few hours ago.
In the middle is Rudolf Schenker (rhythm guitar), flanked by Klaus Meine (vocals) and Matthias Jabs (lead guitar), with Mikkey Dee (drums) and Pawel Maciwoda (bass) taking up position at either end. The seating isn't accidental: Schenker is the only founding member, having formed the band in 1965 in Hanover, though Meine and Jabs (also from Hanover) have been members for decades, Meine since 1969, Jabs since 1978. The other two are more recent arrivals – and also, incidentally, not German – Maciwoda since 2003, Dee since 2016. The seating isn't accidental. Nothing's accidental when you're a super-band that's sold over 100 million records and continues to tour even now, with an average age of 65.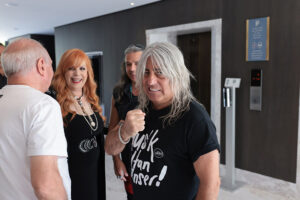 Four of the five wear sunglasses (clearly a fashion choice; we're indoors). Three of the five wear hats or caps. Almost all wear some kind of pendant around their necks. All are trim, with that rangy musician's look. Only two have visible tattoos. Each one seems to be a different personality type, echoing Meine's comment that "everybody brings something" to the band.
73-year-old Schenker, in a leather jacket and natty brown fedora, is all hustle and confidence. He leans back, when some of his bandmates hunch forward, and looks endlessly delighted to be here. There was "no plan B," he recalls cheerfully, when asked about the old days: "Go for it, that was the situation!". He's presumably the one who pushed hardest for Scorpions to have "a worldwide career, and not a small German career… We want to make rock music which goes around the world".
Meine, the oldest at 74, wearing a slightly oversized beret, has a different vibe: smaller, more thoughtful, lips pursed, arms folded. He's been just as instrumental in the band's success, having written the lyrics to most of their songs (he also composed the music for some, including Wind of Change). Polish-born Maciwoda, 55, mostly stays in the background – like all good bassists – but his few comments mark him out as a bit of a rebel. At one point, when Schenker enthuses about live shows being back with a vengeance, post-pandemic, he pipes up quietly: "I hope I'm wrong, but I see this as world governments giving people a little freedom right now for the summer, let them enjoy – and then, in the fall and winter, they'll lock them down again," he says acerbically, to applause and knowing laughter. Whatever happened to 'no political questions'?
The remaining two Scorpions seem to be polar opposites: 66-year-old Jabs, in yellow baseball cap, is laconic, mostly silent – but handles a technical question about logistics which, unsurprisingly, are very complex on a world tour. (The band have several sets of equipment which travel ahead of them, so they always find new instruments waiting when they come to a new place.) 58-year-old Dee, on the other hand, previously the drummer with Motorhead, is a loud, raucous type with a great mane of blond-white hair, delighting the journos with talk of retiring to a Greek island – he's Greek-Swedish, born Micael Kyriakos Delaoglou – and recalling how Scorpions recruited him: "Matthias called me a few years ago: 'What are you doing, you old drum dog?'. And that was it. And here we are."
Here they are indeed, Rock Believer being the title of a brand-new album as well as the world tour. Lockdown helped with the former – they produced the album themselves, in Hanover, and were able to take their time for once – but left them pining for the latter. Scorpions are above all a live band, and being onstage is what they do best. "It's so inspiring and motivating to play in front of three generations," says Meine, "and see all those young kids out there going nuts with songs that were written before they were born… Especially after this – uh, pandemic break, we know how much we needed to be on the road and play music live. It's our life."
"We are five rock dogs, you know?" says Dee. "You can't teach us anything else!"
No-one in the room brings up the question of retirement – which is partly out of politeness, but only partly. These five musicians seem so focused, so sharp, five integral parts of a well-oiled machine, that they make it seem entirely natural to be going around the world playing rock music (after Cyprus it's France, then Portugal, then two months in North America) at an age when most men stay home playing with their grandkids. Above all, says Dee, they're still having fun.
"Fun is the No. 1 ingredient in this rock'n roll soup. If it ain't fun, you can't fake yourself through a world tour, it's impossible."
"A press conference – you know, it's all good," adds Jabs thoughtfully, looking around at the assembled hacks. "To see you guys, and talk about how we're the best band on the planet. But the thing is, there comes a moment, every other night, when you go out onstage and there are thousands of fans – and then you have to deliver. That's what it's all about."
Almost 60 years since starting out, Scorpions continue to deliver – and show no signs of slowing down. Excited journalists are swarming around them now, holding up their phones for selfies, handing bits of paper to be autographed, carrying plastic bags full of old LPs for the band to sign. No more questions, political or otherwise.