The Phinikoudes sea front can be a busy place, and its strip of bars, restaurants and cafés can make a dining experience there a noisy affair. However, towards the end, nearer to the castle, it starts to settle down and is a calmer experience.
It is at this end of Phinikoudes that you will come across Panos Steak House. Not only is there less hustle and bustle but you also have the calming view of the sea only 20 metres away. A refurb a few years back transformed Panos Steak House in to a modern, chic restaurant to match the new walkway opposite. If you want to fully appreciate the view, you could ask to be seated in the roof garden section.
A sign of quality is the length of time that a business has been running for, so, discovering that Panos Steak House has been open since 1975 made me feel quietly confident that the food was going to be pretty good.
A quick glance at the menu will tell you that this is not a specialised steakhouse because it also offers seafood, pasta, chicken, pork and even egg dishes! In fact, the actual steaks didn't really stand out on the menu. In an effort to please the crowds and increase the scope of clientele, Panos may have lost its identity as a steakhouse. However, this could be a good thing if you fancy a steak but your friends or partner aren't fans.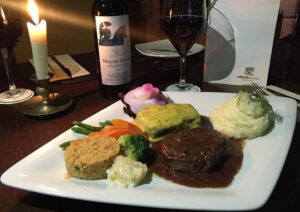 But I went straight for the steaks. Or more specifically, the Aberdeen, rib eye, Black Angus steak. Weighing in at a generous 300g and at a price that is extremely reasonable, there was nothing that was going to sway me. When the waiter came to take our order, he was raving about the steak Diane and told us it is their most famous dish. He also recommended the 'black and white' which is two half steak fillets, each covered in a different sauce. Sticking to my guns, I went for the rib eye, cooked medium. The dishes are served with basmati rice, fresh seasonal vegetables and a choice of potato. For some reason I thought that chips would cheapen the Black Angus rib eye and so opted for a jacket potato.
Perhaps it was because the steak was requested to be cooked medium, the food came out fairly quickly. It was presented as well as you could possibly present steak, rice, potato and vegetables! First thing I did was cut through the steak. The knife seamlessly glided through it. Whoever was in the kitchen knew how to perfectly prepare and cook steak. Of course it helps when the steak is of a high quality and this, most definitely was! My potato, still wrapped in foil, had a knob of butter that had half melted from the heat. The vegetables didn't look very seasonal to me and it was quite clear that 'fresh and seasonal' meant, 'whatever mixed veg the supermarket had in the freezer section'. If a restaurant wants to serve frozen vegetables, as long as they are cooked properly, that's fine but it's a little insulting to the customer if the description in the menu dresses them up to sound more special than they are.
However, I wasn't going to let that get in the way of enjoying the main event on my plate, the steak! I made sure to savour every mouthful because it deserved nothing less. The frozen vegetables became insignificant. I was also pleased that I ordered the jacket potato as the creamy, buttery spud complemented the juicy steak. Also because, if the vegetables are anything to go by, the chips may be frozen too!
While the steaks on perusing the menu seem just like another dish among a variety of different foods, the quality and taste of what I had was definitely the hallmark of a top steakhouse. I'm already looking forward to going back!
VITAL STATISTICS
SPECIALTY Steaks
WHERE Panos Steak House, Agkiras 7, Phinikoudes, Larnaca
WHEN Daily 10am to 11pm
CONTACT 24 653707
HOW MUCH rib eye steak €25.95