Members of the British forces in Cyprus, known affectionately by the nickname the 'Dog Squadron', are helping out at the Nicosia Dog Shelter located in the buffer zone.
The military engineers are here as part of 'Operation TOSCA', the British contribution to UNFICYP patrols. The shelter currently houses 50 adult dogs and 22 puppies which were either abandoned or strays found and picked up by the soldiers while on patrol.
"It's not nice to see the dogs under these conditions in the heat, but we help out, we do what we can," said Lance Corporal Hirst, walking a beagle he said was similar to his own dog, early in the morning to avoid the heat.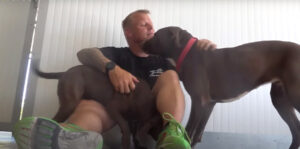 The sappers say they get a welcome break from their usual duties and get to put their engineering skills to good use at the shelter, among other things repairing fences, sealing holes, and building new structures. Troops also walk and feed the dogs and clean out kennels.
Warrant Officer Smalley said volunteering at the shelter offered the troops a chance to get to know the local community, maintain relations with the UN and was a nice way to spend time when not on rotation.