Music in the city never stops, not even in August when most people go on holiday and businesses go on a summer break. A few of the capital's bars remain active, while the city quietens down as the masses take over the coast, providing live music entertainment to those staying inland. Mikri Arktos, a fairly new establishment in old Nicosia on Peiraios Street, has a handful of live music performances planned. Four local acts are coming up just in the first week of August!
The Marabou trio is to perform at the Nicosia bar this Wednesday 3 at 9.30pm. The musical ensemble was born out of the love three friends shared for music and song and, with two guitars they explore beloved Greek songs but also international favourites.
Following Wednesday's performance is another musical meeting on the following evening with musicians coming all the way from Utrecht.  Rafaella Mespilo is joined by Tsop SKG and together they will merge their music in a unique Cyprus performance. Their indie-pop-folk style songs talk about experiences away from home and getting lost on the way.
Friday night's event constitutes a short break from the usual music performances as two artists bring a comic act to Mikri Arktos. Sais and Hambis, two artists from Paphos and Larnaca will present a comedy show that will include some musical interventions by Sais to entertain Nicosians.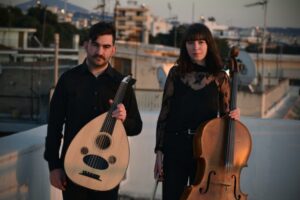 The final duo for the week returns to musical melodies as Mikri Arktos welcomes Burek Duo on Saturday 6. Burek duo is a musical intertwining between Andreas Krambias and Maria Doumeni Cronholm. With the unusual combination of cello and oud they bring their own colour and touch to melodies from near and far. Their repertoire consists of traditional folk music from Greece and Cyprus and classical music from the Ottoman empire as well as Swedish folk music. Their name refers to the pastry Burek, found in many countries bordering the Mediterranean Sea. What a sweet way to wrap up a melodious week!
Marabou Live
August 3. Mikri Arktos, Nicosia. 9.30pm. €3. Tel: 22-252259
Rafaella Mespilo and TSOP[SKG]
August 4. Mikri Arktos, Nicosia. 9.30pm. €5. Tel: 22-252259
Inta Sais Inta Hambis
August 5. Mikri Arktos, Nicosia. 9.30pm. €5. Tel: 22-252259
Burek Duo
August 6. Mikri Arktos, Nicosia. 9.30pm. €5. Tel: 22-252259