Revolut, a British financial technology company (fintech) that specialises in digital banking, this week received approval from the Cyprus Securities and Exchange Commission (CySEC) to offer cryptocurrency and digital asset services.
The company explained that "this move will enable it to transform into a new European cryptocurrency hub, allowing it to provide additional crypto asset services to its 17 million European customers".
The company has clarified that clients based in the United Kingdom, who form the bulk of Revolut's customer base, will continue to be serviced by its UK-registered entity.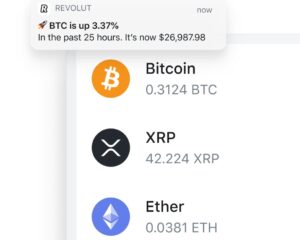 CySEC's approval follows the authorisation the company has already obtained in other markets, including Spain and Singapore, something that will enable Revolut to expand its sales scope across a number of territories.
Revolut, often referred to as one of the major players in the neobank space, meaning digital-first online banks, said that it has proceeded with the creation of a new cryptocurrency hub in order to remain compliant with new regulatory rules.
"We welcome the EU-wide regulation and wholeheartedly embrace the European Parliament's clear intention to support innovation whilst requiring strong customer protection measures to prevent any type of market abuse," a Revolut spokesperson told technology and finance outlet AltFi.
"In establishing a hub for our crypto operations in the EU, we recognise that CySEC has in-depth knowledge of crypto and its efforts to be a leader in crypto regulation," the spokesperson added.
CySEC has previously granted licenses to other major players in the fintech and crypto asset industries, including Crypto.com, eToro, CMC markets and Bitpand.
Revolut explained that its decision to pick Cyprus was the result of an extensive research process, where it compared all EU countries.
According to Revolut, the island was chosen due to the country's "sophisticated and robust regulatory regime, as well as the strength of the existing crypto industry in Cyprus".
The new regulatory framework referenced above by Revolut, which is called markets in crypto-assets (MiCA), was officially agreed upon by the European Parliament on June 30, 2022.
According to the EU, MiCA aims to usher in crypto assets, crypto asset issuers and crypto asset service providers under a single regulatory framework for the first time.
Furthermore, the framework seeks to protect investors and work towards maintaining financial stability, while at the same time not standing in the way of entrepreneurship and innovation in the crypto asset sector.
"Recent developments on this quickly evolving sector have confirmed the urgent need for an EU-wide regulation," French Minister for the Economy, Finance and Industrial and Digital Sovereignty Bruno Le Maire said.
"MiCA will better protect Europeans who have invested in these assets, and prevent the misuse of crypto assets, while being innovation-friendly to maintain the EU's attractiveness," he added, explaining that "this landmark regulation will put an end to the crypto wild west and confirms the EU's role as a standard-setter for digital topics".
In May of this year, Deputy Minister for Research, Innovation and Digital Policy Kyriacos Kokkinos engaged with the Cypriot fintech and crypto community, explaining the country's approach towards these two overlapping sectors.
"I can tell you that Cyprus welcomes the use of digital and crypto assets, but we still need to be very careful and respect not only the regulations currently in place but also the absence of any regulations," Kokkinos said.
"We have to be careful of the frameworks of the European Union since we are a member state," the minister added, before announcing that the government had already drafted "a very attractive bill on crypto assets and Blockchain technology" that will be submitted in the future.