Dozens of African migrants have turned an unused field in the heart of Limassol into their makeshift home, as the mayor has underlined the city is facing major challenges.
The migrants have gathered old mattresses, cardboard boxes and other assorted goods to set up crude sleeping arrangements out in the open – lugging water containers to the spot for bathing.
Others are reported to be sleeping on sunbeds along the beach and gathering in the city centre during the day seeking odd jobs.
The issue has been getting worse since mid-May with pressure mounting on the local authorities to get the situation under control. The field is located near the central police station and the town hall.
The report, first published by daily Politis, drew attention to the plight of the migrants – who appear to be leaving the reception centre of Pournara but have not secured accommodation.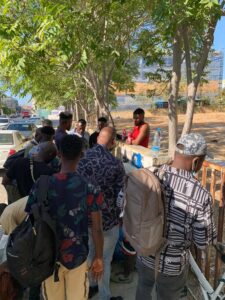 The NGO Yellow Line Support and Solidarity went to the location on Wednesday and delivered personal hygiene products and clothes to the migrants – calling for wider support for the vulnerable and those in need.
"We choose to always show solidarity to refugees and to whomever needs our support," they said.
But one social media commentator decried their actions and claimed that the migrants are harassing women who pass by.
"They bathe in the field and do not care at all if the public sees them," he said, further claiming that they harass nearby students.
Limassol mayor Nicos Nicolaides on Tuesday held a meeting with "all relevant stakeholders" to address "the problems caused by the presence of illegal migrants".
He said the issue is troubling the city and its citizens, stating that the relevant services and authorities must work better together to bring the disturbances under control.
The mayor said the city is facing further issues of undeclared work, criminality and burdensome procedures in deporting illegal migrants.
"The situation is not simple but it is very serious," he added.
He said that the municipality, the social services and the Sxedia support group are all working towards resolving the situation as far as their jurisdiction permits.
Politis reported that the migrants carry what little goods they have with them in old carrier bags or backpacks.