And Cyprus too. With an eye on simplicity one Greek Cypriot markets a range of clients and even found a way to promote the island. PAUL LAMBIS meets him
In a world awash with brand clutter and chaos, Christos Joannides' understanding of luxury branding and refined aesthetic has redefined Los Angeles' advertising landscape.
"As entrepreneurs, we face constant challenges in growing our businesses and carving our own niche in the market," Christos said. "I wanted to compete in this everchanging and uber competitive world and use my passion and drive to bring concepts to life and give them wings."
Born and raised in Nicosia, to an architect father and "stylish" mother, Christos was raised to appreciate refined, uncluttered design – a train of thought that still inspires him and permeates his work. He left the island for California in 1992 to pursue his studies and has lived there ever since.
Christos initially found LA to be something of a culture shock, but welcoming. "From the very first day, I just had a sense of belonging. Language barriers were non-existent for me because I was raised speaking both Greek and English, however I was ecstatic that I was finally living in the city of my dreams, yet petrified at the same time," he revealed.
"Los Angeles is a melting pot of creativity, a hub of design with the latest trends, drawing creatives from all over the world," he told Living. "I was one of those creatives who was drawn to its advertising industry and was taken in by the eccentricity and anything-goes attitude of the city and its people."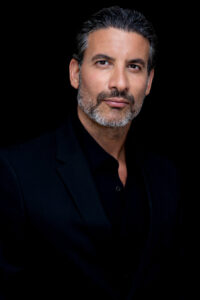 According to Christos, what sets LA apart is its free-spirited approach towards advertising, as opposed to the more regimented way of thinking in cities such as New York and London. "Within this visual framework, I was inspired to establish my own creative design firm, Flat 6 Concepts, which caters to a wide array of clients across numerous sectors and industries – ranging from an Oscar winning company to a one-man carpenter shop.
"The business of design is one of constant editing, and good design is the result of a detailed discipline that eliminates the superfluous and brings order out of chaos. It is that desire for simplicity that inspires me every day."
Christos also finds inspiration in the world and philosophy of Ancient Greece and Italy, as well as the undeniable elegance of France and the sincerity of Japanese minimalism. "Books and travel are a key source of my inspiration, including beautiful, bespoke, and simply designed items."
Since its inception, Christos Joannides' Beverly Hills-based branding agency is considered, according to DesignRush, one of the best web design agencies throughout California that can design and develop professional platforms.
"I am always open to new possibilities and collaborations. My design firm is currently a luxury boutique agency, and I enjoy it that way because it allows me to be personally involved in every aspect of the work," he added.
Joannides has spent the last three decades travelling back and forth between the USA and Cyprus, maintaining close cultural ties with his hometown of Nicosia, which has a very special place in his heart.
Following the country's economic recession in 2013, Christos took the lead in pushing the Cyprus Tourism Organisation to rebrand the island. He created a new image and logo with the slogan Beauty Worth Revisiting, which he claimed would give Cyprus a more upscale air. "I felt compelled to assist and created a fresh logo and identity for my country to appeal to a higher class of traveller, focusing especially on the American tourist."
He suggested that the island needed to adopt a new, more polished and more sophisticated approach to branding and marketing that would attract not only the budget tourist, but also the sophisticated traveller who is curious, affluent and able to spend more.
As a Greek Cypriot from Nicosia, Christos has undoubtedly established himself in the wider world. "My worldview is based on the words of renowned novelist Julia Alvarez, who advises against trying to control everything and instead to let life play out as it may. You should approach life this way because you never know what will happen next."