The first weekend of November arrives with a packed events agenda. Art markets, intimate performances and pop-up events will add some colour to November's warm autumn days.
Starting the weekend are a couple of art markets taking place in local coffee shops. In Limassol, Kafeneio o Tempelis collaborates with Dusty Monkey to organise the November Market on Saturday. From 11am to 6pm, some 15 local makers will set up their stalls displaying their creations and welcoming art lovers, visitors and shoppers.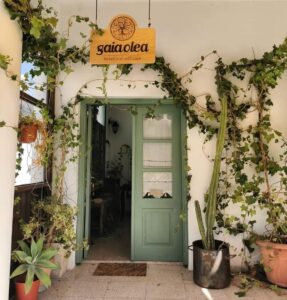 Another market will also be on in Nicosia on the same day. The Arts & Crafts Bazaar – Autumn Edition will transform the green grounds of Evergreen Vegan & Vegetarian into a colourful crafty market as creatives showcase their handmade work. Ceramic art, illustrations, paintings, clothing, jewellery and cyanotype cards and candles are some of the items the artists will feature. DJ Annie will be on the decks as the market takes place from 11am to 5pm and the café-bar serves drinks and meals.
Continuing the fun, a cosy live music session will take place on the evening of the same day as Trio Rondine return to their favourite coffee shop Prozak for an 8.30pm performance. Pavlina Konstantopoulou on guitar and voice, Andreas Papapetrou on accordion and voice and Maria Zannetou on mandolin will play traditional and modern songs from the Mediterranean but also well-known music themes from classic films.
On Sunday something different is coming to Nicosia's old town to bring together bibliophiles and beer lovers. The Cultural Foundation 1948 is organising the first Beer & Book Day at Haratsi Kafeneio to share a love for books, literature, philosophy and poetry. From 2pm onwards, local publishing houses will be at Haratsi with books for sale (Ekdosis Rizes, Almyra and Sychroni Epochi) along with the bookshops Peridiavasi and Ideodromio. The event will also include a discussion, two poetry collection readings and a musical programme to wrap up the activities around 10pm.
Over in Kalavasos village, local skincare and wellness brand Gaia Olea is celebrating its 6th birthday with a gathering open to all this Sunday. Between 3pm and 8.30pm, the workshop space and store of Gaia Olea will open its doors to faithful customers, friends and visitors to celebrate its journey so far. Drinks, music, new products and some surprises to be announced soon can be expected in Gaia Olea's distinctive earthy and natural style.
November Market
Art market by Kafeneio o Tempelis and Dusty Monkey. November 5. Kafeneio o Tempelis, Limassol. 11am-6pm
Arts & Crafts Bazaar – Autumn Edition
Annual autumn bazaar. November 5. Evergreen Vegan & Vegetarian, Nicosia. 11am-5pm. Tel: 99-855919
Trio Rodine
Trio plays Mediterranean songs and more. November 5. Prozak, Nicosia. 8.30pm. €8
Beer & Book Day
Book sale, discussions, poetry readings and music. Organised by the Cultural Foundation 1948. November 6. Haratsi Kafeneio, Nicosia. 2pm-10pm
Gaia Olea 6th Birthday Gathering
Local shop celebrates anniversary with an event. November 6. Gaia Olea, Kalavasos village. 3pm-8.30pm