Cyprus-based education technology company Gear Education on Friday announced that it has entered into an official partnership agreement with software company Jamf.
The primary aim of the collaboration is to assist organisations to achieve their goals by using Apple products, since the company will now be an official reseller of Jamf's education products, including Jamf School, to schools and organizations in the region.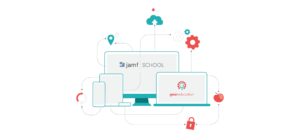 "Jamf School is a Mobile Device Management (MDM) solution purpose-built for education, and its intuitive web-based interface allows IT administrators to easily deploy, manage and secure Mac, iPad, iPhone and Apple TV devices," the company said.
"Jamf School, complete with teacher, student and parent apps, enables enhanced engagement between teachers, students and parents," it further explained.
It should be noted that earlier this year, Jamf Safe Internet was added to the education product suite, providing optional integration to Jamf School that protects student and staff devices using content filtering and network protection against both malware and phishing attacks.
Gear Education explained that by partnering with Jamf, the company will now be empowered to provide schools and organisations with a better and more secure Apple ecosystem and environment.
Moreover, the company said that as part of the education technology services they offer, Gear Education can assist with licenses and deployment of Jamf education products, while also stressing that maximising the value of technology in education is essential to its mission.
"Implementing the right mobile device management strategy can unify school stakeholders, from IT administrators, teachers, students to parents," Gear Education founder Christina Shailas said, explaining that Jamf School is a powerful MDM product that can help schools to simplify their IT workflow, manage devices and ensure a safe learning environment.
The company concluded by saying that "security, management, and efficiency are at the core of a successful K-12 education technology program," adding that this "allows schools to focus on using technology to enhance teaching and learning".