The Covid Years. Are we still in them or can we now look back on them? It is still hard to tell and they've given us a lot to work through. Times where 'normal' did not exist and the new life circumstances offered a lot of time to reflect. For some, this meant through art and many were the creatives who produced work inspired by the experiences of those times. A new exhibition in Paphos looks back at pandemic life and its recovery. The Covid Years opens at Palia Ιlektriki on Saturday with the participation of established artists who live and work in Paphos.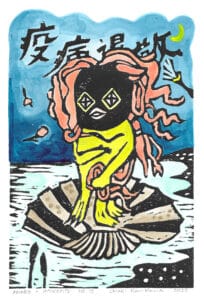 Organised by the Petrideio Foundation in collaboration with the visual artist Miriam Mc Connon, the exhibition features the work of 28 artists and will remain open until November 22. "Everything around us is always changing," says exhibition curator Mariza Bargilly, "everything around us is in constant motion, but during the last two years we collectively experienced an unprecedented condition, that of the cessation of life as we were used to.
"The incarceration due to the pandemic created new perceptions, new concerns and magnified existing problems," adds Mariza, "both at the socio-political level and at the level of interpersonal relationships. It exposed weaknesses and forced us to face our vulnerability and fragility. Considering the events directly linked to the pandemic, how has this condition forced us to review and re-examine the social and other conventions of our daily lives, assessing our priorities differently?"
As such, the exhibition examines the way artists responded to this new situation and engaged in a dialogue with the public but also with themselves, trying to understand the new facts and the uncertainty that follows consequently.
The Covid Years
Group exhibition with 28 participating artists. November 12-22. Palia Ilektriki, Paphos. Monday-Friday: 10am-1pm and 3pm-6pm. Saturday: 10am-1pm. Tel: 26-222157