Swedish giant FOREO, is changing the face of oral hygiene by launching the innovative ISSA 3 – the first sonic silicone toothbrush that combines four-in-one care for teeth, tongue, gums and cheeks, shaking up the most stagnant beauty category that hasn't really evolved in 70 years.
After all, FOREO is not only known for introducing new tech innovations to the beauty industry, but also for bringing health and well-being issues to the surface, offering solutions to important concerns.
Equipped with a revolutionary technology that allows it to stay powered for up to a full year on a single charge, the all-new ISSA 3 features 16 different T-Sonic pulses, offering a truly personalised and comfortable user experience. Added to this is the hybrid, bacteria-resistant silicone head, designed to follow the natural shape of the oral cavity.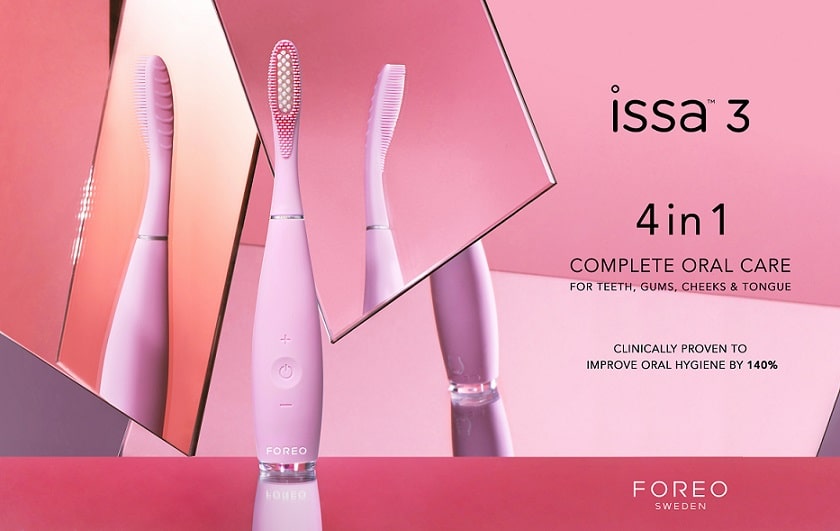 But how does ISSA 3 differ from ordinary electric toothbrushes?
The 16 different pulses with FOREO's iconic T-Sonic technology offer personalised and effortless care, making ISSA 3 perfectly suited to every user
It is USB rechargeable and its battery lasts up to 365 days for maximum comfort
The innovative Hybrid Wave Brush head delivers two times more powerful and refreshing teeth cleaning and gentle gum massage; the back cleans the tongue and cheeks, improving oral hygiene by a proven 140 per cent; while the ergonomic design ensures it reaches everywhere
The device's silicone bristles, in addition to being extremely durable and flexible, bounce like soft waves on the teeth, allowing the T-Sonic pulses to pass through them
Unlike other electric toothbrushes, the ISSA 3 does not require a change of brushing style
ISSA 3 is 100 per cent waterproof and comes with a special Travel Lock and a special travel case
The new ISSA 3, the ultimate must-have gadget, comes in four shades – pearl pink, mint, fuchsia, black – and can be ordered online via foreo.com. It is also available for exclusively at Cyprus' Public department stores.