With the festive season just around the corner, the next few weekends are full of opportunities to stock up finds ELENI PHILIPPOU
 It is (almost) the most wonderful time of the year and that can only mean one thing, the return of Christmas markets. The end of November and the whole of December are crowded with festive bazaars, each featuring local artists and creatives while crowds sip on glühwein and are blasted with cheery tunes.
German Christmas Fayre
Launching the season's big holiday events is the always popular German Christmas Fayre organised by the Cypriot-German Cultural Association. Returning for the first time since the pandemic, the traditional German market will take place on the afternoon of November 27 at the Municipal Multipurpose Centre of Nicosia welcoming a huge number of local artists, music bands, and traditional German food and wine stalls. Alongside handcrafted products, the jazz trio of singer Alice Ayvazian, Alice in Jazz Land, and the Windcraft Band will create a unique atmosphere with their live performances of traditional and jazzy Christmas tunes while German sausages, beers and hot wine are served.
Facebook event: German Christmas Fayre
Traditional Christmas Market
Welcoming December in full Christmas spirit is possibly the largest festive fair on the island. More than 100 stalls nestled among the trees of Forest Beach in Larnaca will welcome visitors on December 2 and 3 as the latest edition of the Traditional Christmas Market takes place from 5pm to 10pm. Having started in 2012, the market is a highly-anticipated event of the season for artists and shoppers alike. Art, gift items, mulled wine, mince pies, bratwurst sausages and other products fill the stalls every year while Santa spreads holiday cheer.
Facebook event: Traditional Christmas Market 2022
Technopolis 20 8th Christmas Art Market
The 8th Christmas Art Market will take over the Paphos cultural centre on Sunday, December 4 where a dozen or so artists will feature Christmas creations. From 10am to 5pm, the bazaar will be on at the charming space of Technopolis 20 while its front garden and balcony serves coffee and cake. At the same time, a series of children's activities will entertain young visitors.
Facebook event: 3 weeks to Christmas
Handmade in Cyprus Christmas Markets
Local initiative and Instagram account @Handmade.in.Cyprus is on a mission to highlight the island's local creators and build a community that looks to buying locally first. Continuing their tradition from last year, the Handmade in Cyprus Christmas markets return this winter. Besides the Limassol market which will again take place at Roots the Space over two weekends, this Christmas edition market will also be held in Nicosia for the first time. On December 10 and 11, more than 25 artists per day will showcase their handmade creations at 10.10 Hall, Nicosia. The Limassol market, co-organised with It's All Green to Me, will be held on the same weekend and that of December 17-18 with 40 different artist stalls in total.
Nicosia Facebook event: 'Handmade in Cyprus' Christmas Market
Limassol Facebook event: Handmade Christmas Market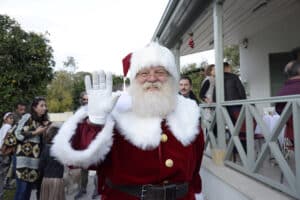 Ermou Christmas
The old town of Nicosia's Ermou Street will burst with local art and holiday spirit as the artists and shop owners of the neighbourhood collaborate again to host a Christmas weekend. On December 17 and 18, those on the street and the neighbourhood will open their doors from 10am to 7pm to welcome visitors, showcase their work and create a festive atmosphere. Handmade gift items, homemade meals, soups and pies will be available to buy.
Facebook page: Ermouchristmas
Larnaca Christmas Food Market
If the season's many dinner gatherings and tasty treats were not enough reason to indulge in Christmas snacks, the Larnaca Christmas Food Market is. From December 17 to 24, the New Square Zouhouri will turn into a massive food ground for all food lovers. Street food, a Christmas market, live music shows and performances will transform the square into a colourful festive gathering.
Facebook event: Larnaca Christmas Food Market 2022
Plenty of food, art and music will go around in this ultra-busy Christmas season, sharing a little something for all, every weekend of December!