A memorial in Evrychou dedicated to fallen soldiers was defaced overnight on Wednesday after vandals painted Nazi symbols on it.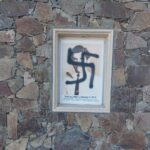 According to an announcement from main opposition Akel, the monument to the fallen soldiers from the 1974 Turkish invasion had a swastika painted on it, and specifically on the picture of Michalakis Skoufaris.
"Once again brazen fascist elements took care to remind us that there are still among us people, who embrace the rottenest ideologies born of humanity, the monster of Nazism, fascism and nationalism. Ideologies that have bloodied all of humanity in the last century, but also that have led our own country to the current state of de facto division after first their exponents sowed hatred among our people and carried out violence and murders of our democratic and progressive compatriots," the announcement said.
Commenting on the upcoming presidential elections, Akel said that these vandals must feel comfortable to act, because if either Averof Neophytou or Nikos Christodoulides wins, it will be the continuation of the Anastasiades government.
The party said that the most recent example are the funds that were unlocked for the establishment of a Grivas museum in Chlorakas, Paphos.