We visited Bakery Kafeneio on a slow-paced Sunday morning, taking advantage of a bright, nippy November day to combine a leisurely stroll through the Limassol city centre with a light meal.
Indeed, Bakery Kafeneio, a brunch spot with a focus on fresh ingredients and healthy combinations, seems to fit such a day and time of the year perfectly. The restaurant now finds itself towards the southern tip of the Enaerios area, near the coastal road running along Limassol's seaside, a hop and a skip away from the water.
To most newcomers in Limassol, the restaurant will appear new, having opened its premises in Enaerios not too long ago earlier in the year, with works being carried out throughout the preceding months and wrapping up around the summer. However, this was only a relocation, from its previous place in Limassol's old town, where it had been operating for a few years.
The new place, with its L-shaped configuration, offers two sets of views, one being up Enaerios, towards its adjacent businesses, and the other, more sought-after view, especially due to the exterior dining area, being across the street and the water to the south-west.
The restaurant generally tries to fit the number of guests to the appropriate table, meaning that a party of two may not be shown to an empty table of eight, for example, so this is something that you need to take into account when visiting. However, there is one large table outside which the restaurant encourages different parties of people to share, so you may join other people if you wish. We also observed that some tables were reserved.
Upon being seated, we were handed our menus and a large glass bottle of water with mint leaves and cucumber slices, which was much appreciated. In terms of drinks, we went with a simple iced americano, no milk, which passed muster, and a hot ginger latte, which was an interesting sip for those who like their coffees on the more aromatic, spicier side.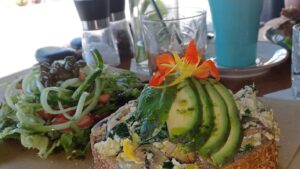 Now, in terms of the actual food, I must admit that it was a struggle to decide what to get, despite the restaurant's fairly focused and narrow scope. Bakery Kafeneio offers overnight oats, smoothie bowls, omelettes, scrambled eggs, poached eggs, sandwiches, wraps, salads, and breakfast bowls, all of which come in all sorts of configurations and ingredient combinations. Ultimately, we went with an omelette and scrambled eggs respectively.
The omelette was made with sundried tomatoes, olives and fetta cheese and came with a generous serving of side salad, while we also added some brown bread, which cost an additional €0.70. The omelette tasted good and was well-cooked, although the olives can be overpowering for some, so you may want to remove them if you want to focus more on the feta-tomato combination. The scrambled eggs, cooked with mushrooms and spinach and served with avocado over brown bread were quite nice, although I thought the bread might have been a tad too soft to handle all of these topics. A minor peeve but a thicker slice or longer toasting might add something to the dish. Just like the omelette, the eggs also came with a side salad, albeit somewhat different, with tomatoes, cucumber ribbons and capers. All in all a pleasant experience for someone looking for a light, healthy meal.
VITAL STATISTICS
SPECIALTY Breakfast items, wraps, salads, specialty beverages
WHERE 24 Arciepiscopou Makarios III Avenue 241A , Limassol, Cyprus
WHEN Tuesday – Sunday, 9am-4pm
HOW MUCH €9 for an omelette, €10 for scrambled eggs, €3-5 for a coffee
CONTACT 25 106881