Time travel is possible on the island of Niue. Just east of the International Date Line, this rocky islet is among the last places in the world to see the end of the day. Take the Monday morning flight from New Zealand, and you'll land on Niue on Sunday afternoon – a great way to get in a bit more weekend!
It's your typical tranquil, tropical paradise… but among the state's legal tender, you'll find coins emblazoned with characters from Pokemon and Star Wars, and the local jail is situated on the island's only golf course.
Just under 2,000 people live on the island, and most are involved in tourism or astronomy. But the vast majority of Niueans live abroad: over 22,000 have moved to New Zealand in the last 50 years, taking their unique culture, language and cuisine along with them…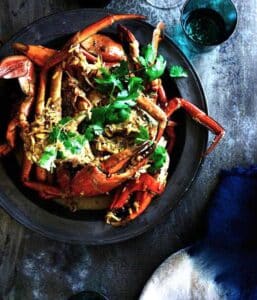 As you'd expect, local fare skews largely towards fish and fruit. So it's no surprise that the unofficial island dish is the coconut crab, a dish that's been prized for centuries. While 'coconut' is merely the name of the species rather than a nod to an ingredient, this crab needs no addition: roasted in a pit or boiled whole, the meat of this huge arthropod is said to be so tender and flavoursome that it prompted the island's first X-ray machine…
Apparently, visitors stuffing their luggage with this delicacy were causing local crab stocks to dwindle. And even a government ban on crustacean export didn't work. But the installation of an X-ray machine at the airport did: rather than looking for guns or drugs, officials tasked with finding illegally exported crustaceans solved the problem, and the coconut crab is now back to its normal numbers!
Also on the menu is ota ika, raw fish marinated in coconut cream and flavoured with chilli and lime, as well as fai kai ika, tuna steak served with a type of local tree fern. Coconut crops up again in takihi (a sweet-but-savoury treat consisting of pawpaw, taro and coconut cream cooked in an underground oven) and nane, a breakfast porridge made from coconut flesh and arrowroot. And the island's abundant banana crop becomes fried banana chips.