The Turkish Cypriot villages in Paphos abandoned to hunters, hikers and hogs
Perched atop his tractor as if it were a steed, the only regular of this remote and forgotten ghost village stretches out his arms and says with a smile: "It's the view of kings."
The sun shone bright on a balmy January morning as the seasoned villager pointed towards the rolling Troodos mountains behind him.
Istinjon – also named Kios – is one of a string of abandoned former Turkish Cypriot "ghost" villages along Troodos' western foothills in Paphos.
Its population peaked at 268 back in 1921, but nowadays it's just Stathis Efstathiou – sometimes – his herd of sheep, and five giant black hogs.
"It's a hidden treasure, you can see from the ancient cobblestones that this place has history, hundreds of years ago they even worked an old metalworking plant nearby – there's caves, too, with carved out areas," he explained.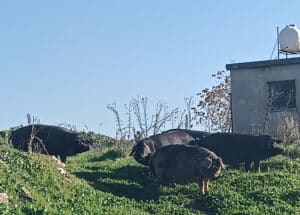 Likely enticed by such stories, treasure hunters have scoured the area. He recalls that about ten years ago a man would frequently turn up with a metal detector, although he hasn't been seen for a while now.
Farmers in the area say that they've occasionally uncovered old coins and other ancient items.
Efstathiou readily shares the history of the village and how he ended up there as a refugee in the 1970s.
Originally from a small Morphou village, he explained how the family relocated to Istinjon following the island's division, when he was just seven. His grandfather had travelled through a few Paphos villages in his youth and recalled Istinjon as a gem – "that's where we have to go".
Just a young boy then, Efstathiou recalls the ten-member family gradually dwindling in number over the years as agriculture fell out of favour and most sought jobs in the city as part of the tourism industry.
Pointing from one crumbled building to another, Efstathiou recalls where each aunt and uncle once lived.
Even then, the village's challenges proved too demanding: no electricity and no roads. The previous inhabitants, the Turkish Cypriots, lived in enclaves largely from 1963 onwards, so that was not unusual. But without any permanent residents, the village remains deprived of those necessities.
Efstathiou now lives 40km away but returns frequently to tend to the vast olive and orange groves, and his various livestock.
The animals are now the only permanent residents, some strolling freely through the crumbling cobblestone and ruins. Snorting, the five giant pigs gradually stirred, left their enclosure, and wandered through the village, regarding us cautiously from a distance.
Stathis, having taken the time to share his story for an hour, I wondered whether it gets lonely out here – who else visits?
"Not many, there's occasionally some Turkish Cypriots who journey here to see their old village, some of the older family members used to come but not as often now – they must be in their 80s," he said.
Efstathiou explained that about fifteen years ago the village became renowned island-wide among the hunting community for the seemingly abundant game available.
"Suddenly there were all these hunters coming up even from Nicosia saying 'Istinjo is where it's at!'" he said, clearly amused.
He then listed off a series of names which I was clearly supposed to know and be impressed by – some of the top skeet shooters and hunters of the time.
"This guy, he never missed – he'd leave and the back of the pickup would be full of birds," he said.
There's other hunting in the area too, as Efstathiou said that the foothills in the area are generous in providing the much sought after red mushroom – which can sell for up to €20 a kilo.
Just behind Istinjon, further up on the hill, is Melandra – a twin ghost village which tells a similar story.
But here a church and mosque nestle side by side, less than a metre apart, a sight rarely seen anywhere else on the island.
It was a beautiful drive from Istinjon to Melandra, the best Cyprus has to offer: lush green fields on a sunny January afternoon.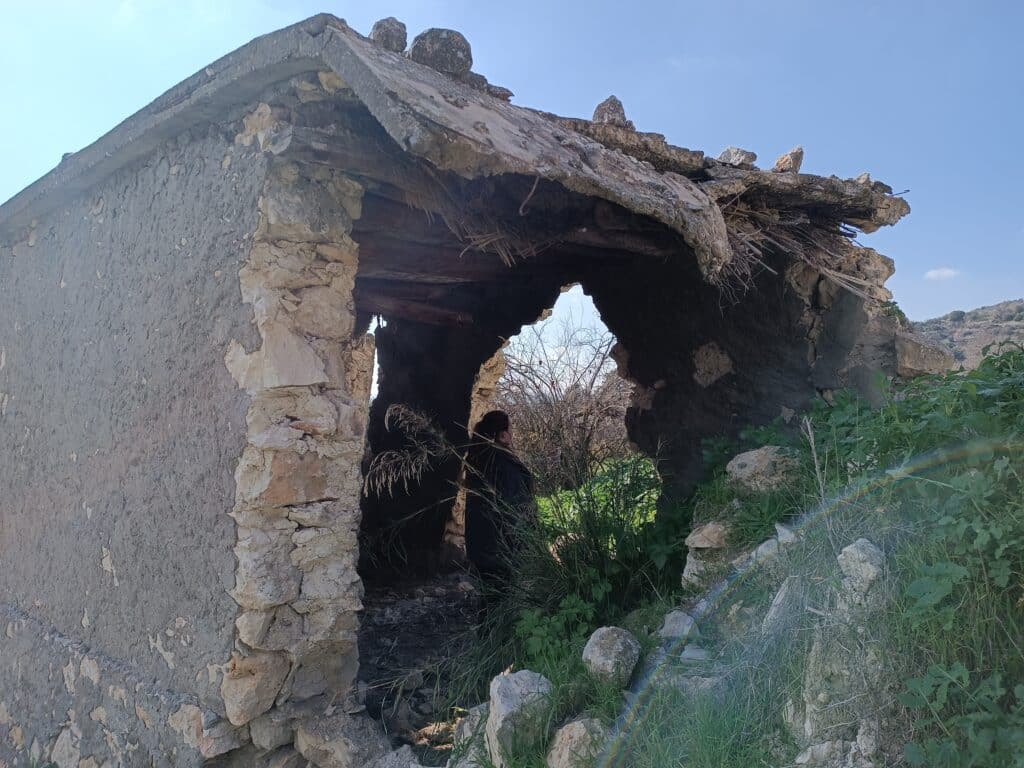 But without four-wheel drive our Nissan Qashqai struggled at parts getting up some fairly steep inclines, as the unpaved path felt more like driving through sand as loose gravel gave way.
A few wrecked remains of houses marked the entrance to the village. A hundred metres or so in we came to what would likely have been the village square: a flat open area with the mosque and, curiously, the church.
A shepherd with a wizened beard leaned against the church and watched silently over his flock, which was tangled within a ruined house opposite, chewing on the overgrowth within.
He didn't seem to speak Greek, or English, perhaps pretending not to and preferring silence.
We inspected both the mosque – empty apart from a small, raised, wooden platform where the women would have sat – and the church. The church had simple icons, candles and tamata (offerings).
A small outside staircase led the way to what would have been the mosque's tiny minaret, although it was in quite bad condition. The metal cone of the minaret lay on the ground below.
After a stroll through the village, we headed back to the car in the village square when we saw a figure headed towards us.
Laden with goods and dressed in hardy gear, I assumed it was another shepherd.
Instead, the ghost village had something else to offer: a fit-looking German hiker in his fifties who goes by the name Uncle Bob.
He smiled through a white stubbly beard and explained how this was the last stretch of his 10,000 kilometre journey as he trekked along the E4. The ambitious trail begins in Spain and ends in Cyprus.
"It started in mid-2021, and now here I am – not far off, but what a way to finish in this beautiful area with perfect weather," he said.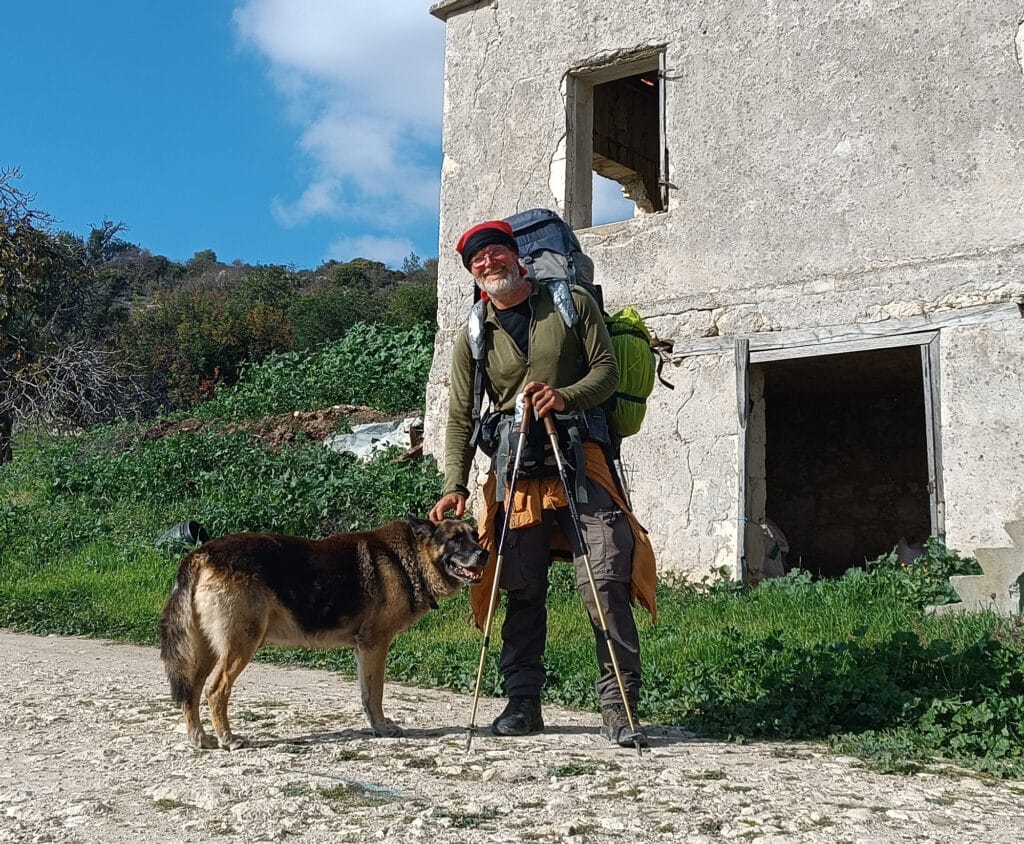 Uncle Bob pointed towards the mountains, the last wild stretch on his journey which ends in Larnaca and said: "It's a bit sad that it's coming to an end."
His spirits were lifted by an unlikely companion, a fearsome looking but peaceful Alsatian.
"He's been following me for a couple of days now, we've been walking together and he's been with me through three or four villages – he's never once barked," Uncle Bob told us.
The mountains beckoned and we joked that he should be careful of Troodos' bears.
"Ah, I've had black bears snooping and sniffing around my tent in Spain – I'll be alright," he said, smiling.
His solid but lean frame was proof of the trials he had been through on the trek, easily supporting the heavy pack.
"Well hopefully it won't get too cold out in the mountains," we offered, but he assured us that his tent saw him through freezing temperatures in Hungary. And we spotted a hip flask protruding from a pocket: brandy, whisky or maybe ouzo?
We shook hands and wished him luck on the last stretch of his journey, watching him steadily press forth towards the mountains; accompanied by the silent Alsatian. He loved the village but was just passing through. As were we, leaving the silent ruins behind us.