Hellenic CEO Oliver Gatzke highlighted the Bank's robust performance during 2022, In spite of the difficult circumstances, while also speaking of the likely challenges ahead in 2023, and outlining the Bank's strategic plan. He made the remarks before managerial staff, who had gathered on the occasion of the traditional Cutting of the Vasilopitta (King's Cake).
Highlights of 2022 included the achievement of important financial results, Hellenic's acquisition of RCB's loan portfolio, and the Project Starlight deal, involving the sale of a significant share of NPLs and of APS, bringing the NPL ratio down to 3.8 per cent.
In addition, decisive steps were taken toward digitisation, as well as streamlining the network of branches, processes and cost management, and further enhancing the digital channels on offer. Of major importance for the Bank was the reinstatement of the salaries of colleagues from xCCB, and the completion of the successful early retirement scheme.
Also notable was the fact that, after some 10 years, the Bank began to pay interest to holders of Contingent Capital Securities-1 and Contingent Capital Securities-2. In addition, through €1.2 billion in new loans in 2022, Hellenic became a major driver of economic growth.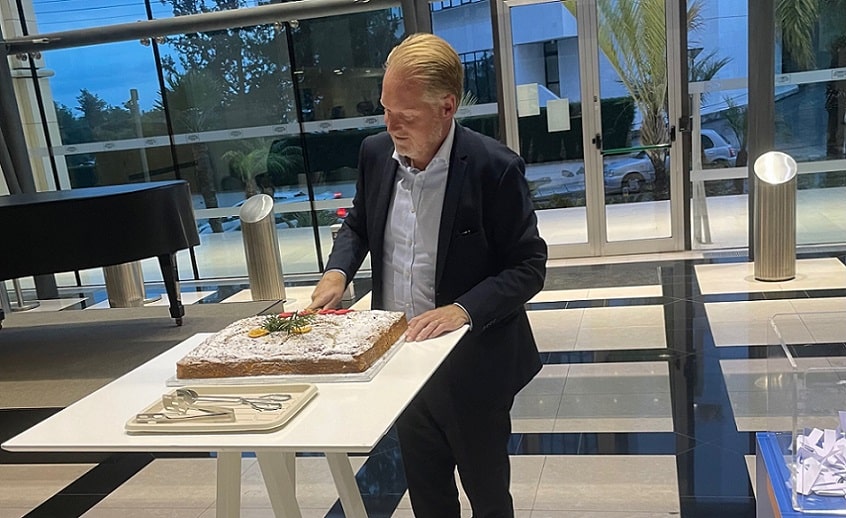 "The Transformation Plan is ongoing; we're evolving into a customer-driven organisation, improving customer experience through digitisation, simplifying processes and offering simple and competitive products," CEO Gatzke noted, also thanking staff for their role in the Bank's achievements over the past year.
The Plan's core principles include:
Maintaining a robust capital base and cash flow, and continuing with the sustainable business model
Focusing on customers, by strengthening relations and further upgrading products and services
Emphasis on digitisation and on incorporating technology into decision-making processes
Emphasis on all three components of ESG, for a positive impact on society and the environment
Sustainability through reducing cost and NPLs
Meritocracy and making optimal use of human resources by evolving workplace mindsets
Some of the Bank's medium-term goals include:
Bringing the NPL ratio (excluding NPLs covered by the Asset Protection Programme) down to 3%
Reducing the Expenses/Revenues ratio to 50%
New loans of more than €1.2 billion annually
The international interest rate environment will continue supporting the Bank's financial performance over the next years. Hellenic anticipates that pre-tax profits for 2023 will be even higher, mainly due to expected interest-rate fluctuations and improvements to the cost structure, following the successful early retirement scheme, completed in November 2022.
As CEO Gatzke noted, Hellenic aims to provide a truly digital and multi-channel experience to customers – individuals and businesses alike – so that the first line can focus on service and appropriate solutions and products, while understanding customers' needs and financing the transition to the Green Economy.