The bronze statue worth €10,000 that adorned a location in Paphos but was stolen last Saturday was sold by the thieves for €85 to another suspect in the case, it emerged on Friday.
It appeared its final destination was to be sold as scrap.
After an all-night search on Thursday, police found a piece of the statue 'The girl with the hula hoop' in a rural area of ​​Tremithousa, a village in the Paphos district.
Three more pieces have been recovered, CNA reported later in the day.
Until now, three people have been arrested aged 55, 37 and 24. They have been remanded until Monday.
Two people are still wanted a 43-year-old woman and a 50-year-old man. Police expect to arrest them shortly.
Paphos police said it appeared that four of the suspects had sold the statue to the 24-year-old for €85 for scrap.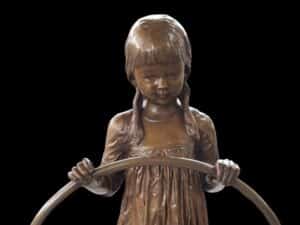 However, for some reason the deal may have gone wrong and the pieces ended up back in the possession of the four initial suspects.
CCTV footage from last Saturday showed a number of people dragging the statue away. A motorcycle was also seen coming and going in the area as if on lookout.
Earlier this week police meanwhile a 33-year-old woman they had arrested earlier in connection with the case when it became clear she had nothing to do with the theft.
The 'girl with the hula hoop', by artist Yiota Ioannidou had been installed at the Hani tou Ibrahim since last autumn. It was the artist's fourth sculpture to be installed in the town.
Police sources told CNA on Thursday the statue had been chopped into pieces. The artist said on Sunday she would not be able to replicate it as she no longer possessed the original mould.