A unique opportunity with the focus on love awaits audiences in Limassol and Nicosia says ELENI PHILIPPOU
A unique occasion for Cyprus' dance world this February will see the Celebrity Ballet Gala staged with top-level dancers from seven theatres around the globe in Limassol and Nicosia.
Twelve acclaimed ballet dancers will come together in one event to represent both a commitment to classical ballet traditions and a desire to create trends in contemporary art. February 14 in Limassol and February 15 in Nicosia will be dedicated to the art of dance in a special event which will be a first for Cyprus.
The Celebrity Ballet Gala will be an opportunity for the island's dance lovers to discover high-level ballet developed by the leading theatres of the world: English National Theatre, Astana Opera, Bolshoi Theatre, Kremlin Palace, Mikhailovsky Theatre, HET National Theatre and Staatsballett Berlin.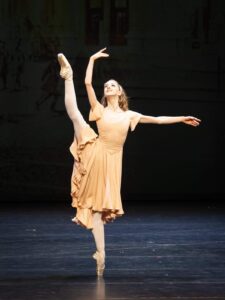 The performance features the theme of love as the driving force of the world. A grandiose idea lies at the heart of the programme – through their performances, the dancers invite the audience to experience love in its various manifestations. This programme has 12 pieces and the artists will speak about love in the language of classical and contemporary ballet, with choreography from the first third of the 19th century to the present day. The programme is written by Igor Tsvirko, Artistic Director of GALA and Premier of the Bolshoi Theatre.
To bring the audience and the high art of ballet closer together, the event will include a Gala Dinner with ballet dancers in Limassol – an exclusive opportunity not only to experience the magical world of ballet as a spectator but also to meet the artists as individuals. Tickets for the Gala Dinner are now available at www.celebritygala.eu.
The Gala Concert will take place in Limassol at the Pattichio Theatre and in Nicosia at the Municipal Theatre where guests will be welcomed with music, a photo area and a reception with champagne and delicacies.
The uniqueness of the event is also supported by students of the Youth Ballet Nicosia Ballet School who will perform on the same stage as the well-known stars. Moreover, all ballet students will be able to attend the rehearsal process of the artists in Cyprus on the eve of the Gala to witness world ballet from up close. With tickets starting from €60, just a few more remain for the two performances as the island is eager to experience top-notch ballet.
Celebrity Ballet Gala
Performance with premiere-level dancers from seven theatres around the globe. With the participation of the Youth Ballet Nicosia Ballet School. February 14. Pattihio Municipal Theatre, Limassol. 7pm. February 15. Nicosia Municipal Theatre, Nicosia. 7.30pm. Tickets can be found at www.celebritygala.eu and www.soldoutticketbox.com