With a new season round the corner, now is the time to welcome some new trends says NIKI CHARALAMBOUS
While Spring may appear a long way off, the fashion industry is always one step ahead when it comes to the trends that will define the season's styles and accessories. Although the cold weather in Cyprus shows no signs of abating, Spring trends are sure to warm up your wardrobe, providing a preview of the summer fashion outlook that will dominate Europe in five months.
One of the biggest trends for Spring 2023 is what I call 'girly fashion' – very feminine details such as ruffles and soft textures, sheer and light fabrics, and dresses with pleated layering throughout.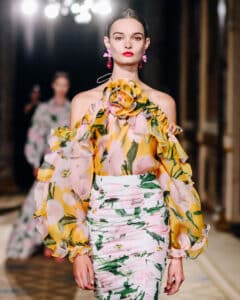 The pairing of ruffled blouses with more structured and masculine bottoms, or frilly and pleated skirts with basic tops, will be one of the more prominent looks for the upcoming season, as opposed to the combinations of frilled tops with ruffled bottoms, which was popular two years ago. Essentially, the trend will be to balance the feminine and masculine, particularly in Cyprus and other Mediterranean countries with warmer temperatures. This is not to say that all-female dressing is unpopular or out of style; it is simply how the trend is shifting for 2023.
Large, masculine-style watches have also made a strong comeback as a must-have fashion accessory, adding a sophisticated finishing touch to your ensemble, and making everything look a little more put-together.
Florals will dominate the upcoming season, but not all florals will make the cut. We are moving away from small florals, and large floral designs that are more abstract and closely placed together will be trending in this department. Florals are always more refreshing and younger-looking because they are colourful, playful, modern, and indeed timeless.
Surprisingly, the colour black is fashionable this spring. Even though black is omnipresent in Cyprus, particularly among the local community, and a staple colour in everyone's wardrobe, it dominated the spring 2023 runways with a wide range of styles using crochet, netted fabric and lighter, free-flowing materials. This may be appropriate for the spring season, but not for the summer months, unless it is a formal evening event.
Denim jackets are also making a comeback, moving from a basic fashion item to the forefront. Denim blazers in blue and black, as well as variations of these two colours, will dominate the season; however, the jackets will be more loose fitting and masculine this time around, as opposed to the more structured and cropped styles seen in previous years.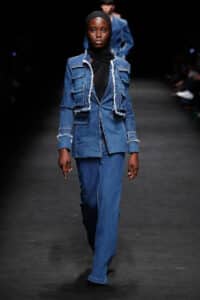 Denim on denim is a trend that has emerged in response to the denim jacket trend. Whether you like it or not, a loose denim skirt or oversized denim pants paired with a denim jacket or ruffled denim blouse is a popular combination and style for 2023, especially for those who want to look casual and feel comfortable.
Draping is another popular spring style. Tops and dresses with draping have been very popular in Cyprus for many years, but more sophisticated cuts and one shoulder dresses and blouses will be well-constructed looks worn by most women, and I believe this trend will continue throughout the summer. Draping is another feminine element that I often refer to as "elevated basic dressing," an example of which was featured in the recent revival of the Sex and the City series, a stunning Norma Kamali dress that is set to become a Carrie Bradshaw classic.
Polka dots are also here to stay, so pull out the cheerful print and fully embrace the dot life. This spring, the preppy, quirky look will be revived, but polka dots do not have to be loud; they can be subtle, neutral, tiny, or graphic dots that feel asymmetrical, minimal, or even futuristic.
Finally, simplistic, and minimalist outfits, which have been on trend for a while and are a less busy way of dressing, will continue into spring. Long maxi skirts and trouser pants paired with simple crop tops or t-shirts are easy to wear and will never go out of style.
Toned-down feminine styles, which are more of a whisper than a shout, are the way to enter the season confidently, leaving you feeling glamorous, trendy and unforgettable.