Paphos' economy performed well during 2022, both in terms of its tourism sector and real estate and market, according to Paphos Chamber of Commerce and Industry (Evep) secretary and director Marinos Stylianou.
"2022 was a very good year for the city's economy despite the adverse conditions that preceded it and which continue to affect us negatively to this day," Stylianou told the Cyprus News Agency (CNA).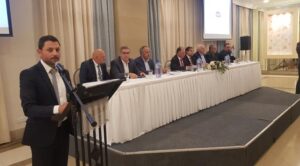 "In 2022, Paphos had very good occupancy rates in its hotels, mainly due to the increase in the arrivals of British tourists, and represents a very important year of recovery for Paphos' tourism industry, since the district managed to reach about 85 per cent of arrivals and about 90 per cent of the income recorded during 2019," he added.
At the same time, Stylianou explained that the catering sector, which is directly intertwined with tourism, managed to perform very well during this time.
In addition, the Evep representative said that "significant levels of activity were also recorded in the real estate sector in the Paphos district, according to the relevant data provided by the Land Registry".
According to the data, there was a significant increase in property sales when compared to 2021, with buyers from both the EU and outside the EU increasing in number.
Stylianou explained that this is reflected both in the total number of transactions, which amounted to 3,593 and in their total value, which reached €890.4 million.
At the same time, he said the fact that the district of Paphos managed to record approximately one-third of the total number of transactions involving residential units.
"The services sector performed at a satisfactory level, while trade, and especially supermarkets, performed very well," he concluded.