With a boom in sales for Valentine's Day, you would imagine it is a welcome time of year for a high-tech flower grower. But THEO PANAYIDES meets a man who explains he is a farmer, not a sentimentalist
Driving back from Rosary Gardens – on the old Limassol road, somewhere between Kornos and Kofinou – I get a classic song stuck in my head, its lyrics amusingly appropriate to my meeting with Theodosis Pittas. I'm not even sure who sings it, though I later discover it was country chanteuse Lynn Anderson, back in 1970 – nor do I recall the whole thing, just the first two lines: "I beg your pardon / I never promised you a rose garden".
The song fits the bill, for two reasons. First, because Theodosis himself is gruff and rather downbeat, not exactly viewing the world through rose-coloured glasses – but also because, quite literally, the promised rose garden in my head never materialises. I arrive too late for the day's harvest – but it's February, in any case, so that harvest is relatively meagre, the rose bushes in Rosary's three greenhouses almost entirely bare. There are still flowers blooming, of course, around 1,000 cut this morning (the nursery has well over 50,000 plants in total), but if this were March there'd be 10 times as many. Looks like Valentine's Day isn't very well-placed on the calendar for roses, I point out. "No, it's fine. This way, only a few can supply them!" he counters with a laugh. "Besides," he adds, "Women's Day is a much bigger deal."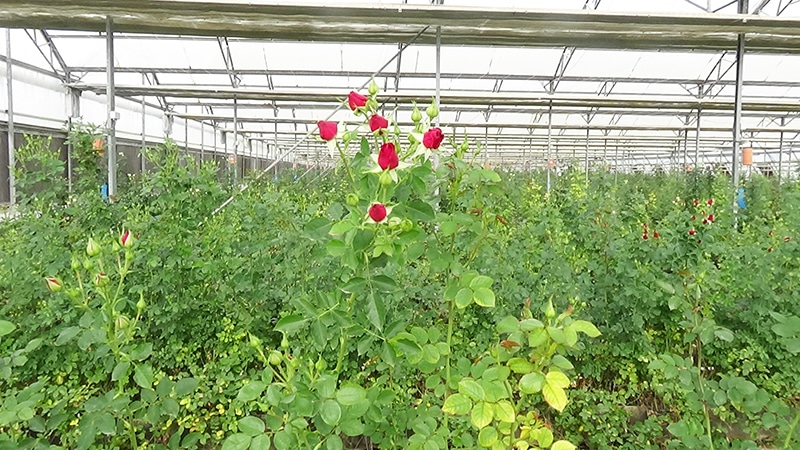 Valentine's Day is the reason I'm here, the day most associated with freshly-cut blooms and romantic bouquets. For a rose grower, however, the annual celebration is more of a hassle. For a start, it's quite specialised: unlike International Women's Day, when all types of rose are acceptable – and companies mass-purchase flowers to present to their female employees – Valentine's Day orders are overwhelmingly for red roses, which only make up around half of Rosary's output (another 30 per cent are white roses, 10 per cent yellow, and the other 10 per cent are 'spray roses' which come in clusters of small flowers). "For me, Valentine's Day doesn't matter," he says, disappointingly. "I actually don't like it, it's a bad day for me." Yes, there's a brief spike – business goes up around 10-20 per cent – but it throws production out of whack, then comes crashing down the next day anyway. "I want my business to be stable."
It's a bit dispiriting to hear this kind of talk. Valentine's Day is like Christmas, a day devoted to something so sweet (or saccharine) no-one could possibly be against it – and of course flowers are equally unobjectionable, indeed they're beautiful. Growing roses sounds like such a lovely job – yet it obviously isn't (pun coming up!) a bed of roses. Theodosis' desire for stability has a lot to do with the instability he's had to surmount, in fact our interview ultimately isn't much about flowers. It's about being a small business – especially in agriculture, that most neglected sector in Cyprus – and trying to break even, with the runaway prices of the past couple of years as the final nail in the coffin.
He grows roses, but he might as well be growing potatoes (not an insult; one kind of farming is as worthwhile as the other). I try to steer the conversation to the more romantic aspects of the job, but he's not having it: "Eh, whatever. I'm a farmer, not a sentimentalist". He and his late father founded Rosary in 1995, when Theodosis was in his 20s (he's now 55), mostly because they owned land near Kornos and wanted to do something with it (his dad previously owned a quarry, which he sold to help finance the new project). He didn't really have a Plan B as a younger man, or anything he wanted to do in particular; besides, the nursery was a success. "From 1995 till about 2005, it was a good little business."
He gives me a tour, walking rather heavily with his hands folded behind his back, pointing out rosebuds on bushes: this one will be ready tomorrow, that one the day after tomorrow. He seems a bit dejected, like he's going through the motions – yet the place is impressive, and was state-of-the-art back in the 90s. Equipment was bought from the Netherlands. Consultants came in from Israel – and indeed, in later years, would often bring groups from that country, to show their clients what a high-tech flower business looks like. Theodosis had big plans. Rosary's website (no longer updated) talks of exporting flowers to nearby countries, making much of the fact that they're only 20 minutes from Larnaca airport: "Why ship your roses from the other side of the world," it asks, "when Rosary Gardens offer superb quality and competitive prices next door?". It was a massive investment.
There are three greenhouses, the last one built around 2000; together, they make up an area of 18 stremmata (one stremma – usually translated as a donum or a decare – being around 1,000 square metres), enough for many thousands of rose bushes. Indeed, it's not just rose bushes. Much of the biggest greenhouse has been given over to buttercups, freesia, foliage for use in bouquets, even sunflowers. The smallest greenhouse includes a few rows of chrysanthemums, specially set up with lights in the ceiling above them (chrysanthemums need more light than roses, and must be fooled into thinking that part of the night is actually day). The walls are lined with cardboard 'cooling pads'; outside, a large tank is set up to collect rainwater. A network of water pipes runs alongside the flowers, working on drip irrigation with a tiny hole every 20 centimetres. The windows open automatically – everything works automatically – for 10 minutes at a time for ventilation, day and night. Even in winter? It's a problem if the temperature falls below zero, agrees Theodosis – but that's why he has heating, though it's used much more sparingly these days. The price of petrol is out of control.
Thereby hangs a tale – and talk of high prices seems to open the floodgates, sparking a litany of grievances. Fertiliser is up 200-300 per cent since the start of the war in Ukraine. The price of electricity, too, has tripled. Petrol has also gone up, hence less heating and lower production (flowers don't stop growing at night; he'd produce a lot more if he could keep the greenhouse heated 24/7) – and in fact there's another wrinkle too. It's not worth paying too much for heating in winter, he explains, puffing on a small cigar, "because the imports come from countries where it's summer now".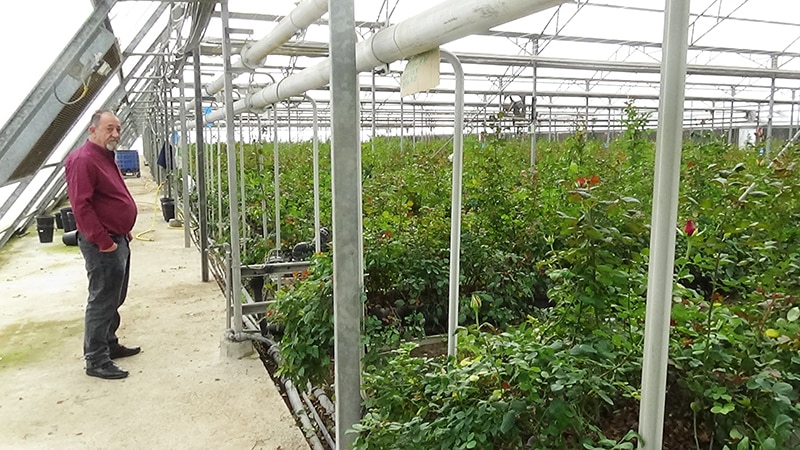 Imports are the problem, they always were. This was a 'good little business' from 1995 till about 2005 – but the turning point was our EU accession in 2004, after which it became impossible to protect the Cyprus economy as it had once been protected. Imported flowers flooded the market, including from countries with much lower production costs. "I'm not against globalisation," pleads Theodosis. "Competing against the Dutch, fine. Italians, fine. Greeks, fine. But how can I compete against Africa?" The original plan of making Cyprus an export hub fell by the wayside; he and his dad went to flower shows, and found a few overseas clients – but it didn't work out, we don't have the infrastructure (being near the airport is of limited use when there are no storage refrigerators at the airport) and our climate's a bit too extreme, especially the weeks of summer heatwaves. Besides, once the foreign roses started coming in, it was hard enough keeping a foothold in the local market.
Theodosis Pittas seems to be a man who likes a quiet life; above all, he craves stability. His customers used to be florists, he explains at one point, but he decided to switch to supermarkets because "you're dealing with business people" so there's less drama (florists are presumably more temperamental). The entire automated system in his nursery – ventilation, drip irrigation, temperature – is hooked up to a laptop in his office; he can check the whole thing at a glance, and an alarm goes off if anything isn't working as it should. "Very little can go wrong that would need time to fix." His plan (a good plan at the time) seems to have been to invest a lot of capital and set up a business that would then, more or less, run itself – but how was he to know, for instance, that Cyprus would one day be vulnerable to the price of containers in China? "Transport costs for containers are up 500 per cent! If you want a container of subsoil, let's say, to plant your plants in – because that comes from China – it's gone from €1,000 to €5,000, just to transport it."
The government doesn't care; agriculture is only about three per cent of GDP (15 years ago it was 35 per cent, he claims). "They're not interested. They don't understand, they feel nothing." They only care about "easy money," he says bitterly, attracting tourists and providing work for lawyers and accountants; when it comes to farmers, their only interest seems to be in hounding them with bureaucratic hurdles and endless fees. "I don't see young people getting into agriculture." Theodosis himself has three kids, two sons and a daughter, ranging in age from 20 to 30 – but he actively discouraged them from getting involved in the flower business. Since his father passed, "I'm on my own, with no successor".
It's a bit depressing, this small local business struggling to keep its head above water, due to expire whenever Theodosis feels he's had enough of the struggle. Then again, he never promised me a rose garden – and his life isn't actually that bad. He's in the office six days a week, but the work isn't too taxing. (The business more or less runs itself.) He enjoys good food, going out with friends, smoking his cigars. He has a vintage car, a Mercedes 190 2.3-16, and a couple of motorbikes, and likes to ride up into the mountains when the spirit moves him. Above all, perhaps, he spends his days surrounded by flowers – not just a billion-dollar market but a profound human need, especially when things are going badly.
"Let me tell you that whenever there's a crisis, the demand for flowers or plants goes up," he explains. His was one of the few sectors that Covid actually helped, since people were stuck at home and craving a natural mood-enhancer. "Because, even though it's a crisis and you have problems, a flower will change your mood. This is scientifically proven… In the days when the Soviet Union collapsed and the Russians were starving, 25 years ago, on their way home after work they'd buy a flower. They'd put it in the house, then the next day they might take it to a cemetery, or give it to a friend as a present – and so the market got bigger instead of shrinking. I saw all this when I was starting the business."
Why are flowers so potent, though?
"Because a flower has a limited lifespan. You hold it, you see it looking so beautiful, so lovely, then you watch it fade. And when it dies, you think 'I want to see those 15 days again', that period when it gives so much." His point is a businessman's point – viz. that flowers are good business because every flower makes people want to buy more flowers – but the real point is perhaps that Theodosis Pittas senses something of his product's symbolic power, despite speaking mostly of profit margins and making clear that he's a farmer, not a sentimentalist. Roses – like love, which they're made to represent on Valentine's Day – are beautiful in a pure, unequivocal way. They simply are, asking nothing in return, offering themselves on the altar of beauty – and when they fade it's simply a reminder that beauty, like love, must also fade, and is all the more beautiful for fading.
Why are we humans so moved by delicate petals, and a small blob of colour? Rosary Gardens isn't the place to discuss such matters – though it's also true that I picked a bad time, a time when the garden was bare. (I blame St. Valentine.) "When there's no production, we're a bit depressed," admits Theodosis. In spring, however, when everything blooms and they're cutting 10,000 roses a day, it's a different story, psychologically too – both because business is good and because it's just so colourful and fragrant in the nursery, so beautiful. Everything's coming up roses.