Hollywood legend Raquel Welch, who passed away on Wednesday at the age of 82, had a well-publicised but brief encounter with Cyprus' rural life.
In 1970, she stayed for several weeks on the island to film "The Beloved", a movie telling the story of a beautiful but frustrated housewife and her love affair with a former childhood friend.
Set in the now occupied village of Karmi, near Kyrenia, Welch's stunning beauty did not go unnoticed among its residents.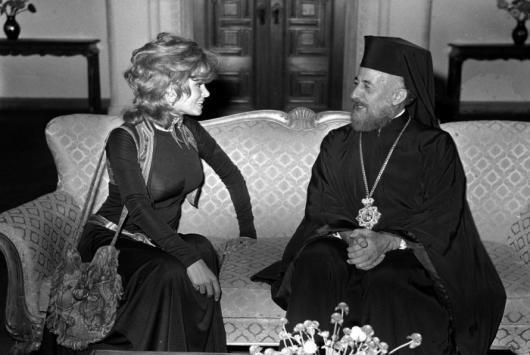 Even usually stern President Makarios III did not remain indifferent to Welch's presence in Cyprus and invited her to the Presidential Palace in Nicosia, an honour he bestowed upon very few people outside his circle who were not involved in politics, according to reports published at the time.
The picture of Welch and Makarios III smiling and amicably chatting on a couch at the presidential palace was published by several local and international newspapers at the time and became a hot topic both in Cyprus and abroad.
Aside from Welch, British actors Richard Johnson and Jack Hawkins also set camp in the island for a few weeks. The movie featured local actors, as well as many residents of Karmi, who appeared in "The Beloved" as extras.
The filming of the movie was also the subject of documentary released in 2015 and called "Beloved Days". With the help of archive footage collected on the set in 1970, the documentary's director Constandinos Patsalidis nostalgically revisits the time of the filming, when one of the most iconic actresses in Hollywood took the island by storm.